To date, the best of the mechanical stock screening/ranking "spells" has been, by far, the Quality Growth Spell.
From the inception of the spells just about 2 years ago, the 5 Quality Growth tracking portfolios are up an average of about 55% each, vs. the S&P 500's comparable 40% return. That 15% out-performance is in sharp contrast to the under-performing results from the two value-oriented spells (Magic Recipe and Deep Value).
For February, we're going to focus on some Quality Growth stocks and on the spell itself.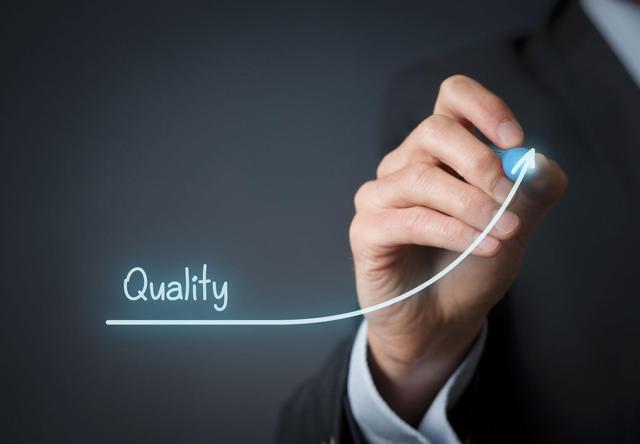 To start with, I thought it might be useful to go into a little more depth as to how the spell itself is constructed, and why we believe that it is a good framework for finding growth companies that are less likely to disappoint investors over the long term.
At the same time, we will also look at some things to be wary of when selecting potential stocks from the Quality Growth list.
Let's get to it.
What Exactly Does "Growth" Mean?
Investors and commentators routinely divide stocks into several broad categories, like "value" stocks, or "growth" stocks, or "income" stocks.
But what exactly does it mean to be a "growth" stock?
Does that mean growing earnings? Shareholder's equity? Free cash flow? Revenues?
Ideally it means all of those things, but the one factor above all else that distinguishes a growth stock from the others is revenue growth.
A company can grow earnings, book value, and free cash flow in several ways. It can buy back shares, cut unnecessary expenses, improve receivables collection, streamline inventory turnover, etc.
However, all of those methods are limited. There are only so many expenses that can be cut, shares can only be repurchased at a certain rate, etc. These are not long-term, sustainable methods of growth that can deliver the 100, 200, 500% gains that truly change lives.
Revenue growth, on the other hand, can. Look back at some of the best performing stocks of the last decade: stocks like Netflix (NFLX) (7,165% return), Priceline (PCLN) (1,797% return), Amazon (AMZN) (1,638% return), or Regeneron (REGN) (1,267%).
What do they all have in common?
You guessed it. Revenue growth! Consider... NFLX has a 25.5% 20-year compound annual growth rate (OTCPK:CAGR) figure. PCLN, 25.3%. AMZN's is 28.2%. And REGN is most impressive at 54.3%!
Simply put, revenue growth is a key component to massive, life-changing long-term equity returns.
The Quality Growth spell sets its universe of "growth" stocks by limiting the stocks it considers to the average 3-year revenue growth figures that are in the top 20% of the market. As of right now, that throws out any company that hasn't produced a 3-year average figure of at least 23%. Interestingly, this is roughly in line with the long-term revenue growth rates shown above. No slow-moving companies here, these firms are generating a lot of new business year-over-year.
What Makes Growth, Quality Growth?
It is simple enough to just sort the market's stocks by 3-year revenue growth, but there isn't much value added by doing so.
It's the "quality" component that really separates the interesting growth stocks from the rest.
So what makes growth, "quality" growth?
Before answering that, consider how revenue growth is obtained. There are a number of ways. Spending marketing dollars on advertising, hiring a direct sales force, publishing content or research, holding or presenting at industry conferences, and social or viral word-of-mouth are just a sample of these.
In today's business climate, particularly in areas like technology or biotech, rapid revenue growth is seen as critical to securing ever-increasing funding. Venture capital is normally patient with negative earnings and cash flows as long as revenue and other business metrics are rising at a good rate. Additionally, it has become somewhat of a management philosophy (aided by Jeff Bezos at Amazon) to spend rapidly to capture an opportunity quickly and shut out competitors. This method of operation often continues into the public phase of a company's maturation, when it becomes a stock we can buy.
These strategies have merit, but they are risky. Negative earnings and especially cash flows cannot be sustained for long periods of time. Without them, the business must be funded by shareholder-diluting secondary offerings, or by balance sheet-busting debt.
Long-term, this is not a "quality" way to grow.
So what is a "quality" way to grow?
The best companies fund their growth initiatives through internal cash flows. This is the best of all worlds for investors. They are not diluted, and the balance sheet can remain pristine, which removes a lot of financial risk. If a firm can take its internal cash flows and re-invest them at attractive rates, this sets up a "flywheel" of self-sustaining growth that generally leads to big advances in the stock price, as well.
How do we measure this? The Quality Growth spell is also limited to only stocks with a free cash return on invested capital in the top 20% of the market. At present, the minimum bar for this is about a 21% cash return on capital! That means that all Quality Growth stocks are not only growing revenue rapidly, but have also proven their ability to re-invest their (always positive!) free cash flows at very attractive rates.
Bingo, the "flywheel" of self-sustaining and safer growth we are looking for!
Are There Quality Growth Anomolies?
While the majority of the stocks in the spell fit the "spirit" of the screen very well, there are a few oddities to be aware of.
One notable group are pre-clinical biotechnology stocks that have received a large recent cash milestone payment, usually from a larger and established healthcare firm they are partnered with. Generally, these firms don't earn much in the way of ongoing revenue (their drugs are still in testing phases), but when they pass a milestone like a successful Phase I or II trial, or a study meets a goal endpoint, their partners will pay them a lump sum to continue developing the drug.

This is problematic for the Quality Growth Spell, because it does two things. One, it boosts their revenue line dramatically and immediately. Even averaging it out over 3 years, these milestone payments often make it look like these small firms grew revenue over 100% or more annually! That is not really the case - this revenue is not a course of regular business, and not sustainable going forward.
Second, and related, these cash payments fall directly through the cash flow statement as free cash flow. So, similar to revenue, they give a massive (but short-lived) bump to cash return on capital. Put this together with the revenue issue and we have a handful of pre-clinical stocks "polluting" the Quality Growth spell at any given time.
Now, that's not to say that none of these pre-clinical names cannot do well. Indeed, successful early trials are a good thing. But they are not really what the screen was designed for.
We do have some mitigation techniques in place. For one, Quality Growth ignores "suspicious" statistics, which in this case means statistical values in the top 1% of the market. This does a pretty good job of eliminating statistical oddities, but not a perfect one.
We've also thought about manually removing some of the pre-clinical biotechs that show up in the spell, but in the spirit of keeping it as mechanical as possible, have not yet done so. This may change in the future - I would welcome any thoughts on the matter!
The Flywheel of Quality Growth
By adding a requirement of solid cash returns on capital to a simple 3-year revenue growth screen, we can compile an attractive list of potential investment opportunities going forward. These companies are growing rapidly, and doing so with their own money - the absolute best way to grow. It sets up a "flywheel" of self-sustaining growth that can lift both the company and its shareholders to the massive 100%, 200%, or more returns that are truly meaningful to a family's portfolio.
So far, its working pretty darn well!
Come check out all of the Quality Growth stocks, and all of our other spells and Business Model Ratings, today with our low-cost, high value membership!