Recently I went back and re-read The Little Book That Builds Wealth, by former Morningstar Director of Equity Research, Pat Dorsey. It remains one of the more concise and enlightening books for investors looking for great businesses that stand the test of time - historically, the kind of investments that return their worth many times over.
Although the book is nearing 10 years old now, the principles are still highly relevant. In this article, we will go over the main points of the book and why it is worth reading for any investor.
Dorsey's 4 Economic Moats
The Little Book That Builds Wealth is all about one principle - determining a company's economic moat. This is an important concept, as a moat protects a company's profits from competition and allows the company to earn exceptional returns on capital over long periods of time. Businesses that earn high returns on capital invariably attract lots of competition. Companies with no moat can see their profit margins and sales growth dwindle as competitors capture more and more of their market share. On the other hand, wide moat companies have advantages that make it very difficult or uneconomical for competitors to try and compete with them.
The concept of a moat has been one of the keys behind the success of the world's most recognized investor, Warren Buffett.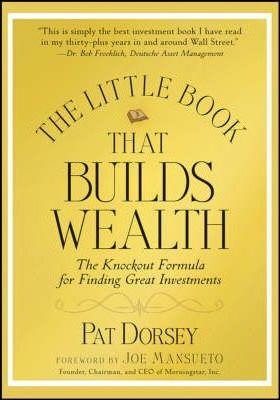 Dorsey lays out 4 main ways a company can establish an economic moat (or durable competitive advantage, as Buffett would say). The first method is by intangible assets. Examples of this are a strong brand that allows a business to charge more for comparable items, patent protection on products like drug formulations and technologies, and regulatory licenses that are particularly hard to obtain.
The second method is by having high switching costs - the "sticky" customer advantage. Here, Dorsey presents banks and widely adopted software vendors as having high switching costs. Who wants to go through the hassle of transferring an account or training an entire staff on a new piece of software?
The third form of a moat is created by the network effect, where the value of a business increases with each node on the network. This very powerful advantage is well illustrated by credit card processors. The more places that accept Mastercard (MA), the more people will want to use it, and the more new places sprout up that want to accept it. eBay (EBAY) is another good example - sellers go there because that is where the buyers go to find items, and buyers go there because, you guessed it, that's where the sellers are!
The last way to create a moat (according to Dorsey) is through cost advantages. There are a number of ways companies can accomplish this. One way (although the least durable) is by simply having a better business model than your competition. Southwest Airlines (LUV) is a classic example, where business structure allowed it to under price the competition. The second, and more durable, method of cost advantage is by having a unique asset over your competition, such as a prime location or a rare asset. An example here is Waste Management (WMT), which owns nearly 300 landfills and 150 recycling plants, by far the most of any company. This is important, as building a new landfill or recycling plant is extraordinarily difficult due to public resistance ("Not In My Back Yard"). That makes it quite difficult for new competition to enter the market, and indeed Waste Management and Republic Services (RSG) control over half of the $52 billion garbage industry in the U.S.
False Moats
Nearly as useful as the discussion of what constitutes a moat is the explanation of what DOES NOT constitute a moat.
How many times have you seen a company recommended because of a great new product "taking the country by storm"? This is not a durable advantage. Although dated now, Dorsey points out two examples - Krispy Kreme and Palm - both of which had great products, but both of which were easily copied and ended up having a limited life span.
Another false moat is the "superstar management" fallacy. Good management can certainly lead to short-term success in highly competitive businesses, but it is not a long-term competitive advantage. While Alan Mullaly did quite well for Ford (F) shareholders, his successors have not had nearly as much success. Steve Els was once considered a genius restaurateur with Chipotle (CMG), but the difficult challenges in the restaurant business finally caught up with him and caused him to get booted from the top seat of the company he started.
The Takeaway
Moat analysis is something that is really neglected in traditional equity analysis. That many investors pay far more attention to voodoo like technical analysis - while completely ignoring fundamental competitive analysis - is pretty telling. The fact that it is under-utilized, despite being a keystone of successful long-term investing, gives investors that *do* pay attention to it a clear leg up over the long-term.
The Little Book that Builds Wealth, along with Pat Dorsey's other book, The Five Rules For Successful Stock Investing, really formed the basis of our competitive advantages analysis - one of the key points in determining a company's Business Model Rating. I think this is a must-read book for all stock investors, a great introduction to economic moats, and a bedrock principle to keep in mind when determining companies to invest in.