Losing the war on Coal
Posits
Natural gas prices are rising.
Natural gas prices will continue to rise.
There will be no tapering off slightly above $4Mcf.
Rise in Natural Gas price creates Coal demand.
Electricity prices rise.
All Data Sources presented are derived from data available on the U.S Energy Information Administration (NYSEMKT:EIA) Federal website, Texas RRC, Louisiana DNR (SONRIS,) and Pennsylvania DEP websites, except where otherwise noted.
Supporting Posits 1, 2 and 3
This title reminded me of a George Carlin joke satirically pointing out the great intentions yet dismal results of high profile government action initiatives. It went something like this.
"Ever notice how we declare war on everything…. and then lose!! We've lost the war on poverty, drugs, homelessness… I think we should declare war on education!!"
Well, folks it's not apparent, but we're losing the war on coal.
I have tangential practical knowledge of coal production and energy exploration.
I have read a lot of pundit reports and have retraced their work in various areas of the country with issues surrounding shale gas and done plenty of my own; far too much to repeat here. Therefore, I chose to present the issues in a way I have not seen presented before.
Over time, the demand for gas increases because it is driven by population growth. About 45% of US homes are heated by gas, so the relationship of more people, more homes, and more gas consumption is highly correlated.
Gas wells, deplete until dry or until they become uneconomical for further production. New wells are drilled to replace the depleted supply from inactive wells. In any given year, you can have an aberration of activity as seen in 2000 or 2012. These seemingly anomalous years of activity can be driven by price changes in either the current or the prior period, and to some extent expectation of future prices.
We commonly hear that demand and supply control price. This is certainly true in the moment. Uncommonly heard concepts are Demand Destruction, Supply Destruction and likewise Demand and Supply Creation. These concepts speak to the relationships between price and demand and price and supply. Let's think about these concepts while looking at the next two tables. As you look at wide prices changes you can see wide variations in activity.
Table 1
Combining EIA Reported Supply and Price
Year

Total
Prod.
Wells

Successful Dev.
&
Expl. Wells Drilled

Est. Wells Removed From Prod

Yearly Well Increase %

Total
Gas
Prod.
Bcf

Yearly Prod Incr
%

Shale
Gas
Bcf

Total
Prod.
From
Shale
%

EIA Rptd. Avg Well head price

Price Change %

1989

262,483

9,522

 
 

21,074

 
 
 

1.69

 

1990

269,790

11,126

3,819

2.8%

21,523

2.1%

N/R

N/R

1.71

1.2%

1991

276,987

9,611

2,414

2.7%

21,750

1.1%

N/R

N/R

1.64

-4.1%

1992

276,014

8,305

9,278

-0.4%

22,132

1.8%

N/R

N/R

1.74

6.1%

1993

282,152

10,174

4,036

2.2%

22,726

2.7%

N/R

N/R

2.04

17.2%

1994

291,773

9,739

118

3.4%

23,581

3.8%

N/R

N/R

1.85

-9.3%

1995

298,541

8,454

1,686

2.3%

23,744

0.7%

N/R

N/R

1.55

-16.2%

1996

301,811

9,539

6,269

1.1%

24,114

1.6%

N/R

N/R

2.17

40.0%

1997

310,971

11,186

2,026

3.0%

24,213

0.4%

N/R

N/R

2.32

6.9%

1998

316,929

11,127

5,169

1.9%

24,108

-0.4%

N/R

N/R

1.96

-15.5%

1999

302,421

11,121

25,629

-4.6%

23,823

-1.2%

N/R

N/R

2.19

11.7%

2000

341,678

17,051

(22,206)

13.0%

24,174

1.5%

N/R

N/R

3.68

68.0%

2001

373,304

22,072

(9,554)

9.3%

24,501

1.4%

N/R

N/R

4

8.7%

2002

387,772

17,342

2,874

3.9%

23,941

-2.3%

N/R

N/R

2.95

-26.3%

2003

393,327

20,722

15,167

1.4%

24,119

0.7%

N/R

N/R

4.88

65.4%

2004

406,147

24,186

11,366

3.3%

23,970

-0.6%

N/R

N/R

5.46

11.9%

2005

425,887

28,590

8,850

4.9%

23,457

-2.1%

N/R

N/R

7.33

34.2%

2006

440,516

32,838

18,209

3.4%

23,535

0.3%

N/R

N/R

6.39

-12.8%

2007

452,945

32,719

20,290

2.8%

24,664

4.8%

1,990

8.069%

6.25

-2.2%

2008

476,652

32,246

8,539

5.2%

25,636

3.9%

2,870

11.195%

7.97

27.5%

2009

493,100

18,088

1,640

3.5%

26,057

1.6%

3,958

15.191%

3.67

-54.0%

2010

487,627

16,696

22,169

-1.1%

26,816

2.9%

5,817

21.693%

4.48

22.1%

2011

514,637

N/R

N/R

5.5%

28,479

6.2%

8,501

29.850%

3.95

-11.8%

2012

482,822

N/R

 

-6.2%

29,542

3.7%

10,297

34.854%

2.66

-32.7%
Footnotes to Table 1
All gray columns are my calculations
All other numbers are from combination of EIA Production and Exploration Reports
Estimated wells removed from service is calculated by subtracting the prior year producing wells from current year producing wells and then subtracting wells drilled from that difference.
EIA reports dry holes for all well types as one summary figure.
Estimated wells removed from service do not include dry holes.
Over the past 10 years, dry holes have moved in a range from 4,000 to 5,000 per year.
Table 2
Observations over Different Time Periods
| | | | | |
| --- | --- | --- | --- | --- |
| Averages | Incr. In Producing Wells | Increase In Prod | New Wells Drilled | Removed From Prod |
| 1989-1998 | 2.122% | 1.513% | 9,878 | 3,868 |
| 1989-1999 | 1.452% | 1.243% | 9,991 | 6,044 |
| 2000-2010 | 4.500% | 1.474% | 23,868 | 7,031 |
| 2001-2010 | 3.652% | 1.535% | 24,550 | 9,955 |
Footnotes to Table 2
All items are my calculations using data from Table 1.
Again dry holes are ignored. Estimate of 4-5K dry holes drilled each year. This has a material impact on cost to the industry and ultimately the consumer, but not included in the EIA data. i.e. The total economic cost of finding new gas to replace depleted production includes dry hole costs.
EIA has not yet reported total gas wells drilled in 2011 or 2012. So Table 2 can only cover ranges from 2000, and 2001 to 2010.
Hi/Lo Cost Totals will be discussed later.
Tables 1 and 2 are action-packed with insights. They represent the gas industry at the national level vs one company or physical area of development and cover 20 years of activity.
Estimating Wells Removed From Production
[Table 1] EIA Reports total wells in service each year and total successfully completed. Therefore the difference between any two years total wells in service would equal new wells completed and any wells removed from service.
Supply Destruction and Creation
[Table 1] Supply Destruction. The variance in estimated wells removed from production variance is impacted by the anomalous year 1998 when 25,629 wells were removed from service. Why so many in one year? Looking at the change in average gas price over the preceding years, it declined from 2.32 to 1.96 (15%) and most likely rendered a host of marginally economic wells no longer economic and they were shut in.
[Table 1] Supply Creation. Now let's look at years 1999 and 2000. In 1999, EIA reports 302,421, followed by 341,648 in 2000. But only 17,051 news wells were completed in 2000? The other 22,206 most likely (don't you agree), came from some of the 25,629 wells removed from service the year before. In the same year, price rose 68%.
[Table 2] Drilling Frequency and Depletion. Consider the time periods I'm using to view the history in the tables. I picked them to separate gas fundamentals between what I call the "Conventional Gas Era" and the "Modern Shale Gas Era" which reached significance on a national level around 2000. Table 2 is discussed below.
The Conventional Gas Era (The Good Old Days)
In the two ranges of the Conventional era (89-98 and 89-99) new wells drilled average 9,878 and 9,991 per year respectively and seemingly consistent. Estimated wells removed from production were 3,868 and 6,044 respectively with the latter average significantly skewed upward by the 25K removed in 1999. For the two periods, average increase in producing wells was 2.2% or 1.4% and average national production increased 1.5% and 1.2% respectively.
The Modern Shale Era (100s of years' supply of cheap gas?)
Depending on sample, the average increase in producing wells climbed either 3.65% or 4.5%. The average increase in production was comparable to the first period of 1989-1998, at about 1.5% per year. BUT for the latter two time samples, the number of new wells drilled was 250% more than either of the two Conventional periods. To maintain the slow upward trend in demand and production, we're drilling 2.5 wells for every well we drilled in the Conventional periods. We're also retiring wells at twice the rate of the first Conventional period. Will any of these shut-in wells be brought back online? Some certainly will, with the right price.
OK, so we're drilling more wells to stay in the game and satisfy demand, but at what cost? "But at what cost?"
Table 3
EIA Nominal Well Cost Estimates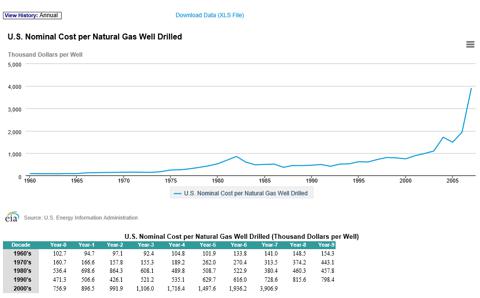 http://www.eia.gov/dnav/ng/hist/e_ertwg_xwwn_nus_mdwa.htm
Table 4
Related Costs for Observations over Different Time Periods
Averages

New Wells Drilled

Lo-Hi
$Billions Tot

Avg
$Billions Tot

1989-1998

9,878

$ 4

$ 6

1989-1999

9,991

$ 8

$ 6

2000-2010

23,868

$ 18

$ 38

2001-2010

24,550

$ 96

$ 39
Using each Conventional and Modern time period along with EIA reported nominal well costs.
Conventional Era Cost
1989-1998 EIA well cost for Lo-Hi estimate of 443K from Table 3 for 1989 to get $4 Billion.
1989-1999 EIA well cost for Lo-Hi estimate of 798K from Table 3 for 1999 to get $8 Billion.
Both Conventional Era Time Periods produced an average cost of $6 Billion.
Modern Shale Era Cost
2000-2010 Lo was produce with the EIA nominal well cost of $756K and to get $18 Billion for almost 24K wells.
2001-2010 Hi came to $96 Billion for 24.5K wells at the EIA nominal cost of $3.9 Million per each.
Again the averages worked out to $38-39 Billion using the average EIA nominal cost of the two periods.
As an aside, look at the upward trend in Nominal Well Cost during the Modern Shale Era and then note the latest cost estimate was 2007 or 3 years behind current production.
Table 5
Cost/Revenue Relationships
Period

New Wells Drilled

Lo-Hi
$Billions Tot

Avg.
$Billions Tot

Avg. Gas Price

Avg. Prod Bcf

Total Sales $B

Ratio Expl/Total Rev

1989-1998

9,878

$ 4

$ 6

1.87

22,896

42.75

13.2%

1989-1999

9,991

$ 8

$ 6

1.90

22,981

43.58

13.8%

2000-2010

23,868

$ 18

$ 38

5.19

24,624

127.73

29.9%

2001-2010

24,550

$ 96

$ 39

5.34

24,670

131.69

29.8%
Now using the information from the prior tables, let us reason together about the likely future. In the two conventional gas periods we spent an average of $6 Billion per year finding replacement gas along with the small increase to meet demand.
The Modern era nominal well cost has a huge variance reported in EIA Estimates and rising. I believe this is the result of shifting from conventional to horizontal or "un-conventional" drilling techniques. The rate of change accelerated over the reported periods and cost with it.
Using the average price of gas over the same periods as the average production and costs, we can extend that to total revenue. In other words, in the two conventional eras the Gas Industry received about 43 Billion dollars for supplying our needs. Over the modern era periods, due to the rise in gas price, the industry received 127-131 Billion. Are they getting rich off us? I think not. The cost to replace and increase gas supply - (drilling cost) expressed as a ratio to total revenue is out of whack, rising from 13 to 29%. Realize that past well exploration and ownership subsidizes to some extent current gas prices, in that we don't have to find all the gas we need every year, only enough to replace that from depleted wells and to meet the small increase on a national basis.
Let's stop here and thank God for that OK?
Now I want to take you all the way back to Table 1 and ask you to look at the "Total Prod From Shale%" and realize that over 30% and more likely the commonly reported 40% of production is now coming from the shale wells with the multi-million dollar price tags. Indulge me and gander at the number of wells being drilled each year and think about the pattern of rising number of wells drilled, wells retired, and percentage coming from shale and envision the probability that this relationship of more wells, more depletion, and more cost is likely to change. In other words, the more we do of this, the less likely we are to return to the good old days of the Conventional Era and $2 gas.
Looking at the afterburner smoke of the rising well costs in the EIA chart on Nominal Well costs a few pages back, you may have said -- will this curve ever flatten out? I respond with a resounding YES, total costs will flatten out when ALL we drill are Shale wells. It will be a lot higher, but it will flatten out.
[Unsung Benevolence of Capitalism] Over the past four years gas prices have been far below the norm. This was due to small oversupply on a national basis and was the result of the "Land Rush" effect. Companies raced to lease acreage and then, as time passed were forced to drill to maintain the lease - or write off the lease bonus costs, report losses, and give up future drilling rights. Looking back at the table, thinking about the shift from conventional to horizontal drilling and realizing that horizontal drilling didn't really accelerate in cost only the portion of horizontal drilling accelerated, you can sort of picture that at some points, drilling costs may have exceeded all revenue from existing and new wells. There is no doubt in mind that a tremendous amount of capital was destroyed in this process. It couldn't have come at a better time either, with so many people out of work and coping with financial stress. Avg. well head prices from Table 1. 2008 -- 7.97, 2009 -- 3.67, 2010 -- 4.48, 2011 -- 3.95, 2012 -- 2.66. Acting purely in self-interest it created a situation benefiting the average consumer that the government could never have legislated.
Table 5 begs questions:
Are reported increases in drilling rig productivity offsetting the rise in costs to find gas?
If so, are they offsetting it fully?
Can this new ratio hold and at the same time create a healthy profitable situation for the Gas Industry?
I'll leave those for you to think about.
Take me back to the good old days?
It would be very difficult, impossible in the short run, and probably impossible in the long run as well.
As of 2012, we have 10Tcf of our 29Tcf total from Shale Production or 34.4% of all supply. The rapid depletion of shale wells is the correlating factor between the dramatic increases in new wells drilled and wells removed from production. This depletion effect is ongoing. Every major shale play is in decline, except for the Marcellus and Eagle-Ford formations, and they should top out soon and begin to drop, unless more wells are drilled and done so quickly. Marcellus continued to increase production output the fall of 2013 while drilling rig counts and the number of wells drilled dropped. A careful examination of the Pennsylvania DEP records showed that 300 or more wells remained shut-in waiting on pipeline connections as of July 2013. So I don't personally buy into the new efficiency measures for active drilling rigs.
Based on (not my numbers) EIA numbers, the marginal cost to supply gas to the nation rose 6 fold in the past ten years while total revenue to the industry rose 3 fold. Now that Shale production has exceeded one-third of all natural gas production, it cannot be considered or treated as a marginal cost of production. Demand destruction would be ineffective in curbing the average cost of supply because the cost of Shale is no longer a marginal cost. Since there is no foreseeable way to shift the cost of supply downward, the only possible action is for the price to shift upward to cover the cost of drilling.
Arguments complete for posits 1, 2, 3.
POSIT 4 - Rise in Natural Gas price creates Coal demand
To understand why gas prices increases will result in Demand Creation for Coal, we have to consider the production of electricity in America. I don't intend to go into as much detail in the succeeding areas. The big picture will suffice.
To keep it brief, see the chart from 2005 EIA Yearly Report .PDF at link below. Page 1. It won't reproduce here.
Table 6
EIA 2005 Electricity Fuel Pie
http://www.eia.gov/electricity/annual/archive/03482005.pdf
There is no special significance to 2005 with respect to coal.
I just wanted to save time and document the total of Hydro 6.5% and Renewables 2.3% (total 8.8%) in 2005 for a later point to make.
Table 7
EIA Electricity Fuel Source History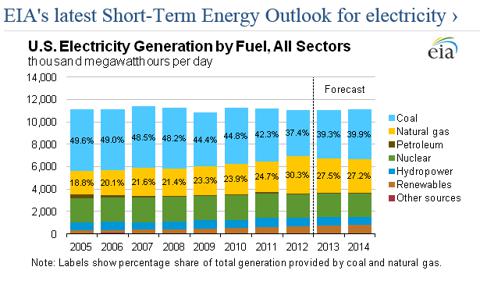 http://www.eia.gov/electricity/
Up until 2009, Coal use was 48% to 50% of all fuels, but is currently at 37.4%. By the way, EIA has already forecast a 2% jump for 2013 to 39.3%. Simultaneously, use of Natural Gas has gone from 18.8% to 30.3% in 2012. The effect of $2.66Mcf average cost of Natural Gas from the temporary over supply. But once the price passed $3Mcf, EIA reported 5 Bcf per day of gas demand from utilities dropped as they switched back to coal.
Going back to the prior section, if you agree that average cost of natural gas must return to or more likely significantly above its recent 10 year averages, then you must agree the fuel mix for Electricity must change or cost will rise with the coming rise in gas prices. (Everybody wants the lights on.)
Gas is out of the question without a large increase in electricity costs. (see comparison studies on Gas/Coal)
What about Nuclear? (I like it that green was chosen as the color for Nuclear in the EIA Chart.)
http://www.eia.gov/tools/faqs/faq.cfm?id=207&t=3
"There are currently 65 commercially operating nuclear power plants with 104 nuclear reactors in 31 states around the country. Thirty-six of the plants have two or more reactors. These plants have generated about 20% of U.S. electricity each year since 1990. The Palo Verde plant in Arizona has 3 reactors and the largest combined generating capacity of 3,942 Megawatts (MW) in 2010. Fort Calhoun in Nebraska has the smallest capacity with a single reactor at 478 Megawatts (MW) in 2010"
Well we have a total of 104 turbines driven by nuclear energy in the US.
They do a great job of producing cheap power per kWh.
However they:
are very expensive to build,
take years to construct and,
I don't recall ever seeing a Welcome Wagon parked in front of one.
Seriously speaking our nuclear facilities have:
produced between 20-25% of US Electricity Historically
dropped to 20% or below and are on a downward slope with age - see EIA data below.
Table 8
EIA Electricity Fuel Graph and Fuel Source History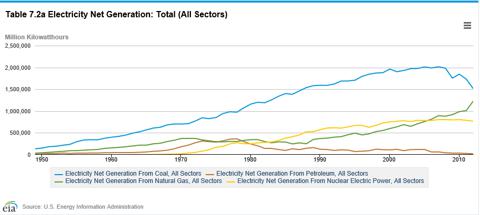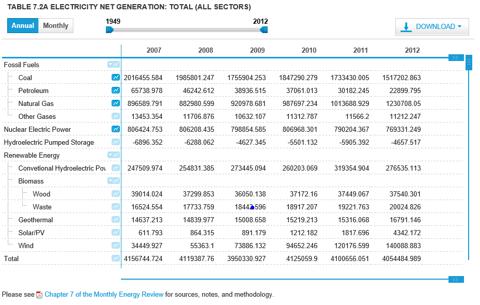 http://www.eia.gov/beta/MER/index.cfm?tbl=T07.02A#/?f=A&start=1949&end=2012&charted=1-2-3-5
We are maxed out on nuclear and our productive capacity is falling, which must be offset with increases from other sources.
http://www.eia.gov/todayinenergy/detail.cfm?id=12851
Forbes reports on the planned closures of six nuclear reactors.
http://www.forbes.com/sites/jeffmcmahon/2013/11/07/6-nuclear-plants-that-may-be-next-to-shut-down/
A brief scan of the article reveals the closure decisions are based on low natural gas prices.
Remember some favorite questions of the eminent economist, Dr. Thomas Sowell.
"Compared to what?", "At what cost?"
Based on EIA numbers we reviewed earlier, I find it easy to believe that gas prices at a minimum MUST return to norm and more likely above the 10 year norm. When at or above norm, can we still say they're low?
I've made the point that Nuclear cannot turn up much production and there seem to be limited plans for new capacity.
What about Renewables?
Earlier I showed and hinted that you should note that in 2005, EIA reported Renewables at 8.8% of the power mix.
Today they claim 13%. That's a 4.2% increase in power over the past 8 years from renewables. So clearly renewables is a possible growth area. Again the question is "at what price?"
http://en.wikipedia.org/wiki/Renewable_energy_commercialization
During 2008-2009 there was massive US Government investment in renewable energy via direct support and tax subsidies. "President Barack Obama's American Recovery and Reinvestment Act of 2009 included more than $70 billion in direct spending and tax credits for clean energy and associated transportation programs. Clean Edge suggests that the commercialization of clean energy has helped countries around the world pull out of the 2009 global financial crisis."
So let's think about the cost of that 4.2% increase in Renewable Energy.
It had a 70 Billion dollar (minimum direct investment of your money) and a tax crutch (some more of your money) to support it so the total cost is a lot higher. So I'm left with: Compared to what? At what price? The cost of coal-fired generation is routinely estimated from $1,000 to $1.500 per kWh of capacity. Meanwhile, windmills have an installed cost of $2,000 per kWh. Nevertheless, they boast an operating cost of six cents or less per produced kWh over their (optimistic) 30-year lifetime which is part of the $2000 kWh calculation. Experts disagree with optimistic estimates not just on lifetime but also on the basis the EIA does not include the cost of transmission lines from the often-inconvenient placement of wind turbines and how/where they will ultimately connect to the grid, up to $1.6mm per mile. Also, the utility industry has learned they must have fossil fuel generators on standby in case the wind (unlike congress) decides not to blow. The EIA fails to add the cost of the backup generators into the cost of wind energy production. One report places the true cost of Wind power at 15 cents per kWh. Is that high? To compare, US retail energy currently costs fewer than 12 cents per kWh throughout much of the country. Look at your electric bill.
http://www.eia.gov/electricity/monthly/update/end_use.cfm
http://www.eia.gov/forecasts/aeo/MT_electric.cfm
"Total electricity demand grows by 28 percent in the projection (0.9 percent per year), from 3,839 billion kilowatt-hours in 2011 to 4,930", "In the AEO2013 Reference case, renewable generation increases from 524 billion kilowatt-hours in 2011 to 858 billion kilowatt-hours in 2040" , "Hydropower production drops in 2012, from 325 billion kilowatt-hours in 2011"
524(renewable)/3.839 (total)=13.6% as reported elsewhere by EIA.
Roughly 200 GWh of capacity is from renewables.
If it were all wind, the installation cost would then be about $400B.
The government Production Tax Credit of 30% is then $120B (from you, to help you), which does not include the additional cost (to you) of accelerated depreciation treatment on capitalized costs and the $70B investment in green technology as part of the economic recovery stimulus.
I am cynical of wind and solar, because both only generate investor interest when the industry gets tax credits and favorable accounting treatment. If cheaper than coal, nuclear or gas, they would have no problem finding investors when the rules of a free market are applied.
Even if estimates of the true cost of wind are unduly pessimistic, let us realize that with $70 Billion in investments and a 30% Tax Credit , it still took eight years to mount enough windmills and solar farms to increase renewable / hydro from 9.8% to 13.65% of total electricity production. Any sizable increase will not be rapid or cheap.
Shale production in all but two basins is falling in total production even with new wells. The number of rigs drilling and wells completed has taken a large drop, stayed there for almost a year, but depletion isn't listening, it's marching forward rendering wells empty. Drilling stopped, because the Gas industry was losing its shirt.
The potential for a rapid gas price increase making it undesirable as a fuel source is real and it is frightening but not in scope of this document.
Nuclear is running at maximum capacity and capacity is diminishing.
Wind is not competitive with fossil fuel or nuclear power and even if is, the natural gas situation can create an immediate desire to shift to cheaper sources. How much would that shift be?
One scenario might be gas dropping to 20% and coal gaining by 7%.
http://www.eia.gov/beta/MER/index.cfm?tbl=T07.02A#/?f=A&start=1949&end=2012&charted=1-2-3-5
Table 9
EIA Electric Utility Days of Burn (Coal Inventory)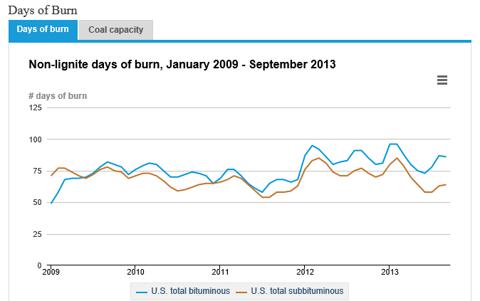 http://www.eia.gov/electricity/monthly/update/fossil_fuel_stocks.cfm#tabs_stocks2-1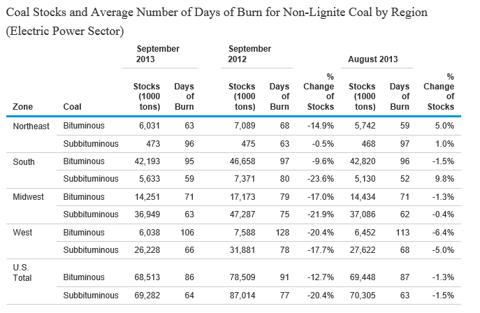 Days of Burn are a measure the EIA uses to assess the stockpile status of Coal Fired generators.
In the first chart above, Bituminous stockpiles are estimated with an average of 86 days and Subbituminous at 64 days.
The second EIA chart breaks it down by region. Also in the summary line of the 2nd chart, you can see that current tons on hand at utilities for September of 2013 are Bituminous 68,513 and Subbituminous at 69,282 compared to 78,509 and 87,014 respectively for September 2012. Coal inventories were high in 2012 due to the switch to Natural Gas by the Utility companies. So how does the coal inventory in Sept 2013 compare to other years?
http://www.eia.gov/electricity/monthly/epm_table_grapher.cfm?t=epmt_3_1
Table 10
EIA History of Utility Coal Inventory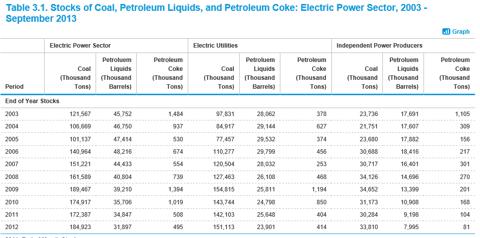 On the link at the bottom of the report, the EIA has all power generator inventories combined, which are utility and industrial. The total at end of September 2013 is 153,813 thousand tons. In the first table-shown here, we have to go back to 2007 to find a point where the monthly average for the year was lower than the current total.
Coal demand will rise and price will rise with it; possibly a sign of this anticipated event is current spot market prices.
http://www.eia.gov/coal/nymex/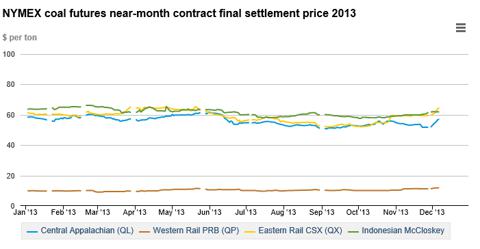 The slight price line upticks have Eastern Coal moving up to $64 ton, Central Appalachian over $57 which has been $52 most of the year. The bottom line is PRB in Wyoming and less perceptible is the change there to 11.97 per ton. Some producers there can mine coal at a cash cost below $10/ton and again, the price has been near $11/ton most of the year.
POSIT 5 - Price of Electricity rises
Gas prices are and will continue to rise.
Nuclear has little, if any excess capacity and scheduled to fall.
Renewables are already producing all they can and it's doubtful a few more hundred billion invested in renewables can offset the decrease coming in nuclear, much less the urge to switch from gas back to coal as gas price rises.
Currently there are about 1,200 Steam Turbines in operation at about 525 Coal-Fired Plants vs about 4,500 Gas-Fired turbines. Thanks to the EPA, we lack the capacity to return to 50% fuel mix form coal.
The switch back to coal from gas can only rise to the maximum generating capacity at remaining coal fired plants.
Any number would be guesswork. I would guess no more than 10% and more likely 7% of total fuel source as a maximum. The cost of natural gas to heat your home will return to pre-boom levels (more than double) and your electric bill will also with it, because we lack the capacity to generate enough from coal.
To bring it home, look at you power bill. If you're buying a kWh at 12 cents now and it rises to 15 cents, your bill goes up by 25% every month from now on.
Conclusion
This is where most authors socialize, background, and education and maybe pump their blog or books and disclose their investment situation. Disclosure seems important, the rest is inconsequential. As of July of 2013, I have 75% of my net worth in the coal industry. I've maintained a compound rate of return averaging over 25% for 15 years, but … it could still be luck.
All resources today, were here with the first man. What changed is knowledge and labor specialization. The more time free from basic acts to sustain, the more knowledge we obtained, organized we became, and specialized (a virtuous circle of productivity increases.) From the past generations that went before us, THANK YOU ROUGHNECKS and COAL MINERS working hard, long, dirty and dangerous hours extracting the resources that BUILT a nation. Your labor provided the severance taxes for the schools and roads to get there.
Yes, got all that, but what would Warren Buffett do?
Besides think for himself, let me answer with a second question?
Would you spend 26 Billion on a railroad that derives over 30% of its revenue from coal shipments, if coal were going away anytime soon?
Coal
• In 2012, BNSF hauled 2.2 million coal shipments.
• Coal hauled by BNSF powers one out of every 10 homes in the nation.
http://www.bnsf.com/about-bnsf/financial-information/performance-summary/pdf/performance_update_3Q_2012.pdf
http://www.bnsf.com/about-bnsf/pdf/fact_sheet.pdf
Appendix A
Here are some frequently used units for measuring natural gas:
1 cubic foot (cf) = 1,027 Btu
100 cubic feet (1 ccf) = 1 therm (approximate)
1,000 cubic feet (1 Mcf) = 1,027,000 Btu (1 MMBtu)
1,000 cubic feet (1 Mcf) = 1 dekatherm (10 therms)
1 million (1,000,000) cubic feet (1 Mmcf) = 1,027,000,000 Btu
1 billion (1,000,000,000 cubic feet (1 bcf) = 1.027 trillion Btu
1 trillion (1,000,000,000,000) cubic feet (1Tcf) = 1.027 quadrillion Btu
http://www.aga.org/KC/ABOUTNATURALGAS/ADDITIONAL/Pages/HowtoMeasureNaturalGas.aspx
PAGE \* MERGEFORMAT 2 | Page