2016 should have been a milestone year for Zynga.
Having spent $527 million acquiring UK developer NaturalMotion in early 2014, and then holding back its two most promising games for a year to optimize their performance, 2016 was set for CSR Racing 2 and Dawn of Titans to demonstrate the sanity of that expensive - and long term - deal.
Released on 30 June 2016, CSR Racing 2 has performed well, being a constant top 50 top grossing title on the Apple App Store and a top 100 grossing title on Google Play in key markets such as the UK, US, Canada and Germany.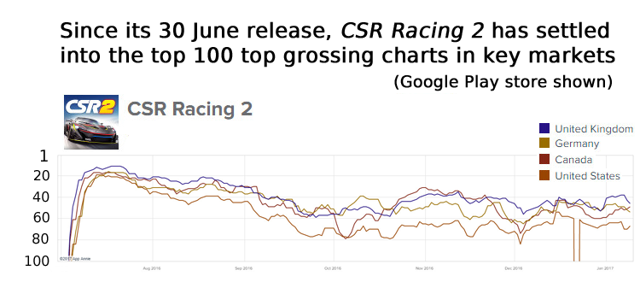 In a broader sense, however, it hasn't been enough.
Car crash
Following a strong calendar FY15, which saw revenue up 11 percent on FY14, the first nine months of FY16 saw Zynga's trailing 12 month revenue on the slide.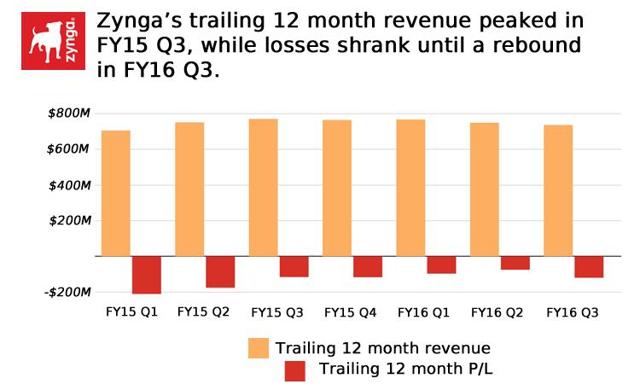 During Q3, TTM revenue was down 5 percent on year-on-year, while after two quarters of improvement, Zynga's losses exploded, reaching $42 million. Ironically, Zynga blamed this partly on increased marketing spend due to CSR Racing 2's launch.
It didn't formally breakout how the game had performed in terms of dollars during the quarter, but because it always highlights games making at least 10 percent of revenue, we know CSR Racing 2 didn't. For the record, 10 percent of revenue for Q3 was $18 million.
As for Dawn of Titans, we know even less about its performance and won't know for some months, as it was launched on 8 December and so is unlikely to significantly impact Zynga's Q4 quarter which ends 31 December and will be announced in early February.
In terms of app store positions, its first month has been similar (perhaps slightly lower) to CSR Racing 2's: it's a solid top 100 top grossing app in key markets.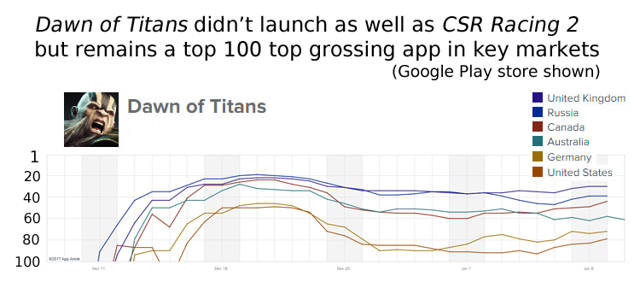 Talking in very broad terms, however, we could assume the pair combined are doing around $20 million a quarter; or - being generous - say $100 million a year. Now, that's no chickenfeed but at the moment, it's not enough to get Zynga into the black.
Maturing market
The reason is like many veteran mobile game companies, Zynga is struggling with the long term if slow decline in its key franchises. And as we've seen with CSR Racing 2 and Dawn of Titans, this is combined with the complexities of launching new titles into a mature and highly competitive market.
Tracking the revenue of Zynga's top four franchises over the past 12 months, their peak quarters were either in FY15 Q4 or FY16 Q1.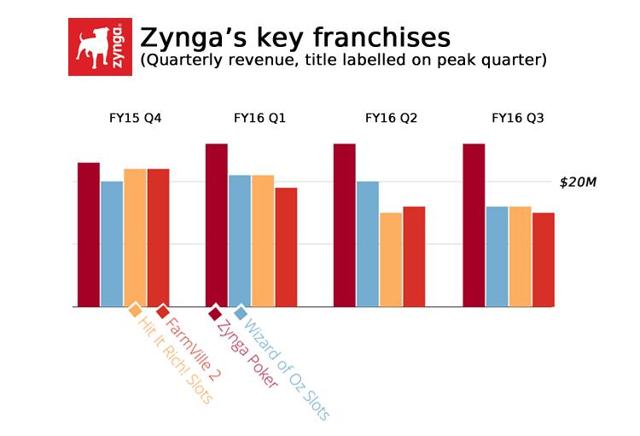 Studying Zynga's most successful games raises another dilemma for new CEO Frank Gibeau, and power-behind-the-throne Chairman Mark Pincus.
Three of his top franchise are social casino games. Indeed, while the company doesn't break down the revenue split between its four stated genre categories: Social Casino; Casual; Action Strategy; and Invest Express, it's clear from the franchise numbers that Social Casino accounts for at least a third of revenues, and most likely, more than half.
This is a problem for Zynga. Gibeau has two main objectives for 2017. He needs to get Zynga into profitability - it's only had one profitable quarter in the past three years - as well as convincing shareholders he has a vision for the future.
Shareholder pressure
In one sense, however, he is lucky.
Thanks to the company's late 2011 IPO, and despite the NaturalMotion acquisition, Zynga isn't going out of business anytime soon. It has close to $900 million in cash, equivalents and marketable securities.
But its share price remains a disaster. Floated at $10, it's currently under $3, which prices the company's worth at around $2.2 billion. That's about the same value as the total assets recorded on its balance sheet.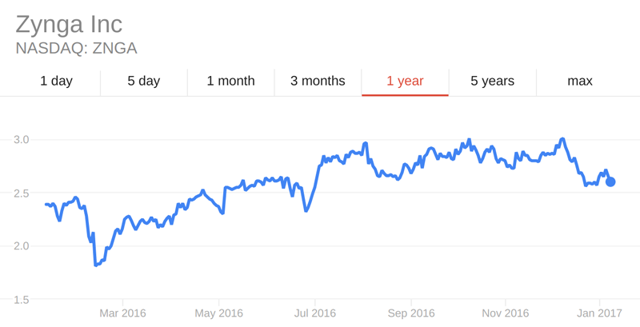 This means there's strong shareholder pressure for Gibeau to do something big.
To some extent, Zynga has bowed to such demands in 2012 announcing it was buying back $200 million of stock. But if it becomes clear the NaturalMotion games aren't going to move the needle, the CEO is going to have to make some decisions beyond more efficiency savings.
Dog with two heads
One radical solution would be to maximise shareholder value by splitting Zynga into two.
As the recent $4.4 billion acquisition of Playtika demonstrates, the social casino sector remains hot and what we could call Zynga Social Casino would be profitable and, given its potential value in terms of M&A, an interesting stock for investors.
Indeed, given a share of Zynga's $800 million cash pile and it could have a market value bigger than Zynga's current market capitalization.
Of course, where that would leave Zynga Not Social Casino would be Gibeau's concern. It would have some strong brands such as Words With Friends, which has a big reach but low direct monetization, plus evergreens such as FarmVille 2; still a +$50 million annual franchise.
But it's hard to see where its inherent value would lie or what its exit strategy would be, apart from being unprofitable and burning through cash: much like Zynga does now in fact. Equally, whether such a company could survive on the NASDAQ as an independent concern is uncertain.
Most likely then, splitting Zynga in this way would result in a strong social casino company and a necessary firesale of assets for the likes of EA, Tencent, Netmarble, NetEase and Nexon et al to pick over.
Playing for time
The messiness of this solution and the strength of Zynga's cash pile means the most likely option for 2017 is another year of more of the same.
After all, it's not like investors have any faith in the company at the moment anyhow, so any small shifts in operational efficiency or profitability could have a disproportionately positive effect.
Ironically, maybe that's how CSR Racing 2 and Dawn of Titans will provide a degree of payback for the $527 million price tag. And given Zynga won't be announcing the first full quarter of their revenues (FY17 Q1) until early May, Frank Gibeau has plenty of breathing space to consider what sort of decision he's going to make.
Disclosure: I/we have no positions in any stocks mentioned, and no plans to initiate any positions within the next 72 hours.