As We Approach The Open. - 9/1/21
Please Note: Blog posts are not selected, edited or screened by Seeking Alpha editors.
As We Approach The Open... - 9/1/21
Please excuse typos. A lot again this morning so again apologize for any typos.
As we approach the open of US equity trade in NY, risk assets trade generally to the upside with US equity markets taking a bit of a dip on a weak ADP report but remaining firmly green with RUT leading up just over four tenths, SPX just under quarter percent and NDX just over that level.
And remember our summer caveat: One thing to keep in mind is after July 4th until around Labor Day, there is significantly less liquidity in the markets due to vacations, etc., so we can get more whippy action and "overshoots" in all markets. More true this week than most as vacation schedules are at the peak.
In today's U.S. corporate news:
Facebook (FB 377.50, -1.88): -0.5% amid a reported analyst downgrade to Neutral from Buy at Rosenblatt. CrowdStrike (CRWD 273.35, -7.66): -2.7% despite beating top and bottom-line estimates, guiding Q3 revenue above consensus, and guiding FY22 EPS/revenue above consensus. PVH Corp. (PVH 112.30, +7.51): +7.2% after beating top a nd bottom-line estimates and guiding FY22 EPS/revenue above consensus. Campbell Soup (CPB 41.90, +0.17): +0.4% after beating top and bottom-line estimates and approving a $500 million share repurchase program.
Asia
Major equity indices in the Asia-Pacific region ended the midweek session on a mostly higher note. Japan's Nikkei: +1.3% Hong Kong's Hang Seng: +0.6% China's Shanghai Composite: +0.7% India's Sensex: -0.4% South Korea's Kospi: +0.2% Australia's ASX All Ordinaries: -0.1%.
As traders can't resist what hopefully are bargains being created in Chinese large tech. BBG.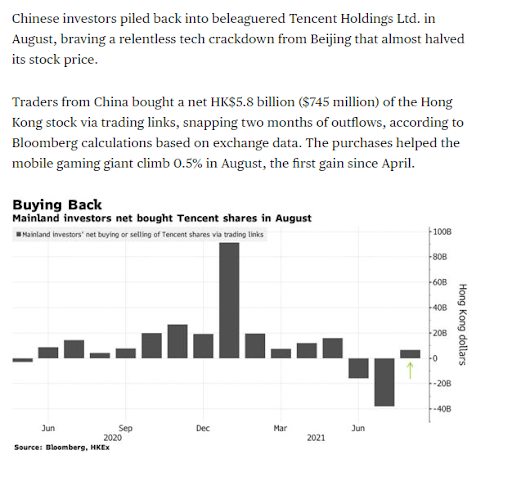 In news, Bank of Japan Deputy Governor Wakatabe said that inflation expectations have been moving sideways and that more improvement is needed to reach the elusive 2.0% target. Japan's Prime Minister Suga said that he can't dissolve parliament amid the coronavirus crisis. A general election is currently being planned for October 17.
In economic data the second Chinese PMI manufacturing report released, and it was even worse than the first one showing an outright contraction of activity for the first time since April 2020 while South Korea's Manufacturing PMI fell to its lowest level since October but along with other major Asian countries remained in positive territory. S Korean trade data accelerated from July levels as well. The Chinese contraction was chalked up to Covid disrupting both supply and demand as well as weakening overseas demand.
China's August Caixin Manufacturing PMI 49.2 (expected 50.2; last 50.3)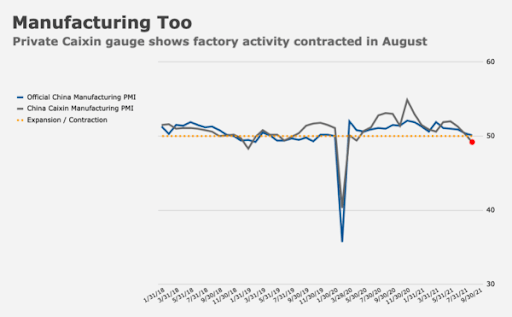 Japan's August Manufacturing PMI 52.7 (last 52.4). Q2 Capital Spending 5.3% yr/yr (last -7.8%)
South Korea's August Nikkei Manufacturing PMI 51.2 (last 53.0). August trade surplus $1.67 bln (last surplus of $1.77 bln). August Imports 44.0% yr/yr (expected 46.4%; last 38.1%) and Exports 34.9% yr/yr (expected 35.7%; last 29.6%)
India's Nikkei Markit Manufacturing PMI 52.3 (expected 55.0; last 55.3)
Australia's August AIG Manufacturing Index 51.6 (last 60.8) and Markit Manufacturing PMI 52.0 (last 56.9). Q2 GDP 0.7% qtr/qtr (expected 0.5%; last 1.9%); 9.6% yr/yr (expected 9.2%; last 1.3%)
As the weak Chinese data has more than three-quarters of fund managers expect an easing at some point before year end.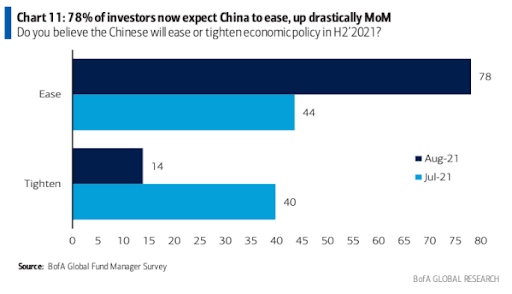 Nomura's take is that China will "up their bond issuance and fiscal spending alongside the PBoC increasing liquidity via targeted RRR cuts and various lending facilities in an attempt to offset these slowdown pressures over the coming months." But despite these measures, China is nevertheless in store for "what could be a much worse-than-expected growth slowdown, more loan and bond defaults and potential stock market turmoil."
Europe
Major European indices trade in the green with Germany's DAX (+0.1%) showing relative weakness after the release of worse than expected Retail Sales for July. STOXX Europe 600: +0.6% Germany's DAX: +0.1% U.K.'s FTSE 100: +0.8% France's CAC 40: +1.2% Italy's FTSE MIB: +0.7% Spain's IBEX 35: +1.7%.
And yesterday we noted the SPX had it's 7th consecutive monthly gain, but it wasn't alone as the Stoxx 600 did as well.
But the did finish down as did the SPX yesterday as a pair of hawkish comments from ECB members yesterday helped to unnerve European markets and push up bond yields (which flowed through to US yields).
First, ECB Governing Council member Robert Holzmann noted in an interview that the European Central Bank should start debating how it will phase out its pandemic-era stimulus. BBG - "The euro-area economy is recovering broadly as expected, allowing policy makers to consider slowing down bond purchases under the emergency program, he said in an interview." "If enough people share my opinion, we will certainly advise the Executive Board to slow down purchases in the fourth quarter and more so in the first," Holzmann said. "We will spend as much as needed."
Second, Dutch member Klaas Knot expressed similar sentiments. BBG.
The euro zone's inflation outlook may have improved markedly enough to justify an immediate slowdown in European Central Bank stimulus, an end to its pandemic emergency bond program in March, and then a return to pre-crisis discipline, according to policy maker Klaas Knot.

"I would expect a decision that should not be incompatible" with terminating the debt-buying plan in March, the Dutch governor said in an interview in Alpbach, Austria on Tuesday, discussing the options for next week's Governing Council meeting. "That would imply a reduction in the purchase pace."
European government bonds fell on Holzmann's remarks, and extended their decline after Knot spoke. The yield on 10-year German debt rose six basis points to -0.38%, the highest in more than a month.
An initial debate will take place next week on whether to keep up an elevated pace of debt buying. The Governing Council also needs to decide in coming months on whether to extend or end its pandemic debt-buying program -- known as PEPP -- in March, and how to continue its more conventional quantitative easing program thereafter, known as the APP.
Both noted that the PEPP has more flexibility (such as ignoring country limits) then does the APP which it appears may be part of the reasoning for wanting the wind-down of the PEPP. That said, it's unlikely the ECB can wriggle into the more strict APP structure (particularly as to the capital key) so we could be in store for a new acronym as some sort of hybrid program is unveiled. Next few months will be interesting for the ECB as they balance all of this, starting with the meeting later this month as European Central Bank policymaker De Guindos said this morning that the central bank will determine the level of Q4 asset purchases at the September policy meeting. Also Weidmann, another hawk, was out with sentiments similar to Holzmann's about winding down PEPP early today.
Turning to data, we had the Manufacturing PMI's for Europe which generally came in around expectations remaining very strong pulling back slightly from July levels. German retail sales fell though
Eurozone's August Manufacturing PMI 61.4 (expected 61.5; last 62.8) and July Unemployment Rate 7.6%, as expected (last 7.8%)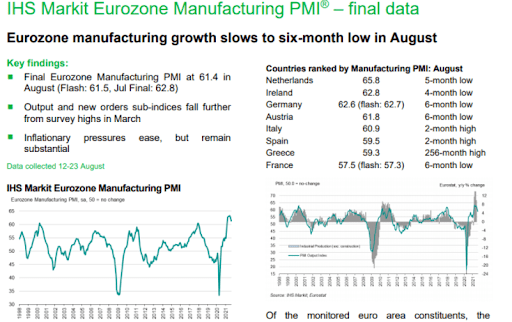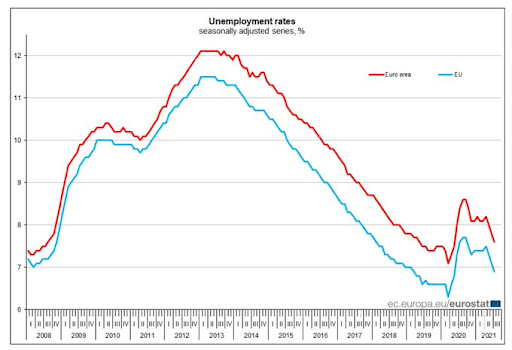 Germany's August Manufacturing PMI 62.6 (expected 62.7; last 65.9). July Retail Sales -5.1% m/m (expected -0.9%; last 4.5%); -0.3% yr/yr (expected 3.7%; last 6.5%)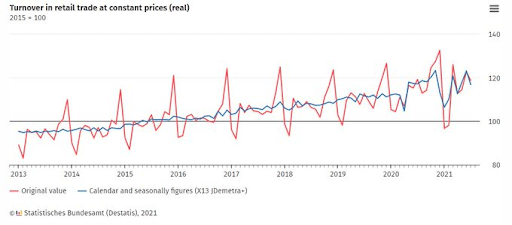 France's August Manufacturing PMI 57.5 (expected 57.3; last 58.0)Italy's August Manufacturing PMI 60.9 (expected 60.1; last 60.3). July Unemployment Rate 9.3% (expected 9.7%; last 9.4%)
Spain's August Manufacturing PMI 59.5 (expected 58.9; last 59.0)Swiss August procure.ch PMI 67.7 (expected 67.3; last 71.1)
U.K.'s August Manufacturing PMI 60.3 (expected 60.1; last 60.4). August Nationwide HPI 2.1% m/m (expected 0.2%; last -0.6%); 11.0% yr/yr (expected 8.6%; last 10.5%)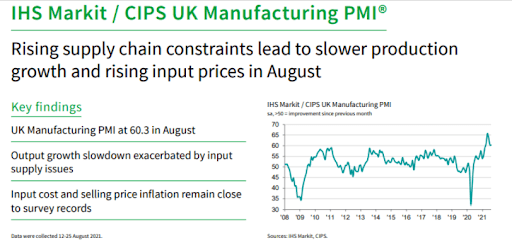 Commodities/Currencies/Bonds
Bonds - Lift from rise in European yields noted above reversed on the weak ADP number with, 10-year yield now down a bit to 1.295%. 2-year yield is flat at 0.20%.
Dollar (DXY) - Trades down currently under both the trendline we've noted and the 50-DMA. At $92.512. Technicals firmly negative. Looking shaky as we noted last night.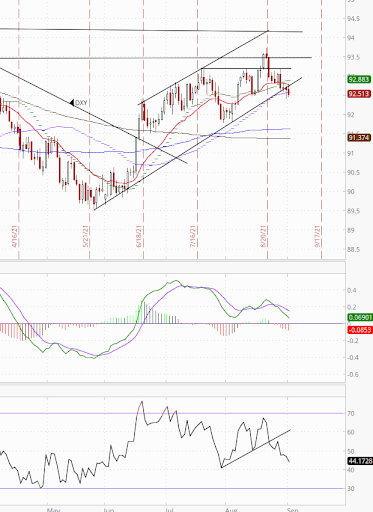 VIX - Down a bit to 16.32.
Crude (/CL) - Down as the OPEC+ meeting kicks off pushing through first support of 100-DMA and breaking uptrend. Currently at $67.69 WTI. Nothing of significance from the meeting yet. Will report tonight. EIA report out during the day.
As Venezuelan production hindered by numerous issues.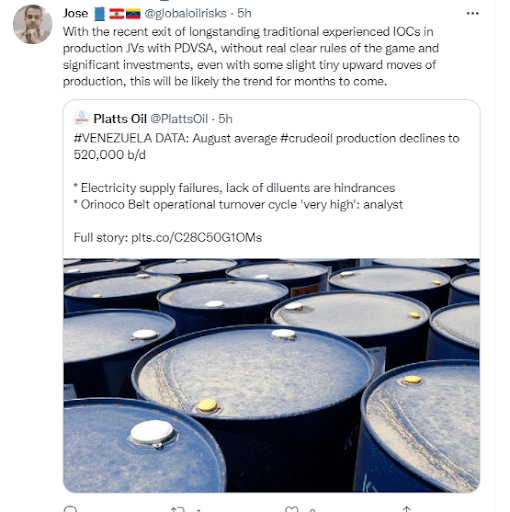 And Iranian foreign minister hints that return to talks to could be "months" away. Argus.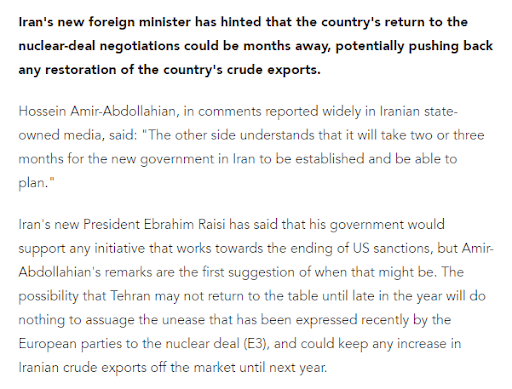 Although has apparently softened that this morning.
And US oil demand in June eclipsed 2019 levels.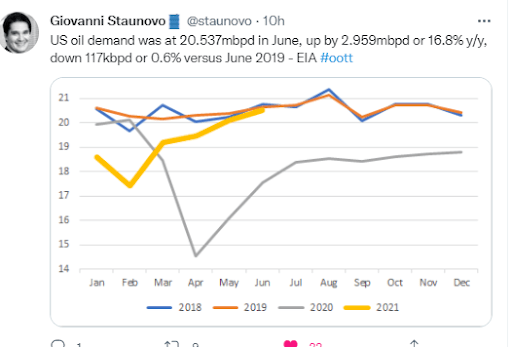 As US firms are doing more with less allowing them to increase production while reducing cap ex, a great combination for free cash flow. Argus.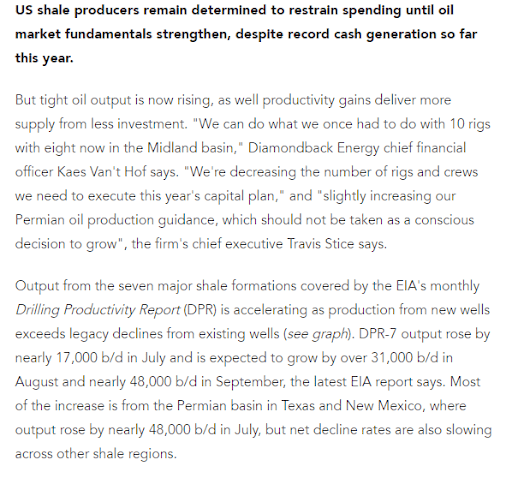 With firms barely completing more wells than necessary to offset declines.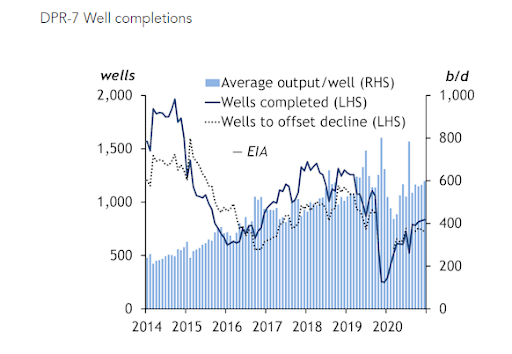 Natural Gas (/NG) - Continues to bounce after Monday's consolidation day now just under 21-month highs. Technicals remain positive.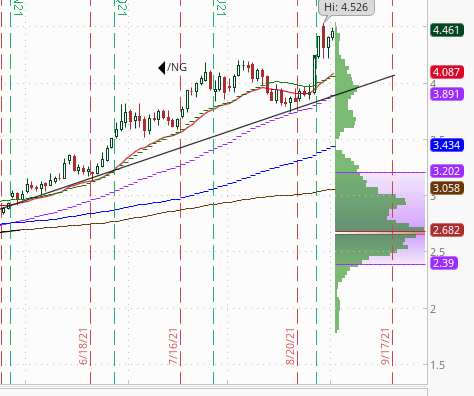 As the European nat gas situation heading into the winter is looking like something that needs some attention.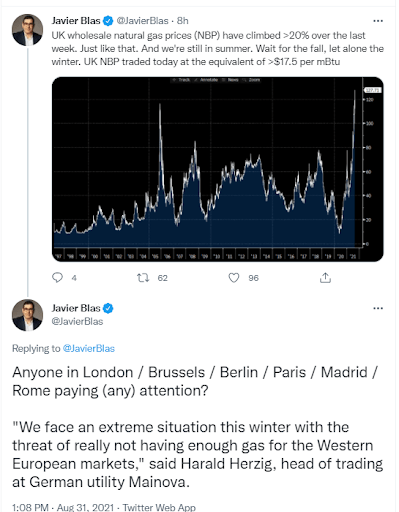 Gold (/GC) - Continues to consolidate just above the 200-DMA but keeping uptrend. Currently just above flat levels at $1818. Technicals remain positive.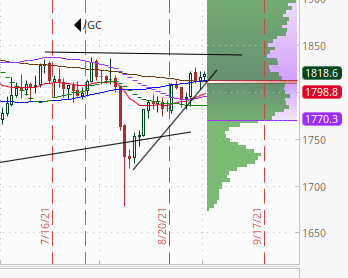 Copper (/HG) - Falling this morning over 2% (Chinese PMI?) breaking uptrend and both 50 and 20 DMA's. Technicals remain favorable but they'll turn quickly if it can't find its footing.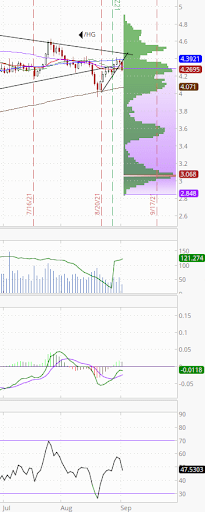 US Data
We got out August ADP earlier this morning which showed a big miss. We'll get manufacturing PMI's for August and July construction spending as well as EIA weekly later this morning which I'll report on.
US ADP Employment Change Aug: 374K (est 638K; prevR 326K; prev 300K)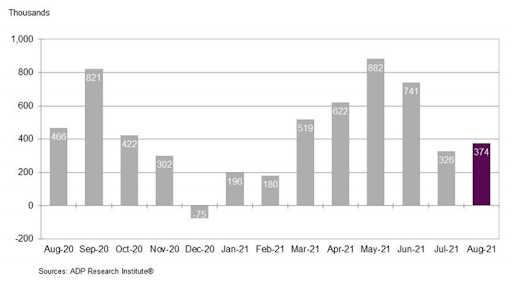 We also got weekly mortgage apps out this morning which showed a pullback w/w as refi's were down 4% w/w but purchases were up 1% increasing to highest levels since July.
US MBA Mortgage Applications Aug 27: -2.4% (prev 1.6%)
Mortgage applications decreased 2.4 percent from one week earlier, according to data from the Mortgage Bankers Association's (MBA) Weekly Mortgage Applications Survey for the week ending August 27, 2021.
... The Refinance Index decreased 4 percent from the previous week and was 2 percent higher than the same week one year ago. The seasonally adjusted Purchase Index increased 1 percent from one week earlier. The unadjusted Purchase Index decreased 2 percent compared with the previous week and was 16 percent lower than the same week one year ago.

"There was little change in mortgage rates last week, with the 30-year fixed remaining at 3.03 percent. Despite low rates, refinance applications declined, with some borrowers still waiting for rates to drop even lower. Recent uncertainty around the economy and pandemic have kept rates low over the past month, which is why the refinance index has oscillated around these levels," said Joel Kan, MBA's Associate Vice President of Economic and Industry Forecasting. "Even with a slight increase, purchase activity hit its highest level since early July, as applications for conventional and government loans increased. Home purchase activity continues to be dominated by higher price tiers of the market, with the purchase average loan size now at $396,500, the highest average in five weeks. According to FHFA, June's year-over-year increase in home prices was 18.8 percent, while the second quarter saw a 17.4 percent increase overall. Both measures set new records, as housing demand continued to outpace the inventory of homes for sale."

...

The average contract interest rate for 30-year fixed-rate mortgages with conforming loan balances ($548,250 or less) remained unchanged at 3.03 percent, with points increasing to 0.34 from 0.29 (including the origination fee) for 80 percent loan-to-value ratio (LTV) loans.
And you can add the Gallup poll to the declining consumer confidence index pile.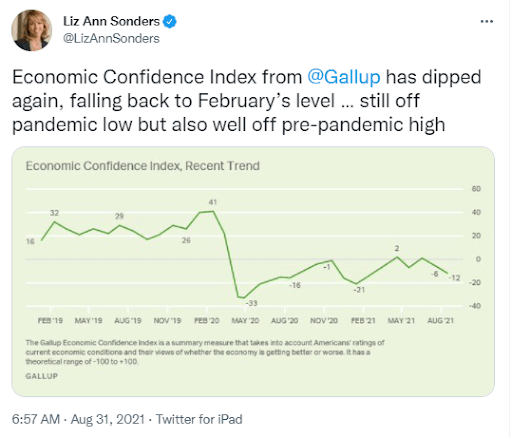 Misc.
Random stuff:
And it's not just big banks that are awash with liquidity. Community bank loan to deposit ratios are plumbing 10-year lows. This is more your "mom and pop" deposits.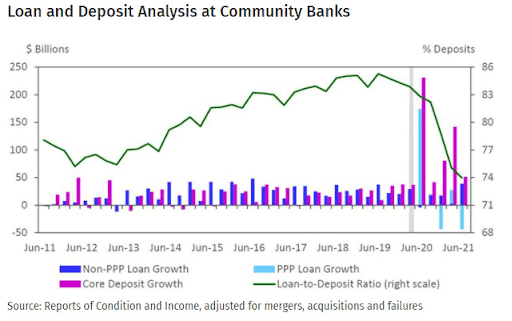 As office and mall vacancy rises with leases continuing to expire (although neighborhood and strip mall rates declined). From REIS. Also office rents declined for a 5th consecutive quarter while mall rents stabilized after 4 quarters of declines.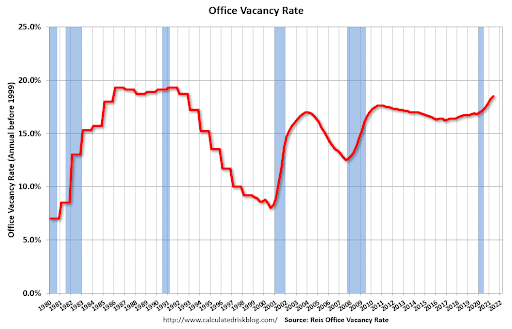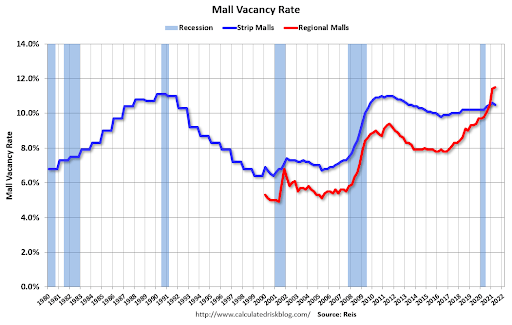 And I'm sure by now you've heard one survey or another (Realpage, Apartment List, Yardi) of a major apartment platform note that rents have followed home prices up to big y/y gains, but just in case you haven't here's a graph (WSJ).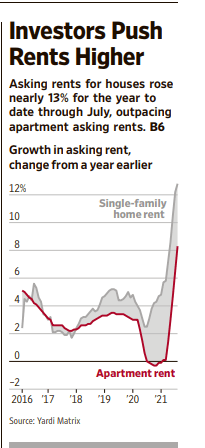 And missed it yesterday but Canadian 2Q21 GDP came in well below estimates when annualized contracting when a solid increase was expected but June shows that they were on the uptrend increasing 0.7% m/m.
Canadian GDP (M/M) Jun: 0.7% (est 0.7%; prev -0.3%)
Canadian GDP (Y/Y) Jun: 8.0% (est 8.8%; prev 14.6%)
Canadian Quarterly GDP Annualized Q2: -1.1% (est 2.5%; prev 5.6%)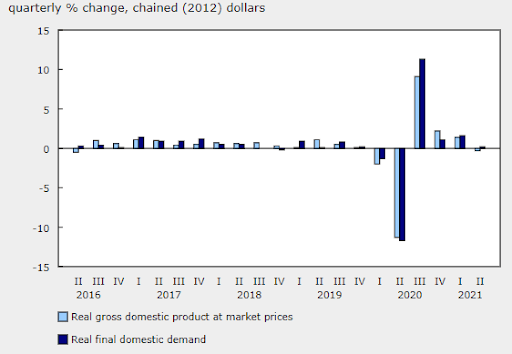 Brazil also contracted in Q2.
Brazilian GDP (Q/Q) Q2: -0.1% (est 0.2%; prev 1.2%)
To see more content, including summaries of most major U.S. economic reports and my morning and nightly updates go to Cbus Neil's Blog Posts for more recent or Sethi Associates for the full history.
Seeking Alpha's Disclosure: Past performance is no guarantee of future results. No recommendation or advice is being given as to whether any investment is suitable for a particular investor. Any views or opinions expressed above may not reflect those of Seeking Alpha as a whole. Seeking Alpha is not a licensed securities dealer, broker or US investment adviser or investment bank. Our analysts are third party authors that include both professional investors and individual investors who may not be licensed or certified by any institute or regulatory body.