US Markit Manufacturing PMI Flash Sept P: 60.5 (est 61.0; prev 61.1)
-US Markit Services PMI Flash Sept P: 54.4 (est 54.9; prev 55.1)
-US Markit Composite PMI Flash Sept P: 54.5 (prev 55.4)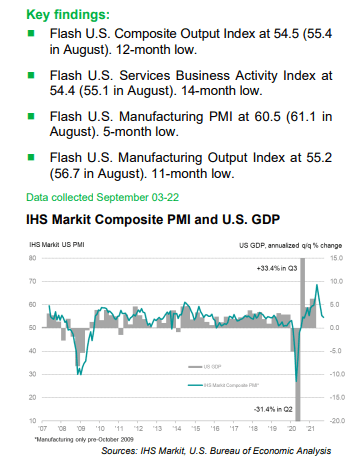 Markit September flash Composite PMI pulled back further from May's survey-record expansion of output, falling to a 12-month low, with both manufacturing and services falling for a second month. Manufacturing though remains above the 60 level indicating continued very strong growth there even if at a 5-month low, and while services fell to 54.4 from 55.1, a 14-month low, it seems to be stabilizing and is still solidly in "expanding" territory (but a definite softening from the over 60 readings just a few months ago). New orders fell to a 13-month low as services exports continued to weigh heavily. This should get a big boost in November when the travel restrictions are reduced. Employment remained relatively subdued, but backlogs rose strongly due to capacity issues. Price pressures continue with input costs and output charges increasing at the second highest rate on record. Supply chain issues remained pervasive. Positively, future expectations "remained robust".
From the report (highlights are mine):
Private sector firms in the U.S. signalled a solid expansion in output during September, albeit at the slowest pace for a year and one that was much softer than that seen at the start of the summer. The overall upturn was weighed on by the weakest increase in service sector business activity in the current 14-month sequence of growth.
Adjusted for seasonal factors, the IHS Markit Flash U.S. Composite PMI Output Index posted 54.5 in September, down from 55.4 in August and much lower than May's record high. The rate of output growth was the softest since September 2020, amid a notable slowdown in the pace of expansion in service sector activity compared to earlier in the year. At the same time, new order growth eased to the slowest since August 2020. Although demand conditions at manufacturing firms remained very strong by historical standards, the upturn in service sector new business slowed to a 14-month low as COVID-19 concerns persisted. While new export orders increased at a faster pace, the improvement was confined to manufacturing. Service providers registered a solid decline in exports as ongoing virus restrictions continued to impede activity.
Challenges finding suitable candidates and difficulties retaining employees were reflected in firms reporting only a fractional rise in employment for a second month. Backlogs of work rose strongly due to the resulting pressure on operating capacity. The rise in outstanding business was the second-fastest in over 12 years of data collection, with a record increase seen in manufacturing.
On the price front, input costs rose at a sharper pace during September. The rate of cost inflation was the quickest for four months, and the second-highest on record, as supply chain disruptions and material shortages pushed prices and transportation costs up. Meanwhile, output charges continued to increase markedly, continuing to rise at a pace far outstripping anything seen in the survey's history prior to May, as firms sought to pass on higher costs to clients where possible.
Optimism at private sector firms was robust in September. Business confidence was often linked to hopes of improved client demand and the removal of supply chain blockages.
Here was the commentary:
Commenting on the PMI data, Chris Williamson, Chief Business Economist at IHS Markit, said: "The pace of US economic growth cooled further in September, having soared in the second quarter, reflecting a combination of peaking demand, supply chain delays and labour shortages.
"The slowdown was led by a cooling of demand in the service sector, linked in part to the Delta variant spread. However, while manufacturers have seen far more resilient demand, factories face growing problems in sourcing enough supplies and labour to meet orders. Supply chain delays show no signs of easing, with another near-record lengthening of delivery times in September.
Hence factory output growth also weakened and order book backlogs rose at a record pace in September.
"The upshot is yet another month of sharply rising prices charged for goods and services as demand outpaces supply, and higher costs are passed on to customers."
To see more content, including summaries of most major U.S. economic reports and my morning and nightly updates go to Cbus Neil's Blog Posts for more recent or Sethi Associates for the full history.