As We Approach The Open. - 9/27/21
Please Note: Blog posts are not selected, edited or screened by Seeking Alpha editors.
As We Approach The Open... - 9/27/21
Please excuse typos. As a side note, after talking with some followers, I'm going to try to make this a little more digestible for those who are not as familiar with the markets, lingo, etc. Feel free to leave your thoughts in the comments section, they are appreciated.
Will start a small glossary at the start also.
SPX = S&P 500
Naz = Nasdaq Composite
NDX = Nasdaq 100 (100 largest stocks in the Naz)
RUT = Russell 2000 (smaller stocks)
DMA = Daily Moving Average (the moving average over the given time period (20, 50, 100, 200 days normally)).
MACD = Moving Average Convergence Divergence (basically a trend indicator)
RSI = Relative Strength Index (basically what it sounds like)
BBG = Bloomberg
WSJ = Wall Street Journal
_______________________________________________________________________
As we approach the open of US equity trade in NY, global risk assets are mixed, including in the US where the NDX is down a solid almost eight tenths, SPX down two tenths while the RUT is up a little under two tenths. It appears the "rates up/growth stocks down" interplay may be back as the 10-year yield has risen to its highest level since June (and the 2 and 5-years are at post-pandemic highs as we discussed on Friday).
In today's U.S. corporate news (Argus):
Facebook (FB 351.23, -1.73): -0.5% amid news that it will pause 'Instagram Kids' and is building parental supervision tools. Acceleron Pharma (XLRN 174.00, +6.35): +3.8% after Bloomberg reported that Acceleron is in advanced talks to be acquired for $11 billion by a large pharma company. Airbnb (ABNB 176.40, +0.52): +0.3% amid an analyst initiation with a Neutral rating at JP Morgan.
As Brian Gilmartin gives an update on SPX earnings trends. While they remain in good shape, we've seen a more typical softening as we get closer to the quarter starting (3Q21). If you recall, previously we just saw ever increasing estimates for current and forward 4-quarters over the past year right into and through each earnings season. While the 3Q21 earnings are down just $0.30 from their peak in August and the 4Q21 even less from their peak two weeks ago, it's a change nonetheless.
And we're also seeing company earnings revisions weaker the last few weeks with the first negative revisions in the week of 9/10 (see table below). While the last two weeks have bounced back to net positive, they are barely so on net a far cry from what we saw previously (this table goes back to April and the lowest previous week was 66% net positive).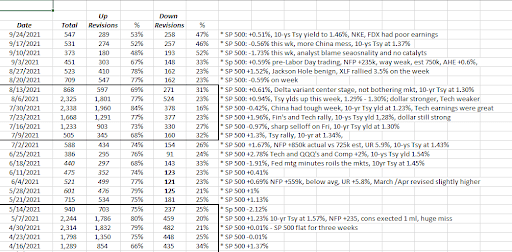 Ever rising earnings estimates have been one of the drivers of the stock market from the March lows, so that's something that could now be less of a tailwind. We'll have to keep our eye on it. The good news though is the 2022 estimates continue to increase for now.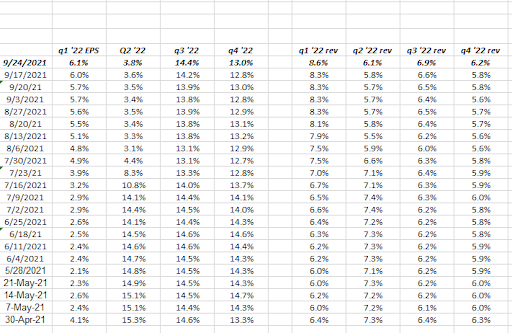 As sentiment enters the week more bullish than the last few.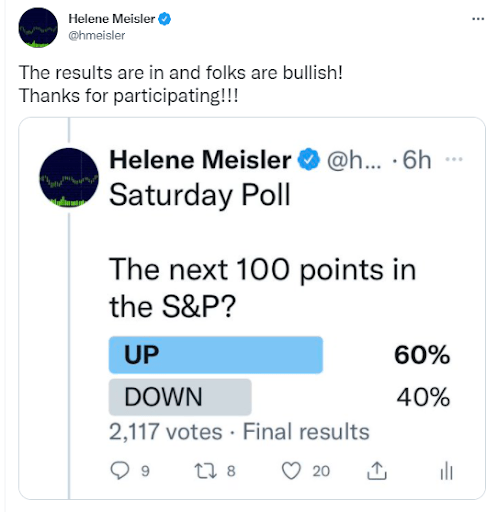 Asia
Major equity indices in the Asia-Pacific region began the week mixed but mostly tilting positive outside of China. Japan's Nikkei: UNCH Hong Kong's Hang Seng: +0.1% China's Shanghai Composite: -0.8% India's Sensex: +0.1% South Korea's Kospi: +0.3% Australia's ASX All Ordinaries: +0.5%.
In news, press reports from Japan suggest that the next LDP leader and prime minister will be decided via a run-off. The first round of voting is scheduled for Wednesday. Japan will reportedly lift the emergency declaration in all prefectures at the end of the month. FT reported that local governments in China have been seizing Evergrande's presales. Residents of China's Guangdong province have been told to limit their use of electricity (more on that below). PBoC injected a net 100Bln Yuan through 14 Day reverse repos.
In economic data:
Japan's July Corporate Services Price Index 1.0% yr/yr (last 1.1%). August Leading Index 104.1 (last 104.2) and Coincident Indicator -0.2% m/m (last -0.1%)
As power curbs hit China as well, another headwind for growth there. BBG.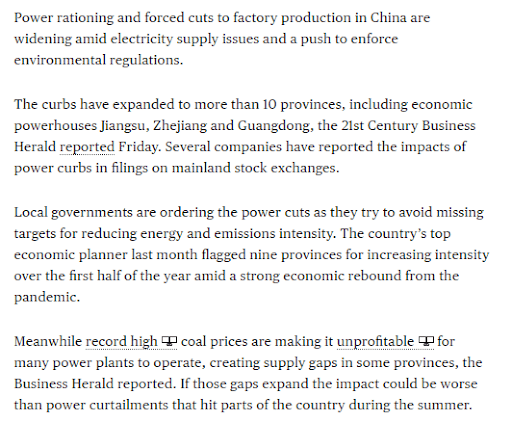 And the latest regulations regarding Macau are in line with its expressed desire to reduce the area's reliance on gambling and better integrate it with the region. BBG.
And NSW, Australia readies a "Freedom Roadmap" as it closes in on its vaccination target.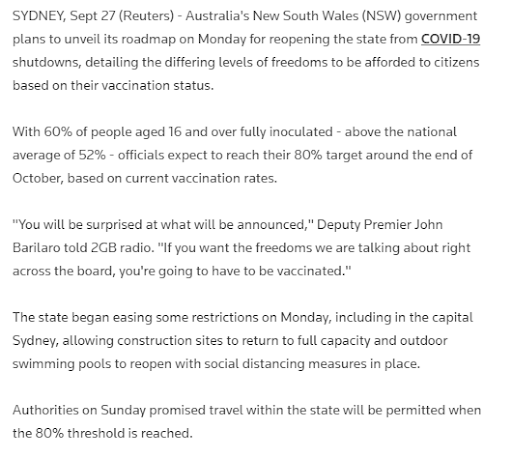 Europe
Major European indices trade near their flat lines while Spain's IBEX (+1.1%) outperforms. STOXX Europe 600: -0.1% Germany's DAX: +0.4% U.K.'s FTSE 100: UNCH France's CAC 40: +0.2% Italy's FTSE MIB: +0.3% Spain's IBEX 35: +1.1%.
In news, Germany's federal election resulted in SPD winning a slight edge over CDU/CSU, putting the onus on Finance Minister Scholz to form a ruling coalition. Chancellor Merkel will remain in office until a coalition is formed (more on that below). There were more reports of fuel shortages in the U.K. after last week's reports invited panic buying.
In economic data:
Eurozone's August M3 Money Supply 7.9% yr/yr (expected 7.8%; last 7.6%). August Private Sector Loans 4.2% yr/yr (last 4.2%) and August Loans to Nonfinancials 1.5% (last 1.7%)
Italy's August non-EU trade surplus EUR1.58 bln (last surplus of EUR6.85 bln)Spain's August PPI 18.0% yr/yr (last 15.6%)
As the big event of the weekend, the German elections, resulted in a fragmented result requiring a three-party coalition for the first time in decades. Until a coalition is created (which can take months) Angela Merkel will remain in power. BBG.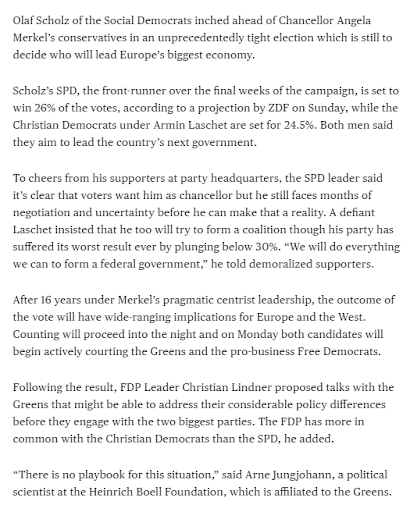 As Europe's top banking regulator says that banks are underestimating risks of defaults in certain sectors. BBG.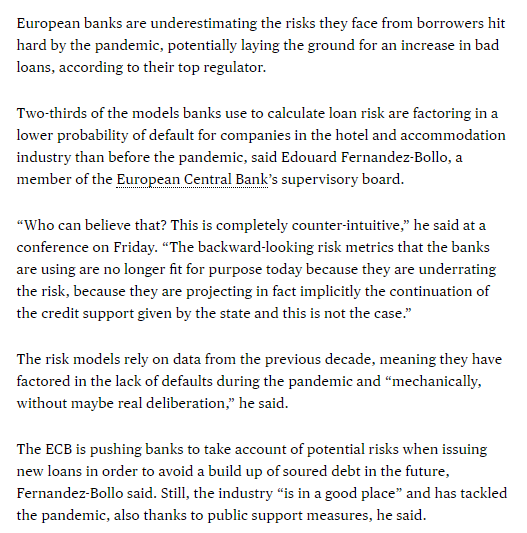 Commodities/Currencies/Bonds
Bonds - Bonds trade a softer again this morning with yields moving up across the curve again. 10-year yield is up another three basis points to the highest levels since late June. Currently at 1.49%. 2-year yields trade up one basis point to 0.28%, while the 5-year has pushed to a post-pandemic high just under 1%.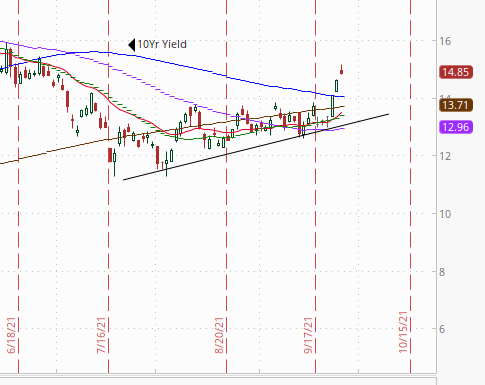 Dollar (DXY) - Continues to trade in the range of last week remaining in a short term uptrend. Currently at $93.39. Daily technicals remain positive.
VIX - After falling below support on Friday getting a little life on the growth stock weakness up to 19 level.
Crude (/CL) - After a fourth week of gains last week, up again this morning to highest levels since the 7-year highs reached in July. Trading up almost 2% to $75.36 WTI. Technicals remain firmly positive on daily chart. Not yet overbought.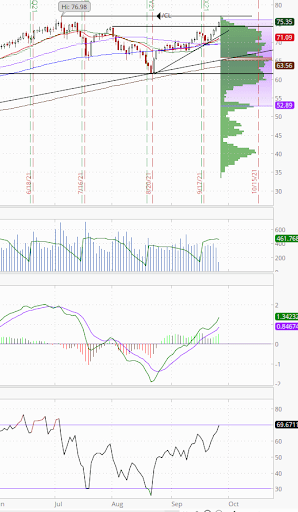 Natural Gas (/NG) - Shooting up this morning over 6% but remains below the highs of last week. Daily technicals are turning fast.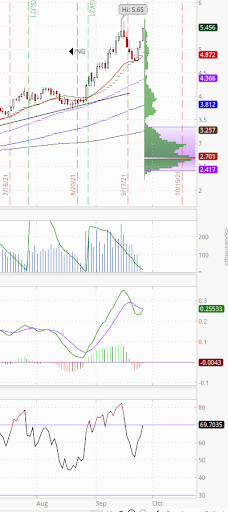 Gold (/GC) - Despite rates moving higher holding in around flat levels this morning. Currently at $1753. Daily technicals remain negative.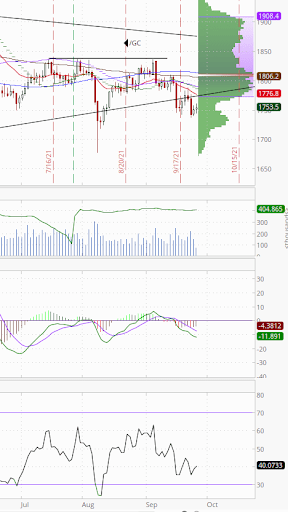 Copper (/HG) - Continues to struggle with the 50-DMA trading down a bit. Technicals remain negative daily chart but are firming up.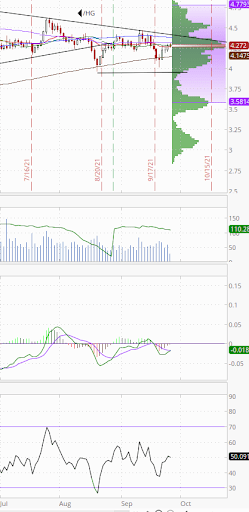 US Data
Durable/capital goods report is out, coming in much stronger than expected fueled by transport orders (up 5.5%) but still beating ex-transp and defense (core). I'll have a report this morning. We'll also get Dallas Fed Mfg later this morning.
US Durable Goods Orders Aug P: 1.8% (est 0.6%; prev -0.1%)
US Durable Goods Orders Ex-Transportation Aug P: 0.2% (est 0.5%; prev 0.8%)
US Cap Goods Orders Nondef Ex-Air Aug P: 0.5% (est 0.4%; prevR 0.3%; prev 0.1%)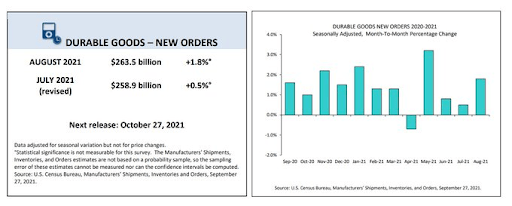 Misc.
Random stuff:
All eyes will be on Washington this week, as Pelosi says the bipartisan infrastructure bill will be "passed this week"...
House Speaker Nancy Pelosi pledged to pass a $550 billion infrastructure bill this week and signaled that the headline amount on a bigger package of spending and tax measures will be lowered from $3.5 trillion.
In a nod to moderate Democrats eager to enact the roads-and-bridges bill, Pelosi said in a letter to caucus members that she'll open debate on the Senate-passed measure Monday and put it to a vote on Thursday.
"Well, let me just say we're going to pass the bill this week," she said on ABC's "This Week" earlier Sunday.
... as the Senate takes up the stopgap spending bill (and apparently vote down due to Republican opposition) ...
Also on Congress's agenda is avoiding a federal government shutdown looming at the end of the month and a potential default on U.S. government obligations in the weeks ahead.
The Senate is expected to vote this week to take up a House-passed stopgap funding bill that includes a suspension of the debt ceiling, though Republican opposition is likely to block its consideration.
... and both chambers consider the reconciliation bill which Pelosi has noted will be coming down from $3.5T. It "seems self-evident" that the headline number is going to be smaller than $3.5 trillion, Pelosi said on ABC. BBG.
As the "quant revolution" has made it to fixed income according to Invesco. BBG.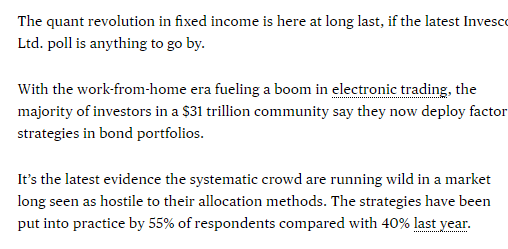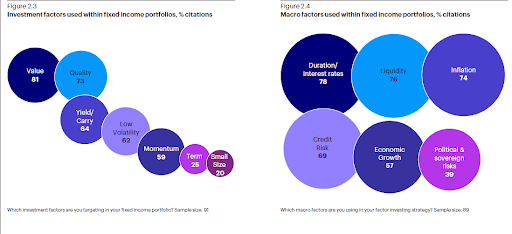 And RealPage analysis links rising rents to rising incomes saying the rent-to-income ratio for market rate units has remained unchanged. (Globe St).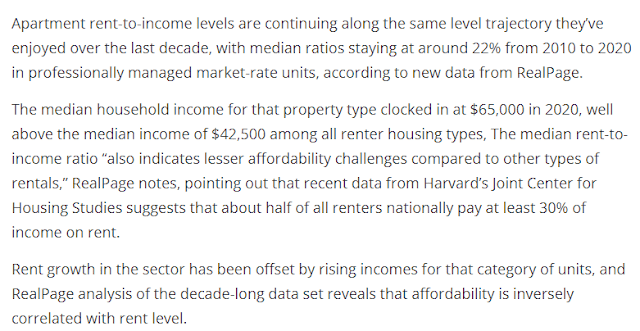 And anecdotal reports indicate a hiring surge from the pandemic jobless benefits expiring has yet to materialize. BBG.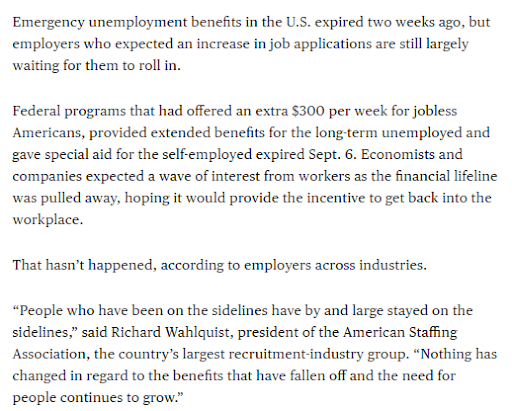 As nuclear watchdog says Iran has breached the monitoring agreement reached two weeks ago.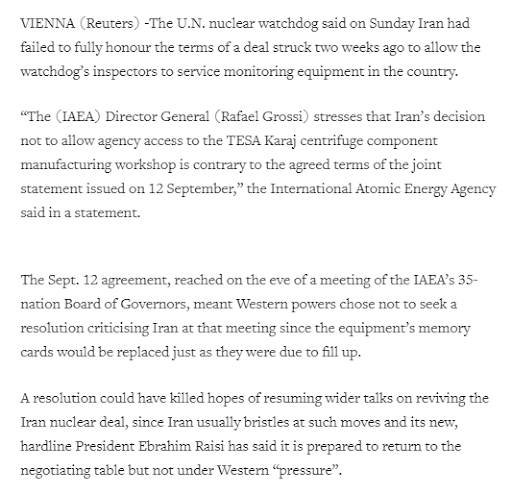 To see more content, including summaries of most major U.S. economic reports and my morning and nightly updates go to Cbus Neil's Blog Posts for more recent or Sethi Associates for the full history.
Seeking Alpha's Disclosure: Past performance is no guarantee of future results. No recommendation or advice is being given as to whether any investment is suitable for a particular investor. Any views or opinions expressed above may not reflect those of Seeking Alpha as a whole. Seeking Alpha is not a licensed securities dealer, broker or US investment adviser or investment bank. Our analysts are third party authors that include both professional investors and individual investors who may not be licensed or certified by any institute or regulatory body.