US S&P CoreLogic Case-Shiller 20-City House Prices (M/M) Jul: 1.55% (est 1.70%; prevR 1.79%; prev 1.77%)
US S&P CoreLogic Case-Shiller 20-City House Prices NSA (Y/Y) Jul: 19.95% (est 20.00%; prevR 19.14%; prev 19.08%)
US FHFA House Price Index (M/M) Jul: 1.4% (est 1.5%; prevR 1.7%; prev 1.6%)
US FHFA House Price Index (Y/Y) Jul: 19.2%
S&P CoreLogic Survey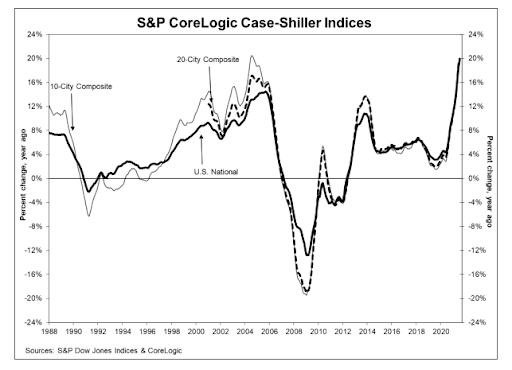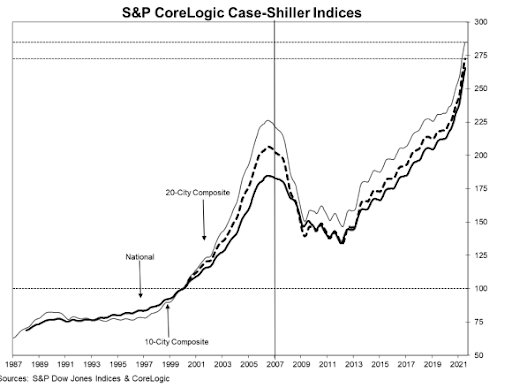 S&P CoreLogic survey for July (so a little dated) showed home prices continue their rapid, parabolic, increase on a y/y basis (a record for the the fourth month) up 19.95% for the 20-city survey, but showed further moderating on a m/m basis (although still elevated) up 1.55% after increasing 1.79% in June. Again this month, all surveyed cities increased and all cities are at or within 0.3% of all-time highs (Chicago is the only one below).
Here was commentary from the US S&P CoreLogic Case-Shiller:
"July 2021 is the fourth consecutive month in which the growth rate of housing prices set a record, says Craig J. Lazzara, Managing Director and Global Head of Index Investment Strategy at S&P DJI. "The National Composite Index marked its fourteenth consecutive month of accelerating prices with a 19.7% gain from year-ago levels, up from 18.7% in June and 16.9% in May. This acceleration is also reflected in the 10- and 20-City Composites (up 19.1% and 19.9%, respectively). The last several months have been extraordinary not only in the level of price gains, but in the consistency of gains across the country. In July, all 20 cities rose, and 17 gained more in the 12 months ended in July than they had gained in the 12 months ended in June. Home prices in 19 of our 20 cities now stand at all-time highs, with the sole outlier (Chicago) only 0.3% below its 2006 peak. The National Composite, as well as the 10- and 20-City indices, are likewise at their all-time highs.
"July's 19.7% price gain for the National Composite is the highest reading in more than 30 years of S&P CoreLogic Case-Shiller data. This month, New York joined Boston, Charlotte, Cleveland, Dallas, Denver, and Seattle in recording their all-time highest 12-month gains. Price gains in all 20 cities were in the top quintile of historical performance; in 15 cities, price gains were in the top five percent of historical performance.
"We have previously suggested that the strength in the U.S. housing market is being driven in part by a reaction to the COVID pandemic, as potential buyers move from urban apartments to suburban homes. July's data are consistent with this hypothesis. This demand surge may simply represent an acceleration of purchases that would have occurred anyway over the next several years. Alternatively, there may have been a secular change in locational preferences, leading to a permanent shift in the demand curve for housing. More time and data will be required to analyze this question.
"Phoenix's 32.4% increase led all cities for the 26th consecutive month, with San Diego (+27.8%) and Seattle (+25.5%) not far behind. As has been the case for the last several months, prices were strongest in the Southwest (+24.2%) and West (+23.7%), but every region logged double-digit gains and recorded all-time high rate increases."
US FHFA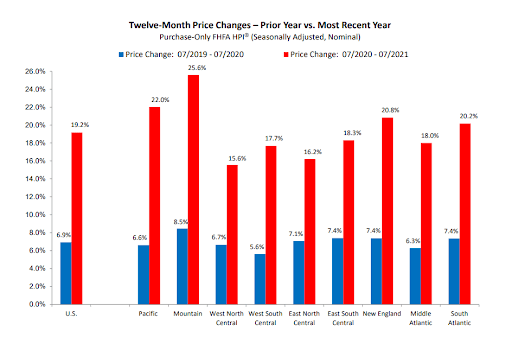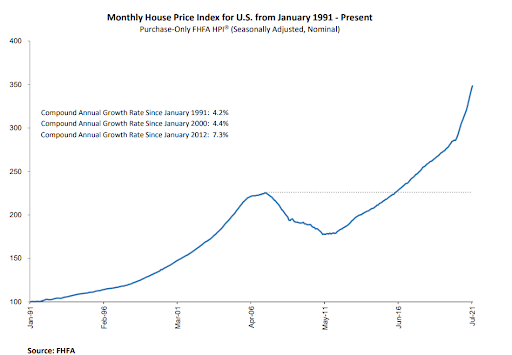 FHFA had a similar story with a slightly lower +1.4% increase m/m and 19.2% y/y in July.
From the report:
House prices rose nationwide in July, up 1.4 percentfrom the previous month, according to the latest Federal Housing Finance Agency House Price Index (FHFA HPI®). House prices rose 19.2 percent from July 2020 to July 2021. The previously reported 1.6 percent price change for June 2021was revised upward to 1.7 percent.
For the nine census divisions, seasonally adjusted monthly house price changes from June 2021 to July 2021 ranged from+0.8 percent in the West North Central division to +1.9 percent in the South Atlantic division. The 12-month changes ranged from +15.6 percent in the West North Central division to +25.6 percent in the Mountain division.
"Record appreciation rates for the U.S. continued in July," said Dr. Lynn Fisher, FHFA's Deputy Director of the Division of Research and Statistics. "Although the monthly pace of increase slowed in most Census Divisions in July, four areas experienced year over year growth rates in excess of 20 percent and all saw annual gains in excess of 15 percent."
To see more content, including summaries of most major U.S. economic reports and my morning and nightly updates go to Cbus Neil's Blog Posts for more recent or Sethi Associates for the full history.