As We Approach The Open. - 9/29/21
Please Note: Blog posts are not selected, edited or screened by Seeking Alpha editors.
As We Approach The Open... - 9/29/21
Please excuse typos. As a side note, after talking with some followers, I'm going to try to make this a little more digestible for those who are not as familiar with the markets, lingo, etc. Feel free to leave your thoughts in the comments section, they are appreciated.
Will start a small glossary at the start also.
SPX = S&P 500
Naz = Nasdaq Composite
NDX = Nasdaq 100 (100 largest stocks in the Naz)
RUT = Russell 2000 (smaller stocks)
DMA = Daily Moving Average (the moving average over the given time period (20, 50, 100, 200 days normally)).
MACD = Moving Average Convergence Divergence (basically a trend indicator)
RSI = Relative Strength Index (basically what it sounds like)
BBG = Bloomberg
WSJ = Wall Street Journal
_______________________________________________________________________
Surprise, my appointment got moved to next week, so was able to do an opener.
As we approach the open of US equity trade in NY, US and European stocks are bouncing back a bit as the rapid rise in global bond yields takes a breather this morning with tech stocks pacing the gains. In the US, NDX and RUT are up just under a half percent while SPX is up little over a third of a percent.
In today's U.S. corporate news (Argus):
Micron (MU 70.38, -2.72): -3.7% after guiding Q1 EPS and revenue below consensus. The company beat EPS estimates. Sherwin-Williams (SHW 273.99, -5.63): -2.0% after lowering its Q3 and FY21 guidance, as raw material availability and pricing inflation have worsened. The company also made a small acquisition for Specialty Polymers. Boeing (BA 223.74, +5.33): +2.4% amid an analyst upgrade to Outperform from Mkt Perform at Bernstein. Lucid Motors (LCID 26.29, +1.75): +7.1% after announcing that reservation holders of the Lucid Air Dream Edition models will begin receiving their vehicles next month.
As Helene Meisler gives us a couple of minor positive divergences. First I missed it but breadth had a minor positive divergence when compared with the selloff a week ago Monday (the 20th). Breadth was better even though the point loss was worse yesterday. More importantly, we saw fewer new lows on the NSYE and Naz then we saw last Monday as well.
Asia
Major equity indices in the Asia-Pacific region ended Wednesday on a mostly lower note. Japan's Nikkei: -2.1% Hong Kong's Hang Seng: +0.7% China's Shanghai Composite: -1.8% India's Sensex: -0.4% South Korea's Kospi: -1.2% Australia's ASX All Ordinaries: -1.1%.
In news, Japan's former Foreign Minister Kishida will become the country's new prime minister after winning the LDP leadership race after a runoff (he won the initial by one vote). An official with Japan's Government Pension Investment Fund said that the fund will not invest in Chinese government debt at this time. Chinese industrial and residential power prices are likely to be increased (more on power below). Developer Evergrande is facing another debt payment deadline today
As China cuts electricity supply to over half of its provinces which is only adding fuel to the supply chain fire created by everything from Covid to its environmental goals to its spat with Australia (who has the premium coal they had previously been using). BBG.
This has Goldman reducing Q/Q growth in the third quarter to 0% and Nomura sees a negative print. But all of this also has Blackrock "dipping its toe" into Chinese equities saying they see Chinese authorities pumping in stimulus to support the economy as a result.And more on Kishida becoming the likely next prime minister. A one-time top aide of PM Abe, he favors a stronger military presence including missile strike capability, wants to counter China, calls for fiscal spending, and is generally more left leaning describing a "a "new Japanese-style capitalism" that would redistribute wealth more aggressively to shrink the gap between rich and poor". WSJ.

Europe
Major European indices trade on a firmly higher note with the STOXX 600 rebounding from a 2-month low. STOXX Europe 600: +0.9% Germany's DAX: +1.0% U.K.'s FTSE 100: +0.9% France's CAC 40: +1.2% Italy's FTSE MIB: +0.8% Spain's IBEX 35: +0.8%.
In news, European Central Bank policymaker Panetta repeated that it is too soon to tighten policy. Italy raised its 2021 GDP growth forecast to 6.0% from 4.5% and lowered its deficit target to 9.5% of GDP from 11.8% of GDP after yesterday's close. A new fishing dispute is brewing between the U.K. and France. Germany sold 10-yr bunds while Italy sold 5- and 10-yr BTPs.
In economic data, EU economic confidence remained near recent highs above the long term average. August import prices in Germany showed their sharpest yr/yr increase since late 1981 and Spanish CPI was the highest in a decade. UK consumer credit bounced back with a big increase in net residential lending.
Eurozone Economic Confidence Sep: 117.8 (est 117.0; prevR 117.6; prev 117.5); Eurozone Industrial Confidence Sep: 14.1 (est 12.6; prevR 13.8; prev 13.7); Eurozone Services Confidence Sep: 15.1 (est 16.4; prev 16.8);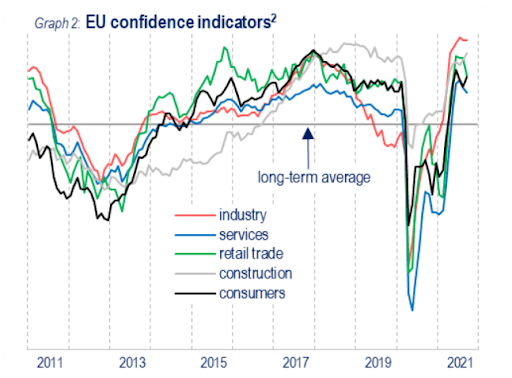 Germany's August Import Price Index 1.4% m/m (expected 1.2%; last 2.2%); 16.5% yr/yr (expected 16.1%; last 15.0%)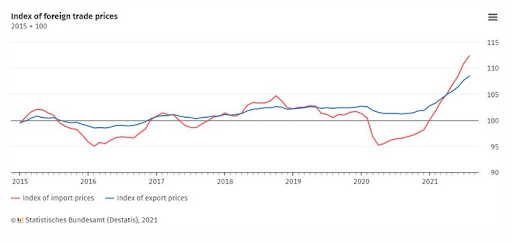 U.K.'s September BRC Shop Price Index -0.5% yr/yr (last -0.8%). UK Net Consumer Credit Aug: 0.4B (est 0.3B; prev -0.0B), UK Consumer Credit (Y/Y) Aug: -2.4% (prev -2.7%) and August Mortgage Lending GBP5.29 bln (expected GBP3.68 bln; last -GBP1.76 bln)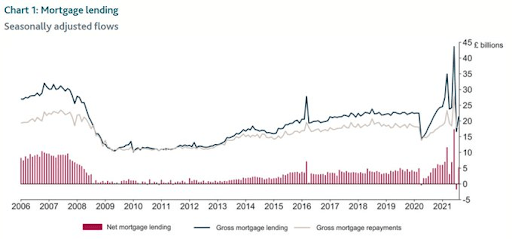 Italy's August PPI 0.5% m/m (last 2.9%); 11.6% yr/yr (last 11.2%)
Spain's September CPI 0.8% m/m (expected 0.4%; last 0.5%); 4.0% yr/yr (expected 3.5%; last 3.3%)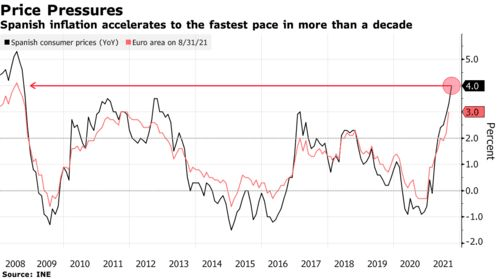 As the fuel situation is hopefully easing in the UK.

Commodities/Currencies/Bonds
Bonds - As noted yields taking a breather this morning. 10-year yield is down one basis point to 1.52% while the 2-year is flat at 0.31%.
Dollar (DXY) - Moving to new 11-month highs this morning despite the pause in yields and breaking through the $94 level. Currently at $94.022. Daily technicals remain positive but just starting to get overbought.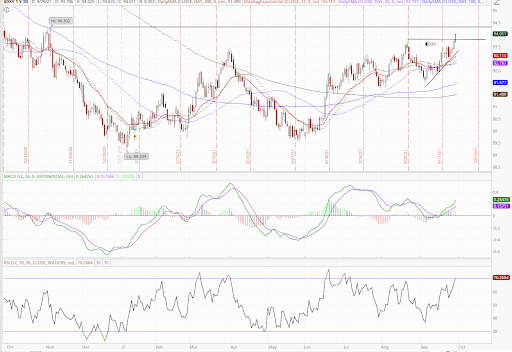 VIX - Down a little but remaining firmly over 20 at 22.86. Still think the path is lower from here.
Crude (/CL) - After failing at $77 WTI yesterday with a relatively large "wick" (so rejection of higher prices), and with continued dollar strength, seeing it consolidate this morning down around two thirds of a percent. Currently at $74.79 WTI. Technicals remain firmly positive on daily chart. Not yet overbought.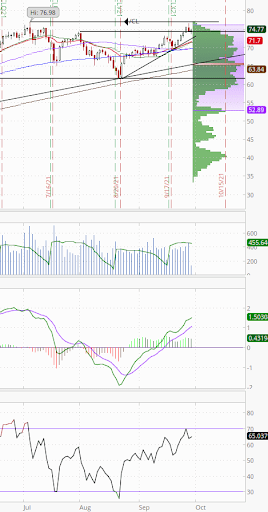 As Chinese energy rationing may cut 100kbd from Chinese demand according to S&P Global.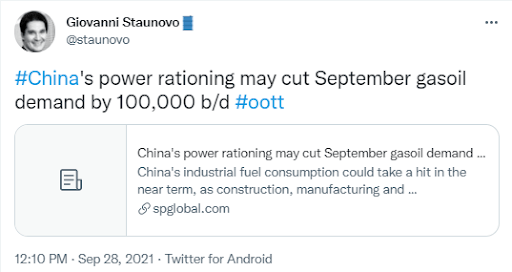 And the US has finally publicly started making a fuss about the Chinese buying of sanctioned Iranian crude (China is a big buyer of the sanctioned cargos).

Natural Gas (/NG) - We noted the huge "wick" last night which we saw the last time it reversed for a few days (and this one is even bigger). We're seeing that happen this morning with it down almost -3%. Has some support at yesterday's low and then around $5.50. As a reminder my system has rolled to November.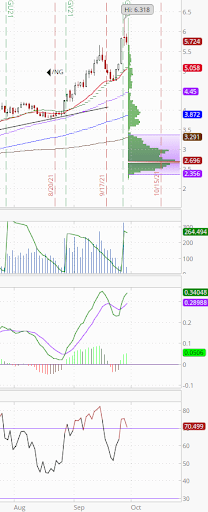 Gold (/GC) - Up less than a tenth this morning to 1739. Daily technicals remain negative, and it remains in an intermediate term downtrend.
Copper (/HG) - After failing to get through the 50-DMA, starting to roll over although losses have been minimal for now. Just a little red this morning. Technicals have softened to more neutral. Remains in intermediate term downtrend.
US Data
We got mortgage apps this morning which fell -1.1% w/w. I am out of time so I'm going to put the details in the evening summary. I'll have reports on weekly EIA and August pending home sales when those come out later today.
Misc.
Random stuff:
The high energy prices have ignited Gulf stocks (meaning Persian Gulf). Probably doesn't hurt that they've vaccinated most of their citizens. BBG.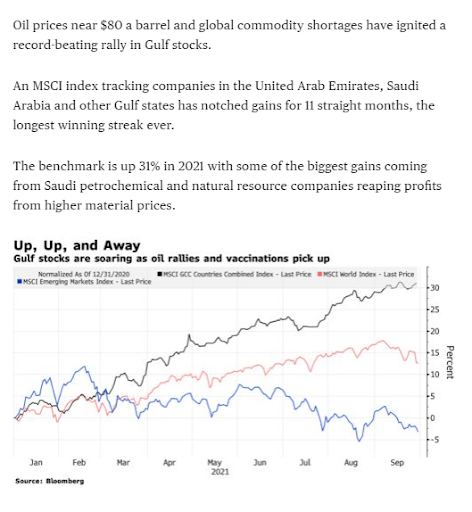 As Canada sees a continued pause in industrial prices after the huge runup earlier this year.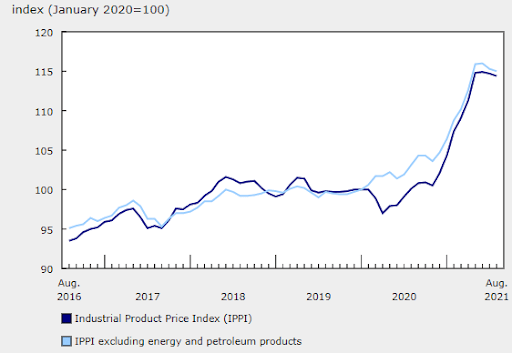 To see more content, including summaries of most major U.S. economic reports and my morning and nightly updates go to Cbus Neil's Blog Posts for more recent or Sethi Associates for the full history.
Seeking Alpha's Disclosure: Past performance is no guarantee of future results. No recommendation or advice is being given as to whether any investment is suitable for a particular investor. Any views or opinions expressed above may not reflect those of Seeking Alpha as a whole. Seeking Alpha is not a licensed securities dealer, broker or US investment adviser or investment bank. Our analysts are third party authors that include both professional investors and individual investors who may not be licensed or certified by any institute or regulatory body.