US Construction Spending (M/M) Oct: 0.2% (est 0.4%; prev R -0.1%)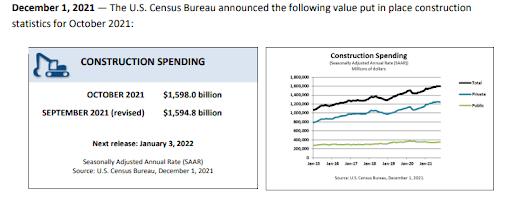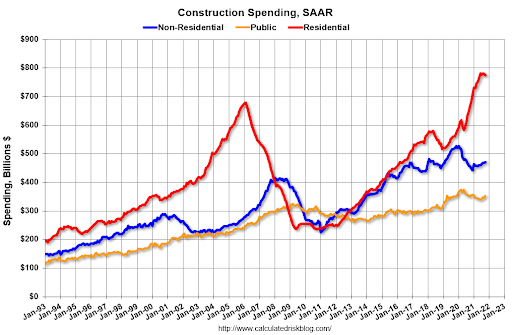 All numbers m/m unless otherwise noted.
After unexpectedly pulling back in September, falling by a tenth of a percent (revised up from down a half percent), seasonally adjusted construction spending for October did get back on the positive side increasing by two tenths of a percent (although expectations were for a +0.4% increase). The gains though were fueled by a solid increase in public spending which was up +1.8% with every public category increasing led by highways and streets, transportation, and conservation. This was before the infrastructure bill was passed so I'd think this should only get better with the recently passed legislation. Private construction was down again falling -0.2% as residential seems to have clearly peaked (it was down -0.5% after falling -0.4% in September). Private non-residential was up +0.2% (after falling -0.6% in September) led by amusement and recreation. Full table at the end. Note that prices for this report are all nominal (not adjusted for inflation) and are not necessary new construction unless noted, but also improvements to existing structures.
Looking y/y, private still up +11.1% led by residential up +16.7%, but comps will continue to get tougher y/y. Non-residential private improved to +3.1 y/y from -0.5% y/y in September and public spending now +0.4% y/y from -2.4% y/y in September. Total spending improved to +8.6% y/y (was +7.8% in September).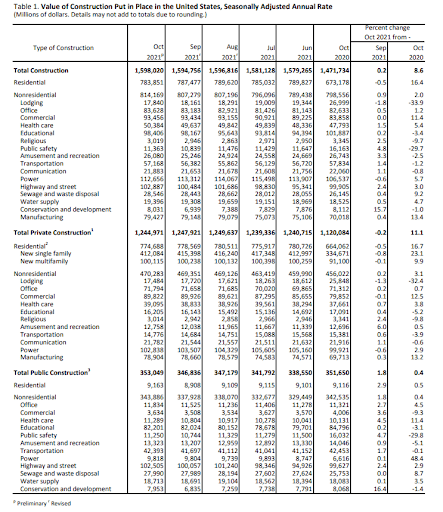 To see more content, including summaries of most major U.S. economic reports and my morning and nightly updates go to Cbus Neil's Blog Posts for more recent or Sethi Associates for the full history.