Neil's Evening Summary – December 21, 2021 - The Positives Take Control
Please Note: Blog posts are not selected, edited or screened by Seeking Alpha editors.
Neil's Evening Summary – December 21, 2021 - The Positives Take Control
Please excuse typos. Mornings are tilted more international, evenings more U.S. Continuing to try to make this more digestible for those who are not as familiar with the markets, lingo, etc. Feel free to leave your thoughts in the comments section, they are appreciated. Also, I don't discuss crypto extensively as I don't consider myself knowledgeable enough to talk intelligently on the subject (and there are plenty of other sources for that).
A small glossary. Feel free to inquire about any other terms used.
SPX = S&P 500 Naz = Nasdaq CompositeNDX = Nasdaq 100 (100 largest stocks in the Naz)RUT = Russell 2000 (smaller stocks) DMA = Daily Moving Average (the moving average over the given time period (20, 50, 100, 200 days normally))MACD = Moving Average Convergence Divergence (basically a trend indicator)RSI = Relative Strength Index (basically what it sounds like)
Also, on my charts, the lines are 20-DMA (green), 21-DEMA (red), 50-DMA (purple), 100-DMA (BLUE), 200-DMA (brown)
Source abbreviations: BBG = Bloomberg; WSJ = Wall Street Journal; RTRS = Reuters; SA = Seeking Alpha; HR = Heisenberg Report
__________________________________________________________________

I noted last night things were a little washed out and the setup seemed favorable if we could avoid negative Covid news, and markets bounced today on better newsflow on everything from Covid to the BBB. The buying was broad based with the RUT leading up nearly 3%, Naz +2.4%, NDX +2.3% and SPX +1.8%.
As the selling yesterday was likely exacerbated by the light volume that can be expected this week and next, today's buying very well might have also. Also, as we noted last week, the market lost a large gamma "pin" when options expired on Friday which I said would likely lead to more volatile conditions this week. That for sure has been accurate.
Commodities joined in the party as well, while bonds were sold (yields rose).
Style box shows the widespread gains.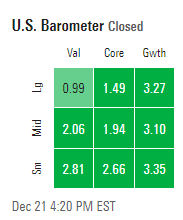 Major Market Technicals
SPX pushed right back over the 50-DMA it fell below yesterday and edged just to the other side of the 20-DMA. Daily technicals negative.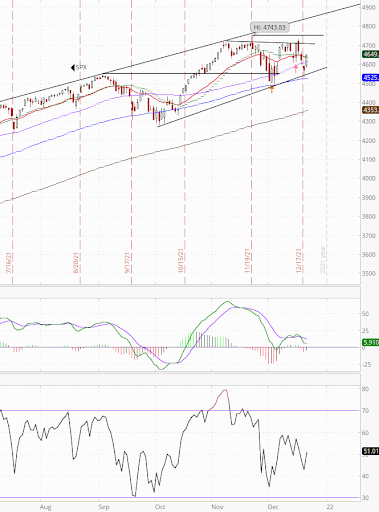 NDX also got above the 50-DMA but not the 20. Daily technicals negative here as well.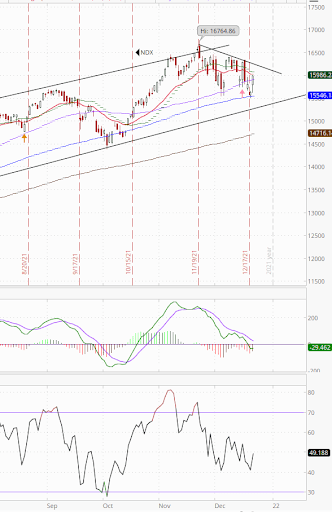 Naz remains below the 50-DMA as well as the key 15440 level.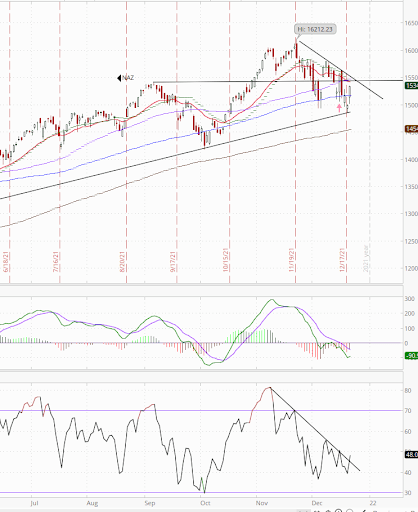 As RUT once again pushes up to the downtrend line from the highs. Really needs to clear that line. Daily MACD remains negative (barely) but the RSI has that positive divergence.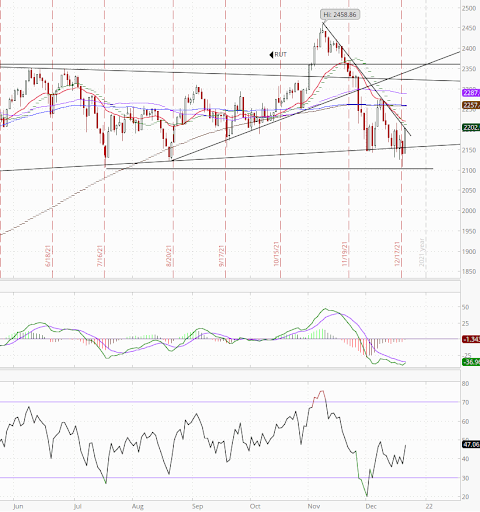 SPX Sector Flag
SPX sector flag close to a mirror image of yesterday with eight of eleven sectors up at least two-thirds of a percent (yesterday nine of eleven where down that much) and the two red sectors (defensives) were down less than a tenth of a percent or so (flip of these same two sectors that were up less than that much yesterday)). Seven sectors up more than 1% (six down that much yesterday). Four sectors up at least 2% (that's one difference, we didn't have any down that much yesterday). Nice mix of tech and cyclicals at the top.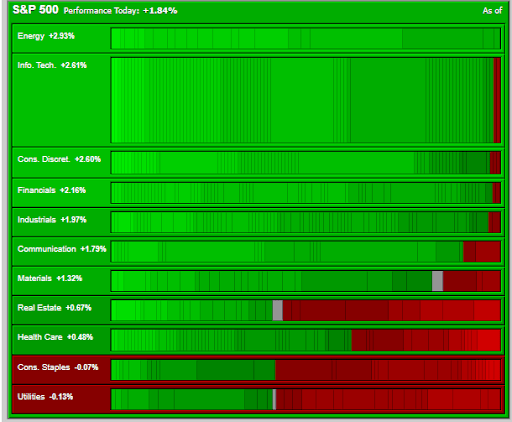 SPX Sector Technicals Rankings
These are NOT necessarily in the order that I like them for investment but how their underlying technical fundamentals stack up. I do often buy calls though when I upgrade. Going to keep playing with the groupings so bear with me. Started to bold changes.
Some improvement but not enough to change anything.
- Sectors with good/ok technicals, above most resistance.
XLRE - Real Estate - MACD go long, RSI negative divergence, above all MA's.
XLP - Staples - MACD go long, RSI negative divergence, above all MA's.
XLU - Utilities - MACD go long, RSI negative divergence, above all MA's.
XLV - Health care - MACD go long, RSI negative divergence, above all MA's.
- Sectors with mediocre to poor technicals but above all/most resistance.
- Sectors that look to have bottomed with positive technicals but below significant resistance.
XLK - Tech - MACD sell longs, RSI negative divergence, below 20-DMA. On watch for upgrade.
XLB - Materials - MACD go long, RSI negative divergence, above all MA's. On watch for upgrade.
- Sectors regrouping (negative technicals, short-term downtrend, long-term still positive/uptrend).
XLY - Discretionary - MACD sell longs, RSI negative, below multiple MA's.
XLF - Financials - MACD go short, RSI positive divergence, under 50, 20, 100-DMAs.
XLE - Energy - MACD go short, RSI neutral, under 20, 50-DMAs.
XLI - Industrials - MACD go short, RSI negative, under all major MA's.
XLC - Communications - MACD cover shorts, RSI neutral, under multiple MA's
- Sectors in poor shape (negative technicals in intermediate or long term downtrends (so expect further weakness for a while (bear market))).
None.
Key Subsectors - SOX (semis), IYT (transp), XBI/IBB (smaller/larger bios (smaller are more a general "tell" on speculative activity as opposed to health care)), XHB (homebuilders), XRT (retail)
All green today led by retail and semi's up over 3% and transportation and homebuilders up over 2%.
Breadth
Big improvement in breadth. On NYSE volume was 86% positive and issues 79%. Naz was 80% positive volume, issues 71%. So mostly buyers today.
As we got some good news on some positive divergences yesterday. Despite Naz making a lower low, number of new 52-week lows decreased. In addition, the cumulative volume (which is better for the Naz as an indicator than the A/D line) also did not make a lower low. (Helene Meisler).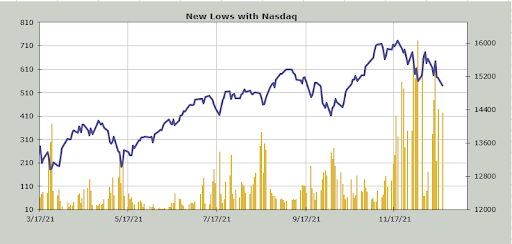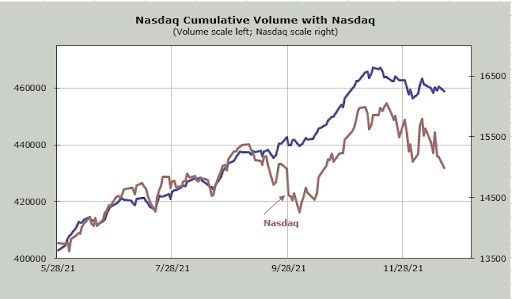 Commodities/Currencies/Bonds
Bonds - Yields rose across the curve today with the 5-year getting the most movement. 2-year yields were up five basis points to 0.7% (equal to post-pandemic high), 5-year yields up seven basis point to 1.24% (1.38% is post-pandemic high), 10-year yields were up five to 1.48% (1.76% is post-pandemic high), and 30-year yields up four to 1.89% which remains towards the low end of the range of this year (low is 1.64%, high was 2.52%). The inversion with the 20-year at three basis points (remains below the high of the year of nine).
Dollar (DXY) - Remained just above the rising 20-DMA and the uptrend line that stretches back around 7 weeks finishing around flat levels at $96.46. Remains in intermediate-term uptrend. Daily technicals negative.
VIX - Moved lower for a second day as I've been calling for (I said "below 20 before too long" yesterday). Finished at 21.01.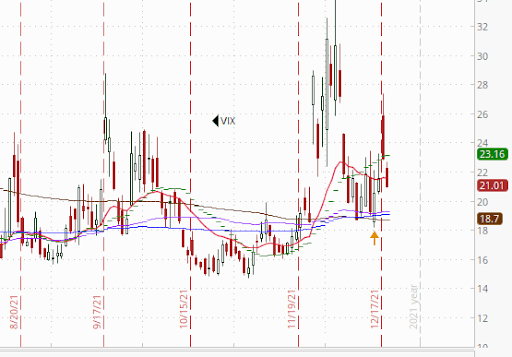 Crude (/CL) - After yesterday's volatile trading, had a solid almost +4% day to move back up to under the stiff resistance of the 200-DMA and its downtrend line that comes in from the highs. Daily technicals tilt positive. Don't have a good feel for what happens next.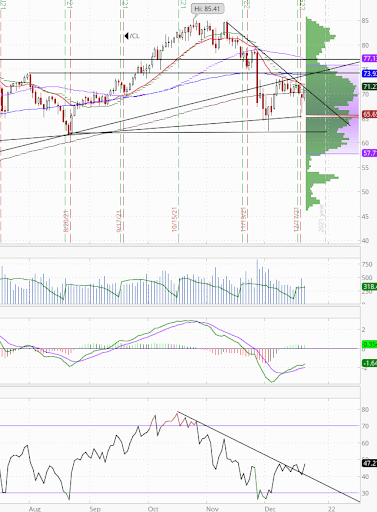 As API shows a decent crude draw and gasoline build. Cushing builds for 5th week. EIA tomorrow.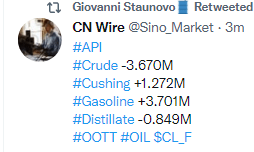 As global onshore inventories fall to lowest level since 2017.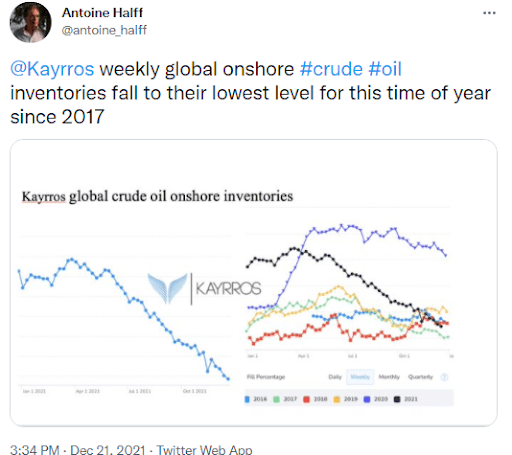 Nat Gas (/NG) - Back to riding up the (barely now) upsloping 200-DMA. Finished at $3.87. Daily technicals tilt positive.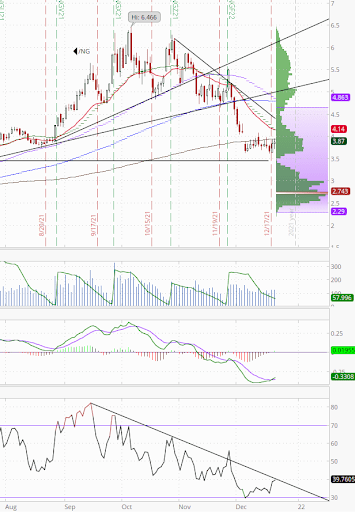 Gold (/GC) - Sunk further back into resistance today. Finished at $1790. Daily technicals remain positive.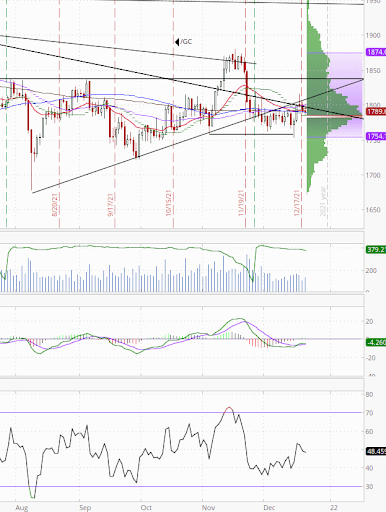 Copper (/HG) - Up over 1%, and importantly pushed through its downtrend line as well as several moving averages. Just has 50-DMA above. Could see it move higher now. Daily technicals tilt positive.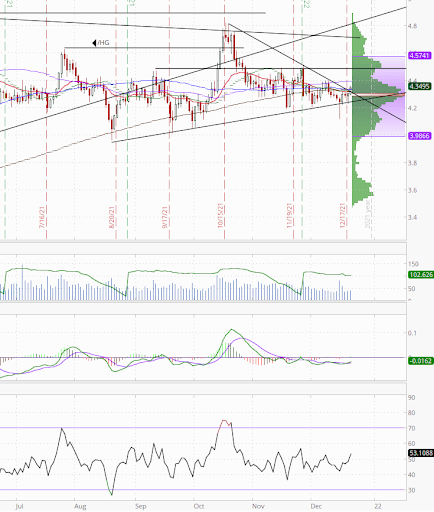 U.S. Data
No reports today.
Next 24
In the US, we'll get a bit more data with the Conference Board's Consumer Confidence Index for December, Existing Home Sales for November, the third estimate for Q3 GDP, and the weekly MBA Mortgage Applications Index and EIA inventory report.
Internationally nothing really noteworthy.
Earnings this week:
Earnings spotlight: Monday, December 20 - Carnival (NYSE:CCL), Nike (NKE) and Micron (MU).
Earnings spotlight: Tuesday, December 21 - Rite Aid (RAD), General Mills (NYSE:GIS), CalAmp (NASDAQ:CAMP) and BlackBerry (NYSE:BB).
Earnings spotlight: Wednesday, December 22 - CarMax (NYSE:KMX), Cintas (NASDAQ:CTAS) and PayChex (NASDAQ:PAYX).
Earnings spotlight: Thursday, December 23 - Sanderson Farms (NASDAQ:SAFM).
Overall
I repeated yesterday that Covid was my big concern but that if we could manage that, there was a host of positives that should support a rally. "It's really just a matter if/when the market decides to 'look through' this spike in Omicron to the other side." With no major new negative news on the Covid front today, the positives seem to have taken control.
To recap, companies are now in their buyback window, insiders are buying, sentiment is reserved, and many stocks have already corrected. And then there's positioning. I've talked repeatedly about the "firepower" that's out there. In that regard, Deutsche Bank's Parag Thatte noted yesterday that their "consolidated measure of equity positioning fell sharply in early December from near the top of its historical range to neutral, and has largely stayed there," with equity positioning "now well below levels implied by growth indicators which have remained quite robust."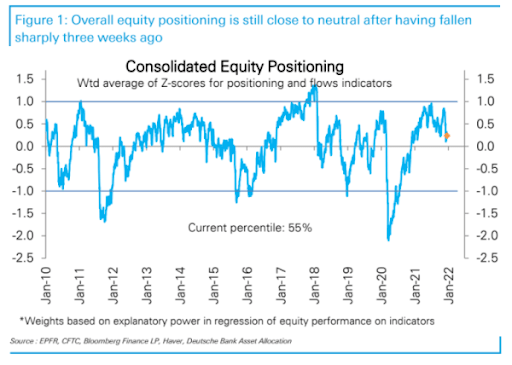 And Charlie McElligott was out today putting more numbers on the risk reduction from volatility strategies and trend followers, estimating those at -$100B and -$80B respectively in this most recent pullback. This puts their positioning at just the 23rd and 24th percentile respectively. That makes these funds "likely ... substantial sources of mechanical demand for Equities" in the future. Basically all we're needing is a little stabilization in equities and commensurate reduction in volatility. It's hard for it to get much more volatile. One-month realized vol is in the 98th percentile on a one-year lookback, so I remain optimistic this rally will continue.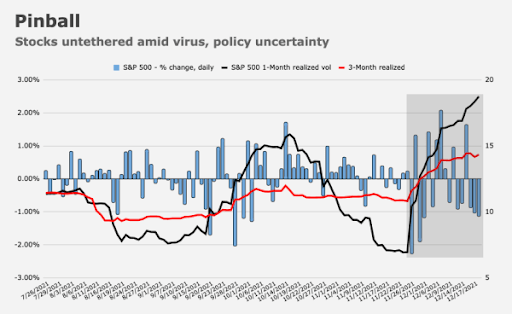 Misc.
Other random stuff.
Repos remain at recent highs near record territory.

As the CES is going forward Omicron or not.

And IEA notes that progress in vehicle efficiency is being offset by larger vehicle sizes.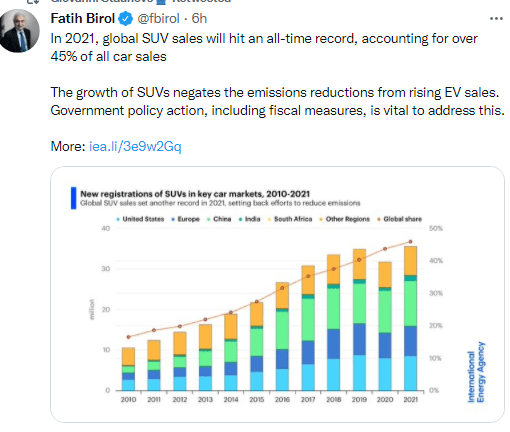 As US special envoy says time is running out for progress on Iranian talks (feel like I've heard that before).
And US grows by smallest amount on record in 2021. BBG.
The U.S. population grew at the slowest rate on record in 2021 as slowing migration, an aging population and low birth rates were exacerbated by the Covid pandemic, U.S. Census Bureau data released Tuesday show.

The population expanded by just 0.1% or 392,665 people this year, a smaller increase than during the influenza pandemic and World War I in the early years of the last century. It's also the first time since 1937 that the population has expanded by less than 1 million.

Washington and New York were among the regions with the biggest drop in people while Idaho, Utah and surrounding states gained the most, the data show.

While declining population growth rates have been a trend in the U.S. for years now amid longer-term dynamics like the aging population and lower birth rates, the pandemic played a role. More than 800,000 Americans have died from Covid-19 since the pandemic began in 2020. Migration trends were also lower in 2021, with the pandemic restraining international travel.
To see more content, including summaries of most major U.S. economic reports and my morning and nightly updates go to Cbus Neil's Blog Posts for more recent or Sethi Associates for the full history.
Seeking Alpha's Disclosure: Past performance is no guarantee of future results. No recommendation or advice is being given as to whether any investment is suitable for a particular investor. Any views or opinions expressed above may not reflect those of Seeking Alpha as a whole. Seeking Alpha is not a licensed securities dealer, broker or US investment adviser or investment bank. Our analysts are third party authors that include both professional investors and individual investors who may not be licensed or certified by any institute or regulatory body.