Neil's Evening Summary – December 22, 2021 - The Rally Rolls On
Please Note: Blog posts are not selected, edited or screened by Seeking Alpha editors.
Seeking Alpha Analyst Since 2013
Managing Partner of Sethi Associates, Ltd., a family owned investment manager specializing in investments in real estate, public markets, and venture capital with a current focus on esports investments. You can view my LinkedIn profile here. https://www.linkedin.com/in/neil-sethi-31204051. Started the blog at the request of friends who wanted an easier way to follow my thoughts on the markets and economic data, and now I share the articles on Seeking Alpha. Feedback always welcome!
Neil's Evening Summary – December 22, 2021 - The Rally Rolls On
Please excuse typos. Mornings are tilted more international, evenings more U.S. Continuing to try to make this more digestible for those who are not as familiar with the markets, lingo, etc. Feel free to leave your thoughts in the comments section, they are appreciated. Also, I don't discuss crypto extensively as I don't consider myself knowledgeable enough to talk intelligently on the subject (and there are plenty of other sources for that).
A small glossary. Feel free to inquire about any other terms used.
SPX = S&P 500 Naz = Nasdaq CompositeNDX = Nasdaq 100 (100 largest stocks in the Naz)RUT = Russell 2000 (smaller stocks) DMA = Daily Moving Average (the moving average over the given time period (20, 50, 100, 200 days normally))MACD = Moving Average Convergence Divergence (basically a trend indicator)RSI = Relative Strength Index (basically what it sounds like)
Also, on my charts, the lines are 20-DMA (green), 21-DEMA (red), 50-DMA (purple), 100-DMA (BLUE), 200-DMA (brown)
Source abbreviations: BBG = Bloomberg; WSJ = Wall Street Journal; RTRS = Reuters; SA = Seeking Alpha; HR = Heisenberg Report
__________________________________________________________________
I noted last night that absent things turning worse with Covid, I was optimistic into year end as lower volatility should mean a reengagement by systematic strategies to go along with the normal tailwind of year end buying (and other factors noted in the Summary). With the news flow remaining optimistic on the Covid front today, we did indeed get more buying, pushing stocks higher throughout the day (they closed near their highs). The buying was broad based again today with every SPX sector closing higher. At the index level, NDX led along with the Naz (both up around 1.2%), SPX was up one percent, and RUT just under nine tenths of a percent.
Today continued a streak of the SPX moving more than 0.5% every day but one since Thanksgiving (Bespoke).
Commodities joined in the party as well again today, while bonds were little changed.
Reminder the stock market is open full day tomorrow but closed Friday. Bond market closes early tomorrow (believe 2 pm) and is closed Friday as well.
Style box not as strong as yesterday but still showed widespread gains.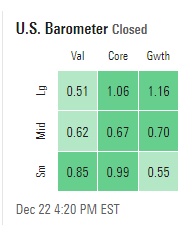 And as a reminder the strongest seasonality around Christmas starts tomorrow.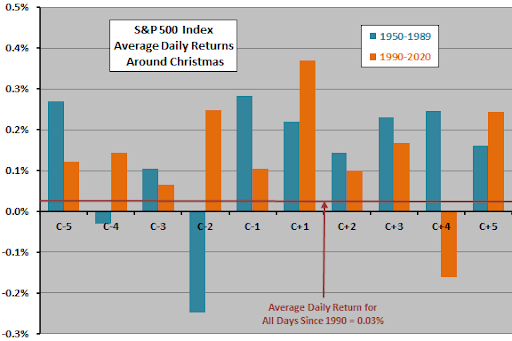 Major Market Technicals
SPX right back up to the important 4700 level. Daily technicals improving.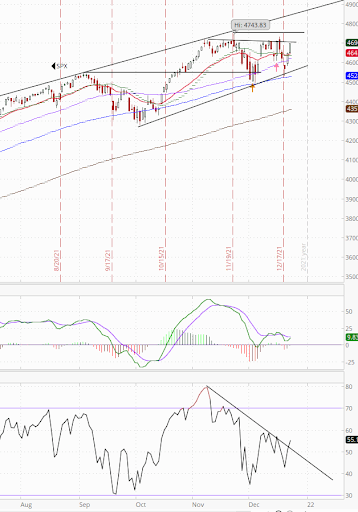 NDX also up to its trendline now over the 20-DMA. Daily technicals starting to improve there also. Naz looks very similar.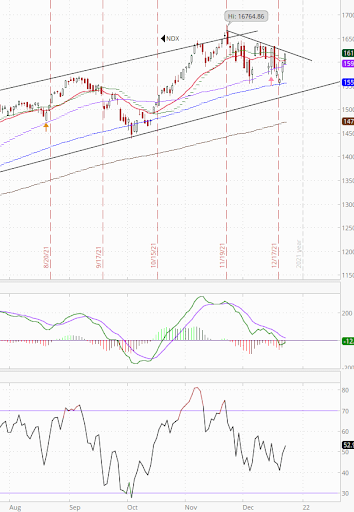 As RUT finally made it over that downtrend line from the highs (and 20-DMA). Also daily MACD crossed over to "cover shorts" and RSI has that positive divergence. A lot of good things happening on this chart.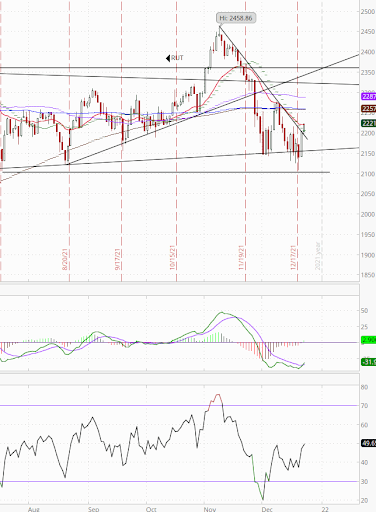 SPX Sector Flag
Another nice SPX sector flag today with everyone getting a medal. Every sector was up at least a third of a percent with three up over 1% (less though than yesterday's seven). Large growth took the top two spots followed by health care.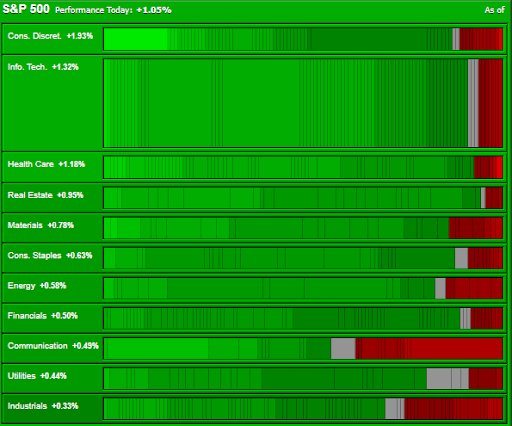 SPX Sector Technicals Rankings
These are NOT necessarily in the order that I like them for investment but how their underlying technical fundamentals stack up. I do often buy calls though when I upgrade. Going to keep playing with the groupings so bear with me. Started to bold changes.
Some more improvement. Upgraded tech and materials one notch.
- Sectors with good/ok technicals, above most resistance.
XLRE - Real Estate - MACD go long, RSI negative divergence, above all MA's.
XLP - Staples - MACD go long, RSI negative divergence, above all MA's.
XLU - Utilities - MACD go long, RSI negative divergence, above all MA's.
XLV - Health care - MACD go long, RSI negative divergence, above all MA's.
- Sectors with mediocre to poor technicals but above all/most resistance.
XLK - Tech - MACD sell longs, RSI negative divergence, above all MA's. Upgraded today.
XLB - Materials - MACD go long, RSI negative divergence, above all MA's. Upgraded today.
- Sectors that look to have bottomed with positive technicals but below significant resistance.
- Sectors regrouping (negative technicals, short-term downtrend, long-term still positive/uptrend).
XLY - Discretionary - MACD sell longs, RSI negative, below multiple MA's.
XLF - Financials - MACD go short, RSI positive divergence, under 50, 20, 100-DMAs.
XLE - Energy - MACD go short, RSI neutral, under 20, 50-DMAs.
XLI - Industrials - MACD go short, RSI negative, under all major MA's.
XLC - Communications - MACD cover shorts, RSI neutral, under multiple MA's
- Sectors in poor shape (negative technicals in intermediate or long term downtrends (so expect further weakness for a while (bear market))).
None.
Key Subsectors - SOX (semis), IYT (transp), XBI/IBB (smaller/larger bios (smaller are more a general "tell" on speculative activity as opposed to health care)), XHB (homebuilders), XRT (retail)
Bios very mildly down. Otherwise all green for a second day led by homebuilders up over 1%. The others up less than 1%.
Breadth
Breadth good again today, particularly on NYSE. On NYSE volume was 75% positive and issues 71%. Naz was 65% positive volume, issues 59%. With half the point gain as yesterday, though, those remain solid particularly the NYSE volume.
Commodities/Currencies/Bonds
Bonds - Yields were were subdued mostly falling a little. 2-year yields were down two basis points to 0.68% (from post-pandemic high), 5-year yields down one basis point to 1.23% (1.38% is post-pandemic high), 10-year yields were down two to 1.46% (1.76% is post-pandemic high), and 30-year yields down three to 1.86% which remains towards the low end of the range of this year (low is 1.64%, high was 2.52%). The inversion with the 20-year at three basis points (remains below the high of the year of nine).
Dollar (DXY) - Fell beneath the now flat 20-DMA as well as that trendline that I can probably retire at this point. Did find support at the 21-DEMA (red line) which it has previously. We'll see if it holds. Finished at $96.11. Remains in intermediate-term uptrend. Daily technicals negative.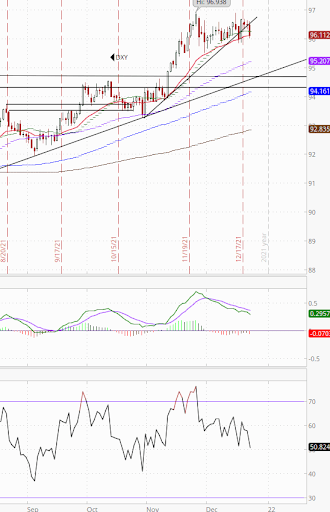 VIX - I said on Monday we should see the VIX "below 20 before too long", and we got there today, finishing at 18.63. Hasn't been below these levels in a few weeks, so we'll see if it can continue down.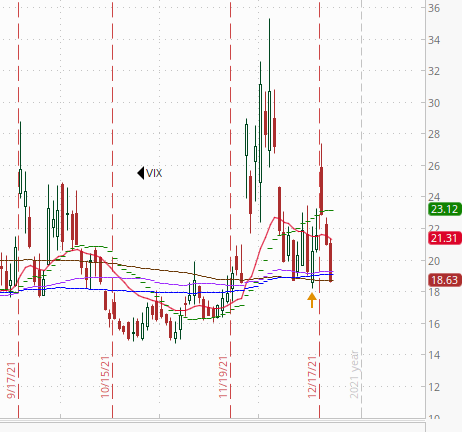 As Goldman noted that median VVIX (which is the volatility of the VIX index) this month is the highest it's been outside of any month other than around the pandemic (including the "vol-pocalypse" of early 2018).

Crude (/CL) - After yesterday's strong day had another today up over 2% and getting through the stiff resistance of the 200-DMA and its downtrend line that comes in from the highs. I'm impressed. Next is the 100-DMA. Daily technicals tilt positive.
Did EIA weekly report linked below.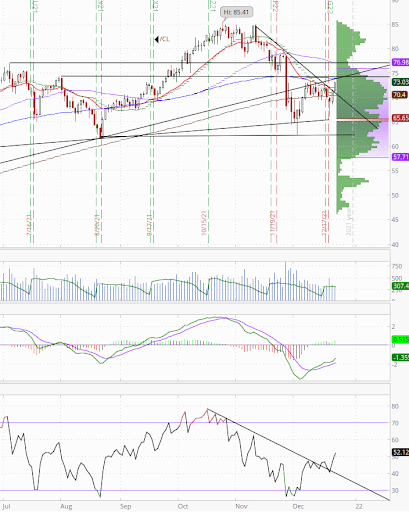 Nat Gas (/NG) - Up over 2% also, pushing back over the 200-DMA for the second time in the last two weeks. The last time it didn't hold. We'll see if this holds this time. Currently at $3.97. Daily technicals positive.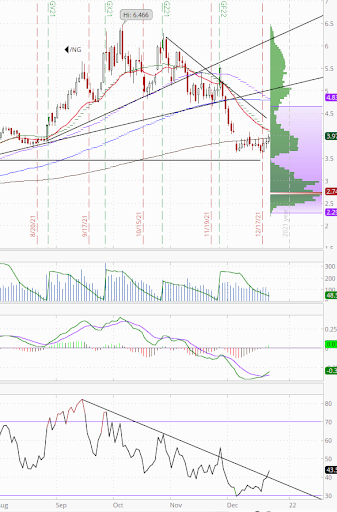 Gold (/GC) - Was able to get back just above the cluster of resistance today. Finished at $1805. Daily technicals remain positive.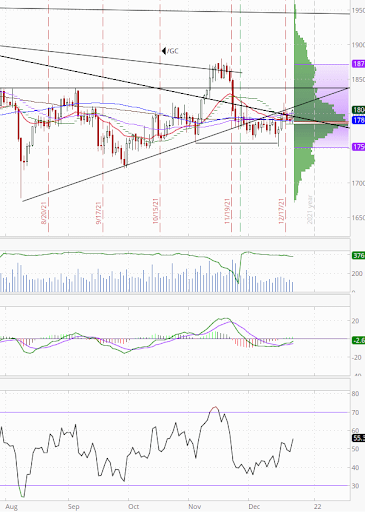 Copper (/HG) - Up another 1% today, and made it to the 50-DMA. Daily technicals positive.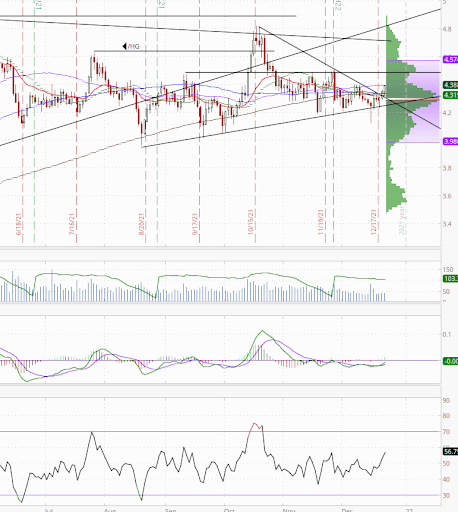 U.S. Data
Did reports on Conference Board's Consumer Confidence Index for December, Existing Home Sales for November, Chicago Fed National Activity Index for November, and the weekly EIA inventory report.
US Chicago Fed National Activity Index Nov: 0.37 (exp 0.40; R prev 0.75) - CFNAI decelerates but remains firmly positive - Neil's Summary
US Chicago Fed National Activity Index Nov: 0.37 (Exp 0.40; R Prev 0.75) - CFNAI Decelerates But Remains Firmly Positive - Neil's Summary
Existing Home Sales (M/M) Nov: 1.9% (est 3.0%; prev 0.8%) - Existing home sales rise for third month nearing record territory - Neil's Summary
Existing Home Sales (M/M) Nov: 1.9% (Est 3.0%; Prev 0.8%) - Existing Home Sales Rise For Third Month Nearing Record Territory - Neil's Summary
US CB Consumer Confidence Dec: 115.8 (est 111.0; prev 109.5; prevR 111.9) - Consumer confidence improves for a third month - Neil's Summary
US CB Consumer Confidence Dec: 115.8 (Est 111.0; Prev 109.5; prevR 111.9) - Consumer Confidence Improves For A Third Month - Neil's Summary
US DoE Crude Oil Inv (W/W) 17-Dec: -4715K (est -2500K; prev -4584K) - Crude draws down for a 4th week and total petroleum inventories down -9.5mb - Neil's Summary
US DoE Crude Oil Inv (W/W) 17-Dec: -4715K (Est -2500K; Prev -4584K) - Crude Draws Down For A 4th Week And Total Petroleum Inventories Down -9.5mb - Neil's Summary
Next 24
In the US, full slate of data tomorrow, starting with November Personal Income (Briefing.com consensus 0.5%; prior 0.5%), Personal Spending (Briefing.com consensus 0.6%; prior 1.3%), PCE Prices (prior 0.6%), Core PCE Prices (Briefing.com consensus 0.4%; prior 0.6%), weekly Initial Claims (Briefing.com consensus 206,000; prior 206,000), Continuing Claims (prior 1.845 mln), November Durable Orders (Briefing.com consensus 1.5%; prior -0.5%), and Durable Orders -ex transportation (Briefing.com consensus 0.6%; prior 0.5%) at 8:30 ET, followed by November New Home Sales (Briefing.com consensus 770,000; prior 745,000) and the final December University of Michigan Consumer Sentiment survey (Briefing.com consensus 70.4; prior 70.4) at 10:00 ET.
Internationally a number of reports but nothing market moving.
Earnings this week:
Earnings spotlight: Monday, December 20 - Carnival (NYSE:CCL), Nike (NKE) and Micron (MU).
Earnings spotlight: Tuesday, December 21 - Rite Aid (RAD), General Mills (NYSE:GIS), CalAmp (NASDAQ:CAMP) and BlackBerry (NYSE:BB).
Earnings spotlight: Wednesday, December 22 - CarMax (NYSE:KMX), Cintas (NASDAQ:CTAS) and PayChex (NASDAQ:PAYX).
Earnings spotlight: Thursday, December 23 - Sanderson Farms (NASDAQ:SAFM).
Overall
I've repeated for several days that as long as the market can continue to look through the Omicron spike I am optimistic due to company and insider buying, sentiment coming off lows, and the general "washed out" conditions we saw last week. But perhaps most importantly is systematic flows which as I've discussed at length the last few days have a lot of room to move higher. I've mentioned a number of stats, but here was an estimate from Charlie McElligott on just the buying from volatility strategies if realized volatility remains below 2%.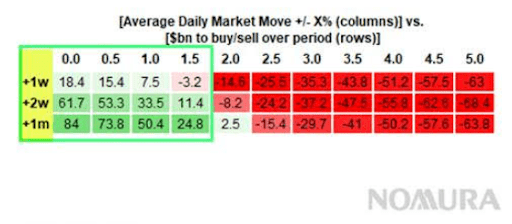 And we can add to all of that the good breadth the last two days and a notable improvement in technical conditions. And, of course, as noted above, we're entering into a very positive seasonal area. So I continue to look for upside if the news flow can remain to the positive side.
Misc.
Other random stuff.
Repos edge back from recent record highs.

As FDA approves Pfizer pill clearing it to be used in coming days. WSJ.
U.S. health regulators cleared use of a Covid-19 pill from Pfizer Inc., the first drug that newly infected patients can now take at home to stay out of the hospital.

The authorization by the U.S. Food and Drug Administration on Wednesday permits doctors to prescribe the medicine to high-risk patients age 12 and older early in the course of disease, shortly after they develop symptoms. The pill is for the newly infected who are considered at high risk for severe disease, which the Centers for Disease Control and Prevention has said includes people 65 years old and above, or those who have an another medical condition like cancer, diabetes or a chronic lung disease.

The FDA said the drug, named Paxlovid, worked safely and would be an important tool in reducing hospital admissions and death. Paxlovid is expected to be available at pharmacies and hospitals in the coming days. Initial supplies will be limited, until Pfizer can ramp up production. Pfizer said it aims to make 120 million treatment courses next year, up from its previous projection of 80 million.
And UK study finds Omicron hospitalizations higher than a S African study but still lower by 40-45% from Delta.
LONDON—New data from Scotland and South Africa suggest people infected with the Omicron variant of coronavirus are at markedly lower risk of hospitalization than those who contracted earlier versions of the virus, promising signs that vaccines remain effective at warding off severe illness with the fast-spreading strain.

The findings begin to fill in unknowns around the severity of the disease caused by Omicron, a major variable critical to health authorities around the world as they gauge how to react to the new variant.
The University of Edinburgh study, drawing on the health records of 5.4 million people in Scotland, found the risk of hospitalization with Covid-19 was two-thirds lower with Omicron than with Delta. The new variant became dominant in Scotland last week.
A separate study published online by researchers at South Africa's National Institute for Communicable Diseases similarly found people infected with Omicron were 70% to 80% less likely to need hospital treatment than people infected with earlier variants, including Delta. The risk of severe complications in those who were admitted to hospital, such as needing oxygen or intensive care, was also reduced with Omicron compared with other variants, the researchers in South Africa said.

These new studies, which haven't yet been peer-reviewed, shed light on the severity of illness Omicron causes. They offer new evidence that Omicron infections tend to be milder in populations with high levels of immunity, whether from vaccination or prior infection. In Scotland, 83.6% of people aged 12 and over have received two doses of vaccine, and 56.6% have received a third shot.

An analysis of recent Covid-19 cases in England by Imperial College London, also published Wednesday, suggested the risk of hospitalization with Omicron is only around 10% to 11% lower than Delta for someone who hasn't been vaccinated and never previously infected, highlighting the protection that persists against the new variant from vaccination or exposure to the virus.
And some evidence that ICU stays in France are much shorter than previous.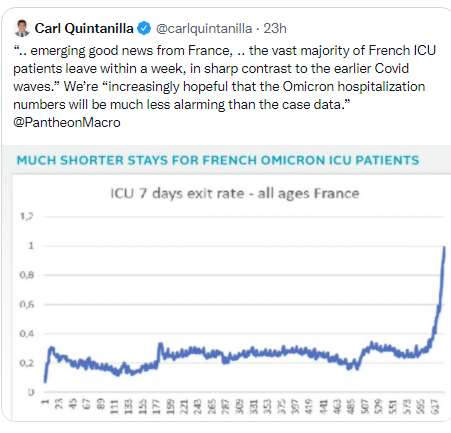 As WH extends the student loan moratorium a few more months. WSJ.
President Biden has extended the pause on student-loan payments another 90 days, to May 1, 2022.

"We know that millions of student-loan borrowers are still coping with the impacts of the pandemic and need some more time before resuming payments," the president said Wednesday.

The Education Department in a separate statement said the pause would allow the administration to assess the impact of the Omicron variant of Covid-19 on student borrowers. The repayment pause has helped 41 million borrowers save $5 billion a month, the department said. The pause had been scheduled to expire at the end of January. But the latest surge in Covid-19 infections led some Democratic lawmakers to ask for another extension.
And the Secret Service finds that at least $100B has been stolen through Covid relief programs. I'd take the over on that number. WSJ.
WASHINGTON—At least $100 billion has been stolen from Covid-19 relief programs designed to help individuals and businesses harmed by the pandemic, the U.S. Secret Service said.

The funds have "attracted the attention of individuals and organized criminal networks" world-wide, the agency said in a news release, though its estimate of stolen benefits represents just a fraction of the trillions of dollars in government relief provided since last year.

The Secret Service said it would work closely with a variety of federal agencies—including the Labor Department and Small Business Administration, which have key roles tracking and administering relief funds—to investigate and recover fraudulently disbursed funds.

Beyond its more familiar role of protecting government officials, the Secret Service has long been responsible for investigating financial crimes in the U.S. The Justice Department separately said earlier this month that its fraud section has prosecuted over 150 defendants in more than 95 criminal cases stemming from fraud schemes involving the Payroll Protection Program, which has been the centerpiece of the federal government's pandemic aid to small businesses.
The Secret Service said its estimate is based on public reports issued by internal government watchdogs, the Secret Service said, with the bulk of the misused funds stemming from fraud tied to unemployment insurance. In a separate estimate released last week, the Labor Department said about $87 billion in unemployment benefits might have been paid improperly, "with a significant portion attributable to fraud." The department administers federal components of aid programs in addition to compiling data on state-run benefits.
And bullish single-stock call buying has declined back to more "normal" levels. Is the retail buying over or just taking a holiday break? We'll find out next year.

To see more content, including summaries of most major U.S. economic reports and my morning and nightly updates go to Cbus Neil's Blog Posts for more recent or Sethi Associates for the full history.
Seeking Alpha's Disclosure: Past performance is no guarantee of future results. No recommendation or advice is being given as to whether any investment is suitable for a particular investor. Any views or opinions expressed above may not reflect those of Seeking Alpha as a whole. Seeking Alpha is not a licensed securities dealer, broker or US investment adviser or investment bank. Our analysts are third party authors that include both professional investors and individual investors who may not be licensed or certified by any institute or regulatory body.