The Mortgage Bankers Association (MBA) published its weekly report of mortgage application activity this morning. Applications are higher for the week of Jan 3, up from last week's 13-year low.
While only a single data point, it's a good early sign for the Spring housing market, though the 4-week "Purchase" index (applications for purchase vs refinancing) is downward sloping for the past year.
See: MBA: Mortgage Applications Increase in Latest Weekly Survey on CalculatedRiskblog.com
Homebuyers generally look for mortgage approvals first, and most experienced REALTORS require some type of pre-approval, so maybe this is the first sign of the spring seasonal bounce. From an email exchange this morning with a Scottsdale-based mortgage banker:
The good realtors will always connect a prospective home buyer with a mortgage loan officer prior to looking at homes if they haven't already received a pre-approval. There are some realtors, that will show homes first. For the most part, I believe the consumer is getting pre-qualified either on their own or through the realtor prior to looking at homes.
Here's a 5-year chart of Zillow's List Price index through 12/19/13.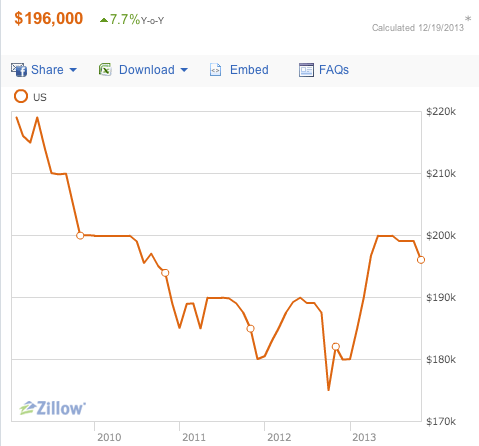 Listing prices are an excellent indicator of future transaction prices, and so far, listing prices haven't nudged higher (though listing prices are 7.7% higher YoY through mid-December.)
Disclosure: I have no positions in any stocks mentioned, and no plans to initiate any positions within the next 72 hours.