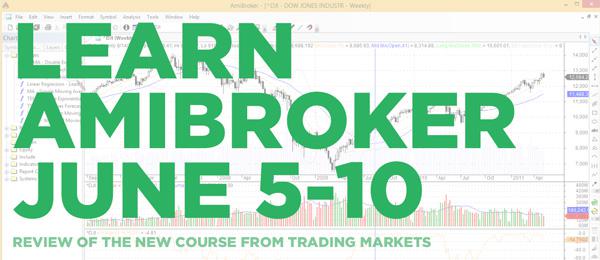 Regular readers of this blog will know that my back testing and trading software of choice is Amibroker. It is an incredibly quick and flexible platform, easy to use and comes with awesome support. In fact, when you purchase Amibroker you are entitled to 24 months support from the developers - something that I've really benefited from.
Regular readers will also know that every now and then I talk about a product or two that I believe is worthy of recommendation. And sometimes I earn a small commission from doing that and sometimes I don't. The main point being that I never recommend a product that is a scam or offers little value to my readers.
Learn Amibroker 5-10th June
Now, as I said already, Amibroker is my favorite tool for analyzing the markets and I have found it superior to the vast majority of much more expensive programs.
However, Amibroker is still just a tool. It is immensely powerful but only if you are able to learn Amibroker in the right way.
Previously, in order to learn Amibroker, Amibroker users have had to pretty much teach themselves. When I was learning the program, I basically had to make do with Amibroker forums and Dr. Howard Bandy's books (which isn't to criticize any of those because they are excellent).
It just would have been a lot easier and quicker if there had been some way to sit down and learn everything in one go.
And that's why these 2 new courses from TradingMarkets.com are so valuable. They allows beginners to learn Amibroker from the ground up, doing it the right way.
Right now, there are couple of places still available, from the 5th - 10th June which will have you fully up to speed, ready to build high performing trading strategies in just a couple of days.
About TradingMarkets.com
Before I go into more detail about the two courses it's worth saying a word or two about TradingMarkets.com because they've been involved in the financial markets for quite a while. In fact, TradingMarkets were founded back in 1999 by Larry Connors and Kevin Haggerty, and if you think you've heard those names somewhere before it's probably because you have:
Larry is the author of a number of bestselling finance books including Short Term Trading Strategies That Work, High Probability ETF Trading and Trading Stocks and Options With Moving Averages. He's also famous for developing the ConnorsRSI technical indicator and is regularly featured on CNBC and Bloomberg TV.
Whilst Kevin was a former head of trading at Fidelity Capital Markets in Boston where he was responsible for all U.S. institutional Listed, OTC and Options trading. It's fair to say that the team at TradingMarkets have a wealth of knowledge at their disposal, and in Matt Radke, they also have a teacher with a huge amount of technical experience.

Trading Markets Team
Introducing Programming in Amibroker - Learn How to Backtest Your Best Trading Ideas in One Day
The first course from TradingMarkets, taught by Matt Radke, starts on the 5th June and is your introduction to using Amibroker. It's taught over the course of one day and consists of 6 hours of interactive online learning. It includes the ability to talk with Matt directly, download a number of AFL code templates and involves several hands-on sessions where you can get to grip with the software.
During the course you'll learn:
• How to import data correctly
• How to use the automatic analysis window
• How to code in AFL (Amibroker Formula Language)
• How to scan
• How to run an exploration
• How to code and add custom indicators
• How to perform back tests
You also receive free:
Quantitative Trading Systems by Dr Howard Bandy (book).
What else?
The best thing about this course (and the one below) is that they are taught by experts in Amibroker. Connors Research and Trading Markets use Amibroker daily to build their own high performance trading strategies so they know exactly what it takes to teach others.
The introduction to Amibroker will leave you with real confidence in your ability to program indicators, run scans and create profitable trading systems. At $1000, it's not cheap, but it's not that expensive either. Especially when you consider the potential rewards from running your own systems.
For more information about the course, and to book your place, click on the banner below and you'll be taken through to the course booking page. (BTW, if you choose to use this link to book - now or at a later date - I make a small commission which I really appreciate).

Advanced Amibroker Coding - 2 day course
If you are already fairly experienced in Amibroker, or if you have taken the Introduction to Amibroker course, and you want to advance your knowledge to expert level then the 2 day course of advanced Amibroker coding is going to be your best bet to learn Amibroker.
This course runs over the 9th & 10th June and covers everything you will need to run your high grade strategies and harness the full working power of Amibroker.
Specifically, you'll learn how to use the often misunderstood Custom Backtester (NYSE:CBT) interface which will allow you to create complex backtests, optimizations and portfolio simulations.
During the course you'll learn:
• When to use the three levels of Custom Backtester (CBT)
• How to add custom metrics to the CBT
• How to utilize multiple time frames
• How to design for a portfolio
• How to perform optimizations correctly
In addition you'll learn:
• Advanced functions such as LOOP, LOOKUP & _TRACE
• Using the Switch function
• TimeFrame Compress/Expand and Set/Restore
• Scaling and position size array
• High level and low level CBT
• How to implement a portfolio test
As well as this, the course goes over the mistakes traders make when designing systems and how to best avoid them. By the end you should be able to produce historical results for a system that mimics exactly the way you want to trade and thereby gain insight into how the system will stand up in the future.
The course, again, is taught by experienced Amibroker programmer Matt Radtke and is an intensive, hands-on couple of days with lots of examples and exercises. As I said before, if this was around when I was first learning Amibroker I would have snapped it up, it probably would have saved me several years of trial and error learning.
For more information about the Advanced course and to book your place, click on the banner below and you'll be taken straight through to TradingMarkets.com.
Places are limited on a first-come-first-served basis and if you book both courses together you can save $500 off the total price: (If you do choose to use this link to book - now or at a later date - I make a small commission which I really appreciate).

Disclosure: I have no positions in any stocks mentioned, and no plans to initiate any positions within the next 72 hours.