Now that the dust seems to have settled after the US elections, and President Trump appears to have softened his stance on Mexico, it might be time to consider putting money back in The Mexico Fund (NYSE:MXF) while it's still trading at cheap levels. The Mexico Fund is a non-diversified, closed-end management investment company that aims for long-term capital appreciation. Over the last ten years it has steadily outperformed the MSCI Mexico Index (NYSEARCA:EWW). Following are some key factors to consider:
1. Investors losing faith in Trump plans?
While Trump's promises of fiscal stimulus and tax reform have been enough to bolster US equities to new highs earlier this year, it looks like momentum is fading with the administration yet to release any pertinent details on these plans. So far, the US President has made bold sweeping statements, announcing "something phenomenal" on taxes but has failed to deliver. As a result, there is significant doubt as to whether the promised overhauls (which includes dealings with Mexico) will go through.
2. Shifting stance on NAFTA
During the campaign season and his first few days as President, Trump spoke about tearing up the North American Free Trade Agreement with its partners like Canada and Mexico. But since meeting with Canadian Prime Minister Justin Trudeau, Trump seems to have taken a step back and reassessed how much damage backpedaling on the trade deal could cause. Any indication that he will also soften his stance with Mexico could be very positive for the Mexico Fund at its current levels.
3. Plenty of upside
As they often say, what goes down must come up. Mexican stocks are still down roughly 15% since after the US election, which means that it has a lot of ground to cover if a rebound does happen. According to Larry McDonald of The Bear Traps Report, these Mexican stocks are a "screaming buy" right now and can make over 15% over the next 60 days, offering a strong risk-to-reward.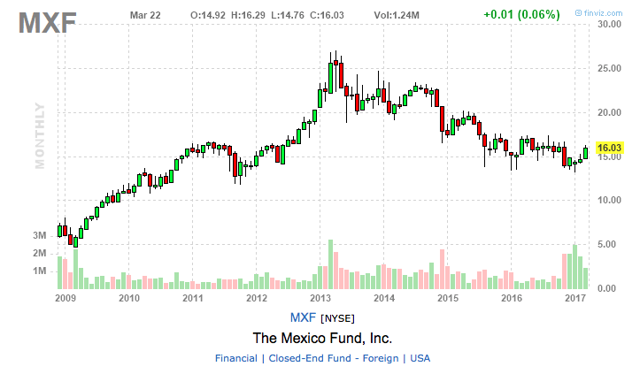 4. Quarterly distributions
The Mexico Fund just declared a distribution of $0.1300 per share on March 8, 2017 which means that the fund is liquid and is having no trouble staying true to its obligations. In fact, the Board has ratified the contribution of the Fund's Managed Distribution Plan throughout fiscal year 2017 at the quarterly amount of $0.1300 per share or equivalent to an annualized rate of 3.2% of the Fund's Net Asset Value per share recorded in December 31, 2016. As an aside, the Mexico Fund has put in a solid performance against it's peers beating both the MSCI Mexico Index and Bolsa IPC Index over the last five years.
5. Cheap labor compared to China
While most investors who are seeking to diversify into growth or emerging economies have looked to China, the fact remains that labor is much cheaper in Mexico in dollar terms and could still draw a lot of manufacturers to set up shop there. The low value of the Mexican peso is also encouraging for export businesses, as their products are rendered more affordable and in demand in the international markets.
Apart from that, consumer borrowing in Mexico is notably low as the financial infrastructure has yet to gain traction. This means that consumer debt has plenty of room to grow, particularly since its private sector credit-to-GDP ratio stands at only 25%. Other emerging economies are already at four times as much so loan growth could be looking at a lot of upside.
6. US dollar has been retreating
Similar to US equities, the dollar has given back some of its recent gains in the past few weeks on mounting doubts about the Trump administration's capacity to fulfill its campaign promises. This lends some upside to the Mexican peso, which has been the biggest loser to the dollar since the elections. With several Mexican fixed-income securities included in the Mexico Fund mostly peso-denominated, investors can benefit from exchange rate appreciation as well.
Disclosure: I/we have no positions in any stocks mentioned, and no plans to initiate any positions within the next 72 hours.