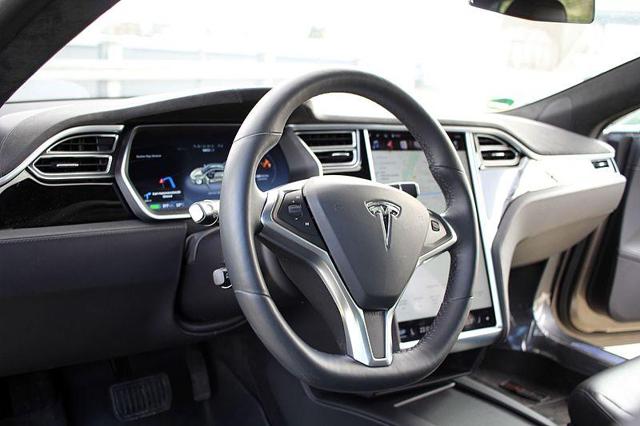 Tesla (TSLA) has rallied 70% this year and is currently trading at US$365.22 a share, but down from its US$383.45 peak in June this year. Despite the short-term pullback, the share price seems to be continuing on an upward trend.
Along with this recent rally, there are still several indicators that say buy, although some recent developments may have given you pause for thought.
The excitement about the release of the Model 3 for example, fizzled out leading to a drop in share price. While Tesla cars are still hugely in demand, concerns have been voiced about the affordability of their vehicles and whether they're not just a luxury item only a few can afford. But also of major concern is the waiting list.
When launched in late July all initial Model 3 cars were given to Tesla staff while the number of people on the waiting list reached a peak of 518,000. However, this has recently dropped by around 60,000 as people have cancelled their pre-orders having been informed they may not receive their car until 2018.
Musk has however made several confident statements that this does not reflect any major negative change for the company and that actually it means the firm will be able to deliver their cars to people sooner, with less orders to handle. He compared the drop in orders to waiting in line at a hamburger restaurant – with less people in the queue ahead, you'll be more likely to get served first.
He stated in fact that while only 100 Tesla Model 3 cars will be produced in August 2017, this will increase to 1500 in September and increase exponentially. To ensure these targets are reached, Tesla has announced it will go to the corporate bond market to raise US$1.5bn by selling corporate senior notes. Musk reported in his annual earnings report that equipping the Tesla factory to build the Model 3 has cost over US$1bn already. Further funding is now needed to cover these costs, buy further equipment and to reach the 2018 deadline.
More good news is that reviews of the car have also been strong, with the vehicle being compared with other high end manufacturers like BMW and Jaguar, while still coming in at the more affordable end at US$35,000. While aimed at the wider market, it still has a good amount of speed behind it and can still travel long distances between charges as the more expensive versions have offered.
These measures differ depending on whether buyers use the standard battery it comes with or order a longer range battery. As such the Model 3 will go from 0-60 mph acceleration in 5.6 seconds using the standard battery and 5.1 seconds with the longer range version and will drive 220 miles or 310 miles, respectively.
Another indicator to buy Tesla shares is the support for the electric car industry from global governments as a means of reducing pollution levels in cities. The UK is the most recent example of this following the French in a plan to ban the sale of all diesel and petrol cars and vans from 2040.
This makes the UK market one of the fastest growth areas for Tesla. In fact, Tesla stock is now one of the most popular traded stocks for UK investors. The production and sale of electric cars is therefore only set to increase and Tesla is at the forefront of this revolution.
Fund managers are similarly confident that the firm is on an upward trajectory and are confident that the firm is going to build on its 66% rally this year.
Morningstar reports 22 mutual funds and ETFs have more than 5% of their portfolios in Tesla, violating an unwritten rule that fund managers should not have more than 5% of their funds invested in one company as it can lead to lack of diversification.
Baron Partners is one such fund that has taken a huge bet on the car manufacturer, with 19.4% of assets staked in Tesla – the largest individual stake in the firm. Another, the Baron Focused Growth Fund, has the second largest investment with 17.3% of its portfolio invested in Tesla. While it may seem risky, so far it has paid off and both funds are up more than 18% for the year, outstripping the S&P 500 which has made around 10% for the year.
Furthermore, Ron Baron, the fund's manager, has commented that he thinks Tesla could reach US$1,000 per share by 2020 – around a 180% jump on its current position. And Baron isn't alone in this conviction in the strength of Tesla, with ARK Industrial Innovation ETF having the largest position in Tesla among all the ETFs. It has around 10% of its assets invested in Tesla and, like Baron's funds, is faring well being up 33.7% for the year.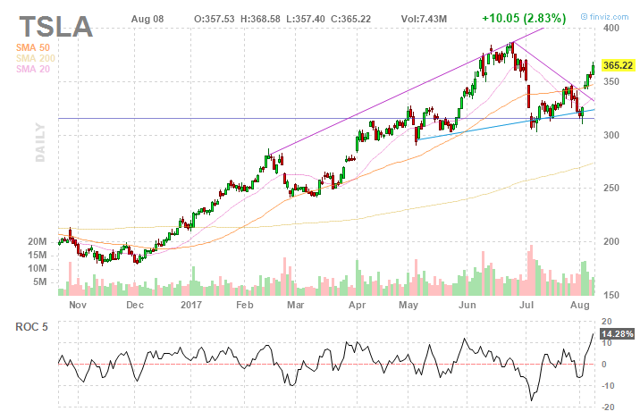 With this in mind, existing shareholders shouldn't be too concerned about matters of overvaluation since there is overwhelming support from a number of interested parties. If you're thinking about buying, there still looks to be room to run. If you're going put your faith in anyone, it might as well be the multi-billion dollar mutual fund and ETF managers that are betting big on this rally to continue. 
Disclosure: I/we have no positions in any stocks mentioned, and no plans to initiate any positions within the next 72 hours.