I have run the simulation today and the computer has spat out Corindus Vascular Robotics (CVRS). CVRS manufactures robotic-assisted vascular systems and offers CorPath, a medical device with robotic-assisted precision for radial, coronary, and peripheral procedures. 
CVRS stock is without doubt a risky long-term buy and is yet to turn a profit.
However, our system has identified CVRS as a high momentum play for the next few days and possibly weeks.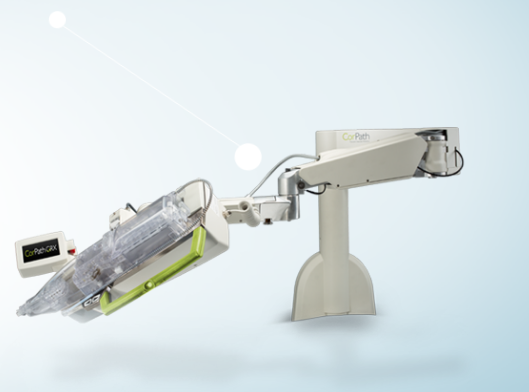 IMG Source: https://www.roboticpci.com/
Company Background
Highly invasive surgeries can now be performed via minimally invasive techniques, with the added benefit of robotic precision and radiation protection.
CorPath is the core product offered at Corindus who are hoping to become a global leader in robotic-led surgeries. The advantages of the technology is best summed up by the following graphic taken from the CRVS website: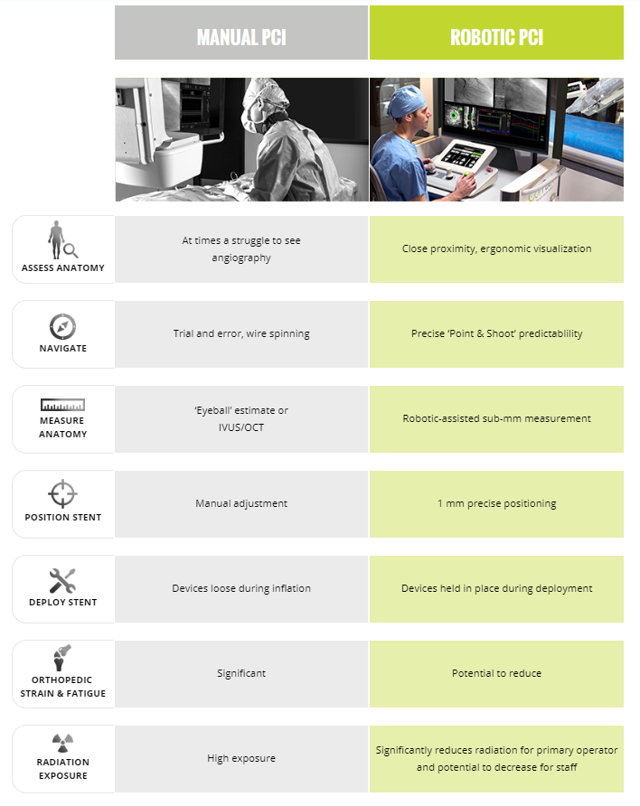 IMG Source: https://www.corindus.com/
As well as CorPath, CVRS also recently conducted the first-in-human telestenting case series. (Telestenting refers to the ability to perform robotic operations from long distances. As an example CorPath allowed a cardiologist to perfrom a PCI operation on a pig 100 miles away).
Value Is Less Relevant
With a last closing price of $1.56 and 186 million shares outstanding, CVRS is currently valued at $275.51 million market cap. 
Included in that valuation is a cash balance of $23.85 million that is offset by $11.89 million of long term debt. Revenues of $10.78 million (an increase of 11.72% year on year) mean the stock is now trading at 25 times revenue and 25 times sales.
The current valuation is relatively cheap given the possible upside that could come from significant uptake of the CorPath technology. 
However, market valuations are barely relevant in this case as the stock price will be primarily driven by news of sales, rumors, acquisition talk and investor sentiment.
Earnings Are Poor
As mentioned, CVRS is yet to turn a profit and reported GAAP earnings per share of  -$0.04 for Q4 (missing estimates) and a yearly EBITDA of -$33.28 milion.  
Net loss was $35.0 million in 2018 compared to a net loss of $34.1 million in 2017. 
Technicals Are Strong
CVRS rallied 8.33% on Wednesday which was a strong reaction to a mixed earnings report. This has taken CVRS into breakout territory, past the 200-day high and towards the 52-week high. 
The stock broke through the pivotal $1.50 area in the process with the next area of resistance being the 52-week high around $1.60.
This move took place on strong volume of $1.85M shares which was 150% higher than the 21-day average of volume. It's for these reasons why our system has identified CVRS has a high powered momentum play.
The low-price, low float, high volume breakout gives a high risk/reward opportunity over the coming few days. This move could extend into weeks but the likelihood is that the move will be over in a short time.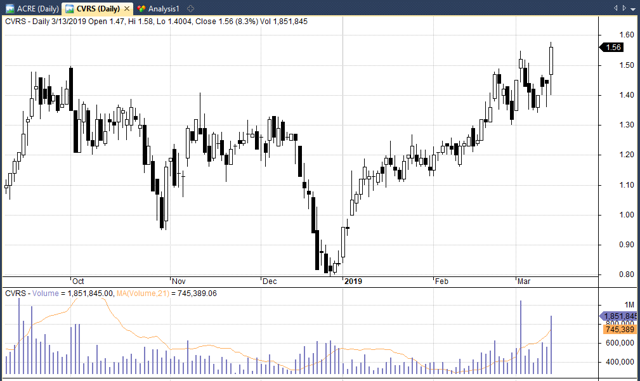 IMG: Via Amibroker
Risks Are High
We believe the investing risks for CVRS are high for both short-term traders and long-term investors.
The risks are typical of what you would expect for other low-priced securities operating in speculative industries such as biotech and robotic surgeries. 
The company is currently burning $35 million of cash a year which is 13% of its market valuation. Any long term investment in such a stock really requires the unique perspective and expertise of an industry insider but even then it is hard to know if the product will retain a sustainable competitive advantage.
Deciding whether an biotech company has a unique and sustainable technology is difficult work and even medical experts routinely fail to identify long term winners in these industries.
Acquisition or an uptick in sales would rapidly boost the prospects of CVRS which is why the stock is a high-risk, high-reward bet based more on sentiment and news than valuations.
That is why we stick to a short-term momentum system based on simple, tested rules. Today, the system has identified CVRS. We feel the momentum surge is relevant for the next few days but could continue further.
Final Thoughts 
As a systematic momentum trader, I am not particularly interested in delving into the nuances of a company's underlying technology. Too many have tried to do that and failed time and time again. 
Instead we use a proven system that has reported backtested returns over 18% annually (without compounding). Our portfolio is currently up 20% YTD using this system and we are confident in its ability to identify short-term momentum plays.
Today, our momentum system has identified CVRS so we will be entering a position on the next market open and looking to ride the move with a trailing stop loss and exiting on the first sign of weakness. We are not looking for a long-term hold but a short ride and we feel $1.86 is a good price target.
This type of strategy is not for everyone but we are having success with it and happy to share some of our picks. If you are interested in more details of our momentum system and other strategies we have developed then be sure to check our pages here and here.
Disclosure: I/we have no positions in any stocks mentioned, but may initiate a long position in CVRS over the next 72 hours.
I wrote this article myself, and it expresses my own opinions. I am not receiving compensation for it (other than from Seeking Alpha). I have no business relationship with any company whose stock is mentioned in this article.
Additional disclosure: I will be entering a long position in CVRS on the next market open (14th March). As mentioned this is a short-term momentum play.