When you're trying to figure out the future direction of the stock market, the Baltic Dry Index should definitely be food for thought, if not the main course.  This dry cargo shipping cost index is one of the purest leading indicators of economic activity, because the contracts relate directly to planned shipping and are free of the speculator element.  Historically, the index doesn't predict stock market tops very well, but for bottoming activity it tends to be a dependable 3-6 month preview of the major stock market moves. For example, during the 2001-2003 market, it previewed the turn of the stock market by several months: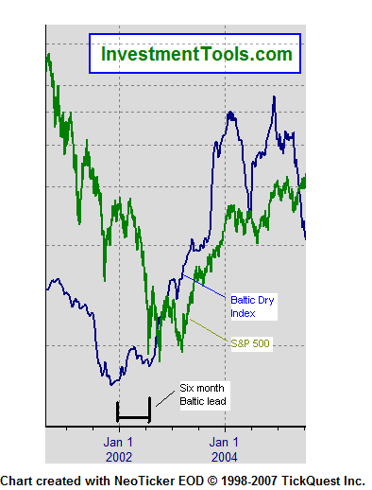 Even without the brilliance of Doug Kass, you could have just looked at this Baltic picture to call our recent bottom: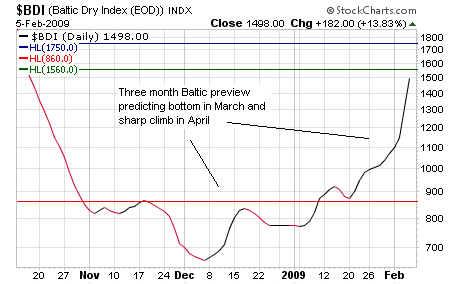 It seemed like a crazy thing to predict in early February, when the stock market began its deep plunge. But it turned out to be right. 
So what does the crazy Baltic preview look like now?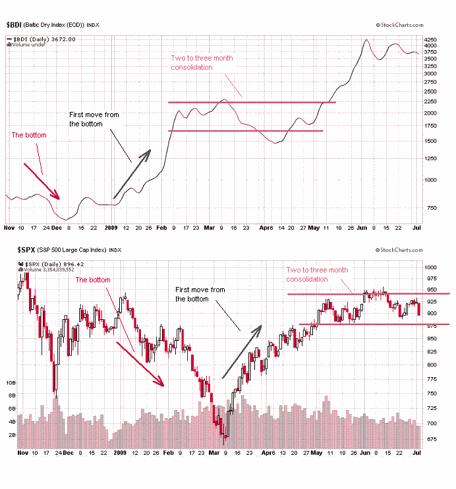 The Baltic is moving about 3 months in front of the S&P 500 with the first move from the bottom going into a two to three month consolidation that meanders a little to the downside, then breaks the consolidation to the upside.  If we follow the Baltic pattern exactly, we should expect some weakness before we get a climb - something the upcoming earnings period will likely induce.
But, as records are made to be broken, reliable indicators are meant to lead you astray occasionally.  One big caveat in using the Baltic Index as an economic activity guide now is the much reported buying, shipping, and storing of dry goods by China - not to feed to their booming factories, but to store just because prices are so low now.  News reports such as "Evidence is mounting that China is buying more oil than it consumes,  raising fears that oil hoarding may be supporting the current high price of crude..." from The Times and others make you wonder if the pricing of commodities or the Baltic really mean anything. 
However, you must consider that stockpiling beaten down commodities ahead of real demand coming back is a natural part of every sharp down cycle and is accounted for in the historical curves.  And China seems to be constantly stockpiling for their hungry economy in good times or bad.  If you survey all the reports of this ominous, shady stockpiling by China, you see it as pretty much a steady state condition with them.  The above quote from The Times about "evidence mounting" is dated August 31, 2004 ! 
The market remains at the red light at the dangerous intersection I wrote about in my June 12 Instablog post. High cash levels are still probably a good idea.