Can you identify this market time frame ?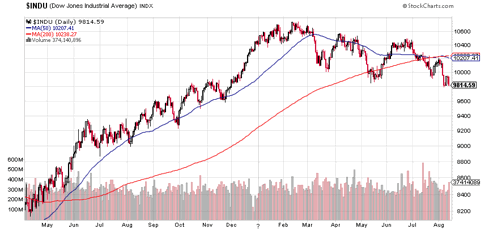 The year in question looks an awful lot like our 2010 doesn't it?  It follows a big rally the previous year and looks for all the world like a roll over into a new bear market, breaking below the 200 dma and performing the dreaded black cross - a negative crossover between the 50 and 200 dma. The ECRI's leading economic indicators at the time were in agreement with what the market was showing - their chart looked like this for the period in question: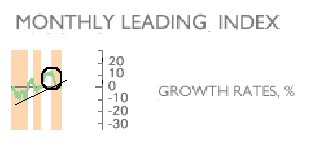 After working its way up from negative growth, it dived sharply back to the red zone, breaking its uptrend line in the process.

Give up?  It's 2004, and the market was struggling with many of the current issues. The phrase "jobless recovery" was a mantra, and double dip or not was the debate.  Putting the ECRI's charting above into its historical context: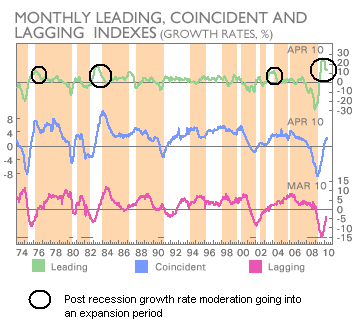 There is typically an unsustainable charge from the bottom of a recession.  When this moderates, it looks frightening and produces enough uncertainty to produce a bad stock market.  Our current frets are, to some extent, deja vu from the typical cycling forces.  Everything is writ a little larger imbued with the fears of systemic failure.  But the pattern is the same.  After the ugly breakdown shown above that vexed most of 2004, a big turn back up followed.  If just the normal economic cycling were at play, one could be more optimistic.  But, of course, there is the 8 trillion pound debt gorilla to contend with now.