Michael Kors (KORS) has had an impressive 6 months skyrocketing up in price from just over $30 to $65+ now. That's (almost) more than a 100% increase in six months (depending on your entry price). Stating it as an annualised return is stupid but it's fun to just say that that would mean just under or over 200%. 

In any case, the run up has been great. But what now?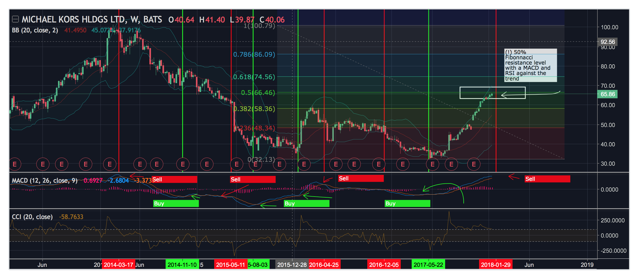 (Details on the graph:
- White box highlight on the rectangle zoom-in states "50% Fibonnacci retracement and resistance level with a MACD and CCI against the trend
- Green and red verticals: buy and sell triggers based on technicals)


If we look at the weekly graph, we see that KORS is racing its way up to the 50% Fibonnacci retracement. It will test it soon and the question will then be: will it break through? In terms of fundamentals of the stock, it might be possible to break this resistance line - the company has held practically no debt in its entire history, is still growing abundantly (albeit a bit less in its base market US), its new men's fashion unit is paying off as well as its acquisition of Jimmy Choo, and the investment in the online channels has shown great results; although KORS still has to work its way back up in terms of brand appeal, which has been relatively strongly diluted in the past couple of years - but as for the moment I believe it is far too risky to aim for breaking resistance. 

--> The technicals support this view: KORS is aiming for a test of the 50% Fibonnacci level, yet has both  MACD (upcoming death cross) and  CCI against it. These are very bearish signals that can have the stock pull right back to maybe even the 38,2% and by bearish extension the 23,6% one.  

Moreover, illustratively, you can see what happened after the golden cross back in January 2016: price jumped through the roof and successfully tested the 23,6% Fibonnacci (note that there, it did have  MACD and  RSI support!), subsequently it tested the 38,2% Fibo, failed, and plummeted back completely (and in the process made a clear  H&S figure :-) )! 
Some more background on the daily (Bollinger band closing up at the top - inflecting horizontally to downward; Fibonnacci 50% retracement about to be reached; Upward channel still intact - crucial to take this channel into account for placing correct limit orders / stop losses).
In any case, I do believe the longer term prospects of the company are quite  bullish, but a correction in the stock price is to be expected. Therefore, I would (non-officially ;) )recommend to take some profits and get back in at a more depressed price if one likes this stock. (However - consider that really investing in fashion stocks is something very difficult, as it has a very capricious customer base). 


Thank you for tuning in,
I wrote this article myself, and it expresses my own opinions. I am not receiving compensation for it (other than from Seeking Alpha). I have no business relationship with any company whose stock is mentioned in this article.
Disclosure: I/we have no positions in any stocks mentioned, and no plans to initiate any positions within the next 72 hours.