Good news - but no surprise given ISM - for those hoping growth sustains this market (any market, just pick one).
The GDPNow model forecast for real GDP growth (seasonally adjusted annual rate) in the first quarter of 2017 is 3.4 percent on February 1, up from 2.3 percent on January 30. After this morning's ISM Report On Business from the Institute for Supply Management and the construction spending release from the U.S. Census Bureau, the forecasts for first-quarter real personal consumption expenditures growth and real private fixed investment growth increased from 3.0 percent to 3.8 percent and 4.7 percent to 8.0 percent, respectively.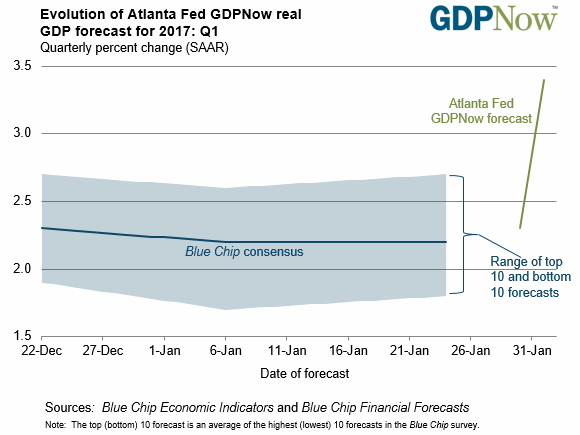 The NY Fed is in a blackout period due to the meeting, but their January 20, 2017 report stated:
The FRBNY Staff Nowcast stands at 2.1% for 2016:Q4 and at 2.7% for 2017:Q1.
This week's news had positive impact, moving the 2016:Q4 nowcast up by 0.2 percentage point and the 2017:Q1 nowcast up by 0.6 percentage point.
The largest positive surprise came from industrial production and capacity utilization data.
I would expect their model to increase to a level comparable to the GDPNow report when it is released February 3, 2017.