Rates continue to bounce off 3%, but can't quite make it through.  The technical type of guys will tell you its not a technical resistance point, but handle changes don't come easy and serve as a psychological barrier.
Continued softening of expectations in eurodollars for 2019 hikes: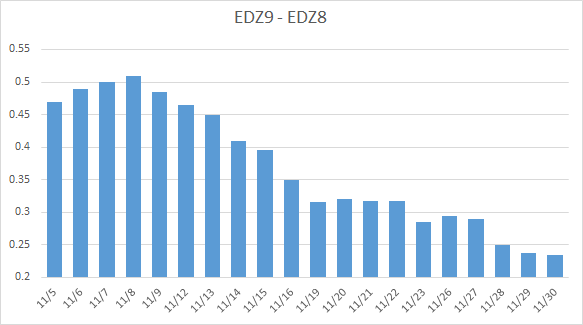 And 2020 outlook: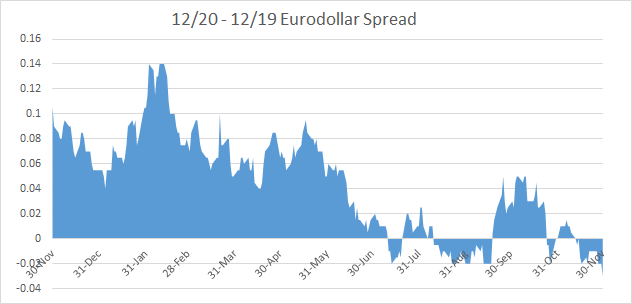 High yield (HYG):  Think the worst is behind us?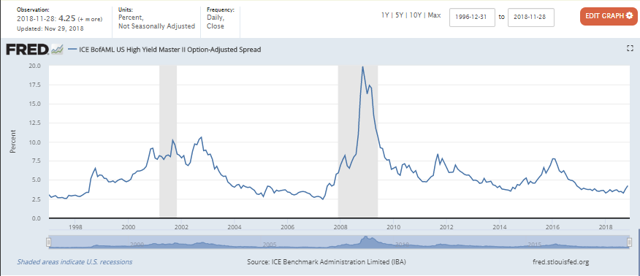 Gotta say that it isn't.
FYI Nisource (NI) did a 20mm share perp preferred - 6.5% fix>float structure callable in 3/15/24 (Ba1/BBB-).  Currently trading $24.84 for a stripped yield of 6.54%.  Not a bad diversifier.  
Marriott International Inc. (MAR) Marriott has taken measures to investigate and address a data security incident involving the Starwood guest reservation database. On November 19, 2018, the investigation determined that there was unauthorized access to the database, which contained guest information relating to reservations at Starwood properties* on or before September 10, 2018. On September 8, 2018, Marriott received an alert from an internal security tool regarding an attempt to access the Starwood guest reservation database in the United States. Marriott quickly engaged leading security experts to help determine what occurred. Marriott learned during the investigation that there had been unauthorized access to the Starwood network since 2014. The company recently discovered that an unauthorized party had copied and encrypted information, and took steps towards removing it. On November 19, 2018, Marriott was able to decrypt the information and determined that the contents were from the Starwood guest reservation database. The company has not finished identifying duplicate information in the database, but believes it contains information on up to approximately 500 million guests who made a reservation at a Starwood property. For approximately 327 million of these guests, the information includes some combination of name, mailing address, phone number, email address, passport number, Starwood Preferred Guest ("SPG") account information, date of birth, gender, arrival and departure information, reservation date, and communication preferences. For some, the information also includes payment card numbers and payment card expiration dates, but the payment card numbers were encrypted using Advanced Encryption Standard encryption
Seriously getting tired of all the breaches.  Yours truly, being paranoid about such matters (preferring to call it aware of the risks) rarely uses such programs and has very limited information on file or in public.  But, there's always the semi-annual credit card breach to make my life fun.
General Electric (GE) shares sank in early trading after two analysts sounded more alarm bells around the company's liquidity, and a report said former GE employees were being questioned by federal investigators about its troubled insurance business. Deutsche Bank analyst Nicole DeBlase slashed her price target (to $7) on the stock by more than a third amid continuing questions on the beleaguered multinational's liquidity outlook.  
I keep saying 2019 will be the year this company disappears.  Broken up and sold off.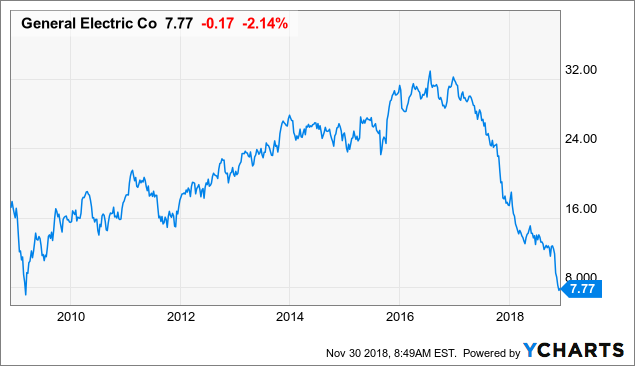 Bloomberg:  iShares Edge MSCI USA Momentum ETF  (MTUM) So MTUM will rebalance its holdings today in one of the six largest index rebalancing weeks of the year. ETF market makers are estimating $9.6 billion two-way turnover for this particular fund, making up close to a third of the $30 billion two-way turnover estimated for all U.S.-listed ETFs.  The majority of the actual buying and selling of the underlying stocks will take place during the trading session, and the updated list for the fund's makeup should be made public on Monday.
Hannon Armstrong (HASI)  has been added to the MSCI US REIT Index, effective as of market close on November 30, 2018.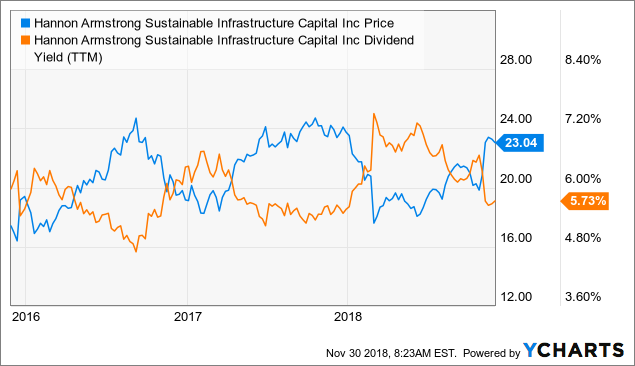 UBS downgraded the recommendation on Hannon Armstrong Sustainable Infrastructure Capital Inc. to neutral from buy.  Hannon Armstrong had 7 buys, 1 hold, 0 sells previously.
UPDATE: Shares are down over 5%.  I guess if you liked 'em yesterday, you like 'em more today.
Corporate Office Properties (OFC) BofAML downgraded the recommendation on Corporate Office Properties Trust to neutral from buy.  PT lowered to $27 from $31, implies 10% increase from last close. Corporate Office Properties average PT is $29.27 Corporate Office Properties had 4 buys, 9 holds, 1 sell previously:
Netflix cancelled Daredevil.  Seriously, you cancelled Daredevil?
SL Green Realty (SLG) authorized an increase to the size of its share repurchase program by an additional $500 million, bringing the program to a total of $2.5 billion. To date, repurchased 18.09 million shares under program, redeemed 445,517 units of operating partnership in connection with real estate transactions
INTL FCStone (INTL) - the nightmare hasn't ended for Optionsellers clients:
the Broker Dealer - FCM subsidiary INTL FCStone Financial Inc. of INTL FCStone Inc. filed its annual financial statements for the year ended September 30, 2018with the CFTC's Division of Swap Dealer and Intermediary Oversight and posted the financial statements on its website.

Footnote 1 of the Regulatory Financial Statements disclosed that, during the week ended November 16, 2018, balances in approximately 300 accounts of the FCM Division of IFF declined below required maintenance margin levels, primarily as a result of significant price fluctuations in the natural gas markets. All positions in these accounts, which were managed by Optionsellers.com Inc., an independent Commodities Trading Advisor, were liquidated in accordance with IFF's customer agreements and obligations under market regulation standards.

IFF's customer agreements obligate the account holders to reimburse IFF for any account deficits and the FCM Division continues to pursue collection of these receivables in the ordinary course of business. As of November 27, 2018, the aggregate receivable from these customer accounts, net of collections thus far, is $35.3 million, with no individual account receivable exceeding $1.4 million. The exposure to losses from these customer accounts is not yet determinable, as collection efforts are in early stages, given the timing of events that led to the receivable balances disclosed above. 
When you lose it all and owe more.
SITE Centers (SITC):  Capital One Securities, Inc. analyst Chris Lucas upgraded the recommendation on Site Centers Corp. to overweight from equal-weight.  PT raised to $14 from $13.50, implies 20% increase from last close. SITE Centers average PT is $12.91. SITE Centers had 2 buys, 16 holds, 2 sells previously.
You remember SITE, used to be the perpetual whipping boy, DDR.
You know, folks have been asking me why I haven't been writing more, especially about REITs.  Here's the thing, everybody and their brother is writing about REITs (again, funny what happens when the feces have already been through the fan, where were they then with their sage advice?) and, honestly, its hard to bring added value to the table - aside from the fact I pride myself in not doing the standard cut and paste of the investor presentation.  I have been adding implied cap rate data (with time series info) and trying to look at the whole cap structure when possible - look for the first mention of stripped yields with preferred and see who introduced it, but it gets disheartening when I spend a good chunk of time and get 1000 views (for which the comp is minimal).  I still do when I am looking at a name for my portfolio(s), but its hard to get excited.  I am considering doing my weekly recap of mREIT preferreds (still like 'em as a better way to play the space), shipping preferreds (good way to play the space generally, like equity in the LNG sector and own some container stock) and maybe the REIT market generally, but hard to tell if folks find it useful.  Look, unlike many folks on this site, this isn't my job, I run money for a living and have for over 20 years and I do this because it interests me and is a chance to get more info/data into the hands of other folks who might not otherwise get it in a concise manner and in one stop.  I am not going to write 3 articles a day (probably not even a week) regurgitating the same thing as the last time - if nothing has changed, what is there to say?
Meh, rant over.
Friday blue light special!!!
Like preferred stock under par?  Like 'em a lot under par?  Here's 7 REIT preferreds below $20

pricing:

Friends, just remember, sometimes you get what you pay for.  I was throwing a bid at Cedar (CDR) (CDR.PC) the other day (dropped down on low volume) which was never hit and I own Kimco (KIM) equity.  I personally think that Washington Prime (WPG) preferred will head to 10%, which equates to $17.50 for the Series I (WPG.PI) and $19.07 for the Series H (WPG.PH).  Continue to think CBL will head to 15%.
Speaking of getting what you pay for, Navios Maratime (NM) preferreds are a great example.  Company was/is sucking wind, financials were/are horrible, the suspended the pref div and shares got whacked.  you have to look at the financials and see what you are buying.  It is that simple.  I am not saying you have to dig into every nook and cranny, but you cannot ignore the financial reality.  This is what happens when you don't look: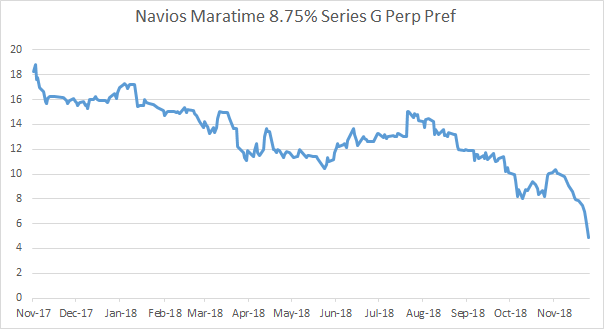 Further, buying the pref with a suspended divvy is a losing game unless you can make a very sound case for the company (I traded the RBS preferreds based on the rolling reinstatement of the divvy back in the day) or your position in bankruptcy (which is typically a goose egg).