After some snow - which later turned to ice to ensure fun driving and broken branches, hello Northeast - over the long weekend we return to a shortened week.  I have a funny feeling it is going to feel longer than four days when all is said and done.  But hey, I could be wrong (he says trying to get the glass to half full).
Morgan Stanley downgraded the recommendation on Teekay Offshore Partners (TOO) to underweight from equal-weight.   Teekay LNG Partners (TGP) upgraded to overweight from equalweight as risk/reward profile is now favorable after weakness and consensus revisions (price target cut to $16 from $17.50).  MS said that that despite the lack of growth beyond TGP's newbuilds, sees stock as an attractive value story, trading below its growing NAV.  Downgrades Gaslog (GLOG) to equalweight from overweight, citing outperformance.  Remains overweight on Cheniere Energy, Inc. (LNG) saying the company is well positioned to take advantage of growing US exports.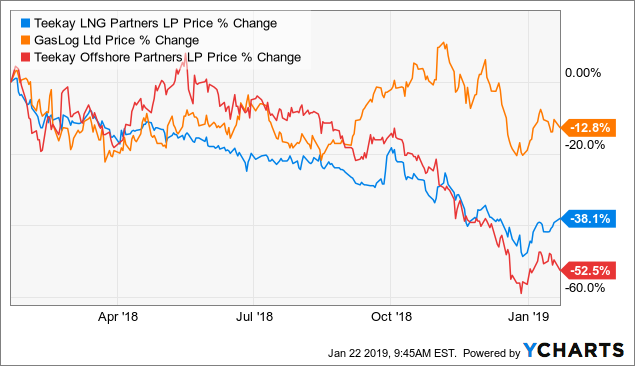 Elliott Management Corporation, which manages funds that beneficially own more than 4% of eBay Inc. (EBAY), today released a letter outlining a significant value-creation opportunity at eBay. The letter, addressed to the Company's Board, noted that the opportunity could lead to eBay being valued at $55-$63 per share, representing upside of more than 75% to 100% from today's price.  I do my part for eBay, love that site.
On January 21, 2019, PG&E (PCG) (the corp and utility) entered into a commitment letter for debtor-in-possession financing  with JPMorgan Chase Bank, N.A. ("JPMorgan"), Bank of America, N.A., Barclays Bank PLC and Citigroup Global Markets Inc. pursuant to which the Commitment Parties committed to provide $5.5 billion in senior secured superpriority debtor-in-possession credit facilities in the form of (NYSE:I) a revolving credit facility in an aggregate amount of $3.5 billion , (II) a term loan facility in an aggregate principal amount of $1.5 billion and (NASDAQ:III) a delayed draw term loan facility in an aggregate principal amount of $500 million, subject to the terms and conditions set forth therein.   PG&E expects that the DIP Facilities will provide it with sufficient liquidity to fund its ongoing operations, including its ability to provide safe service to customers during the Chapter 11 cases. PG&E currently expects the Chapter 11 cases to take, subject to satisfaction of certain terms and conditions, approximately two years.Filing
Prospect Capital (PSEC) has yet another fan.  Barclays downgraded the stock to underweight from equal-weight given its high exposure to subprime consumer lenders, collateralized loan obligation (CLO) managers and real estate, which are higher risk than standard assets.  Price target cut to $6 from $7.
D.A. Davidson & Co upgraded the recommendation on Lexington Realty Trust (LXP) to buy from neutral.
I saw the following and I have to be honest - I was surprised.  Credit card debt is scarier than death and/or climate change (or death by climate change, either way).