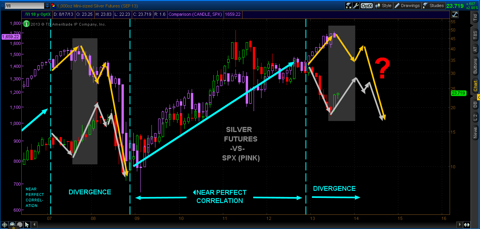 IN MY CONTINUING EFFORT TO FIGURE OUT WHERE THE TOP IN THE EQUITY MARKETS WILL BE, I HAVE BEEN COMPARING THE SPX TO EVERYTHING I CAN THINK OF LOOKING FOR PATTERNS THAT MATCH THE ONES CREATED BEFORE THE LAST FINANCIAL CRISIS. I HAVE FOUND MANY COMPELLING CORRELATIONS THAT I WILL START SHARING WITH EVERYONE. I HAVE BEEN WATCHING PRECIOUS METALS EVERY DAY FOR A LONG TIME NOW.... AND I WANT TO SHARE WHAT I HAVE FOUND LOOKING AT SLIVER FUTURES -VS- SP500. IN THE CHART PROVIDED, YOU WILL NOTICE THE CORRELATIONS OVER TIME BETWEEN SILVER AND THE SP500. I HAVE TRACED THE MAJOR MARKET MOVES AND PROVIDED TIME LINES TO SHOW DIFFERENCE IN CORRELATION. I BELIEVE A SIMILAR PATTERN TO THE ONE CREATED BEFORE THE LAST FINANCIAL CRISIS IS BEGINNING TO EMERGE.
**This article is distributed for informational purposes only and should not be considered as investment advice or a recommendation of any particular security, strategy or investment product. The charts and comments are not recommendations to buy or sell any security. Market sectors and related ETFs are selected based on the author's opinion as to their importance in providing the viewer a comprehensive summary of market conditions for time periods displayed. Chart annotations are not predictive of any future market action and they only demonstrate the opinion of the author as to a range of possibilities going forward. All material presented herein is believed to be reliable but we cannot attest to its accuracy. The information contained herein (including historical prices or values) has been obtained from sources that the author considers to be reliable. The author makes no representation as to, or accepts any responsibility or liability for, the accuracy or completeness of the information contained herein or any decision made or action taken by you or any third party in reliance upon the data. This article contains the current opinions of the author which are subject to change without notice.
For more analysis like this, please visit my blog at: http://elliottnotwave.blogspot.com/
Disclosure: I have no positions in any stocks mentioned, and no plans to initiate any positions within the next 72 hours.