For a semiconductor, Micron (MU) brings quite the excitement in the investor community (no offense to semi fans). You'd think a bunch of chips and wafers would not get an investor group to huddle around and talk and giggle like school children, but, alas it does. And it's all the more when Micron announces earnings within a week of Christmas. Everyone is looking for a present and one that comes early is always welcomed - even if it's socks.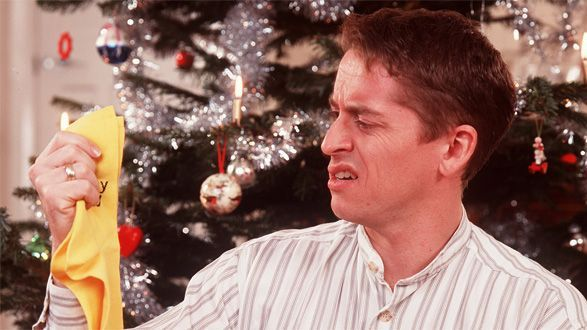 But, we can't rest because our portfolio doesn't take care of itself. So we must get to the homework desk and figure out what our American semiconductor company will announce after the bell on Tuesday the 19th. Speaking of homework, if you are interested in getting a head start you can begin by reading the over 800 comments on Electric Phred's only three week old article. I'd be hard pressed to find better information, sharing of ideas, and opinions than an EP article comment section.
Key Points To Success
If Micron plans on beating guidance of $2.16 and Street estimates of $2.19, then there has to be some critical keys to the success. These keys are straightforward, but not simple. It comes down to memory pricing for DRAM and NAND, cost reductions, and bit growth (supply). Those of us who are long are looking for high pricing, achievements in cost reduction, and more bit growth.
The complicated part about this is we as investors know some about pricing, little about bit growth and even less about cost reductions. This is why you see models from Seeking Alpha authors and Wall Street institutions with varying numbers. Everyone has a different idea of how well the company did in each category.
What we do know is pricing has remained strong.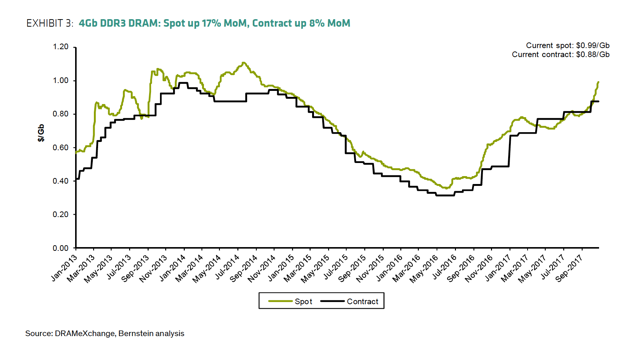 (Source: Electric Phred and Bernstein)
Cost reduction continues to move forward and the most we know is based on what management has said, and that's dependency on DRAM technology crossover, namely; 1X. Over the course of 2018 the company expects slightly more than 20% in cost reductions.
Finally bit growth is our crème de la crème. Bit growth is a balancing act in the overall market but a driver of profitability for the company. If a company can put out more bits at the same price, it reaps the rewards of more memory per wafer, meaning more revenue from the supply in the face of growing demand. Of course, the more you supply the market the more balanced the supply/demand scales become and thus effects pricing. However, since Micron is the smallest supplier of the three (Samsung (OTC:SSNLF)(OTC:SSNNF) and SK Hynix being the other two), Micron has the advantage of increasing bit output without doing real harm to the memory market. If Samsung were to ramp up output this would be a different story.
I can't help but think back to earlier this year when the company said they would consider the second half of calendar 2017 with flat memory pricing to plan financials. 
For business planning purposes, MU does not expect DRAM prices to increase in 2H17/2018, but noting that even a 10-20% ASP decline per year is very good news for a memory business given continued cost improvements.
Considering this has changed as they've given guidance for late calendar 2017 factoring in higher DRAM prices, it still makes me think this robust pricing environment wasn't planned for and therefore is exceeding expectations - and can even still, as some analysts call for flat or decreasing outlooks into 2018.
Why The Early Present
This brings me to the confidence behind the outlook. This quarter we have not heard of any incidents at fabs. As you may remember there was a large rumor floating around last quarter about a leak in a fab which ruined a decent amount of wafer starts. This paused production for at least two weeks - or so says the rumor. Micron denies the report and for all we know nothing happened at all. Not to mention a nitrogen leak is the least consequential problem to have in a clean room when there are far worse items inside which could cause harm to production wafers. Either way we have not heard of an incident, which gives us the green light for this quarter.
Secondly, considering pricing continues to move upward - as I mentioned earlier on - and while expectations were likely kept in the conservative range, any increase in pricing after guidance was issued is bonus. Similarly, Micron is reaching a point where fixed costs are becoming less and less of an overhead drag on the bottom line. There is a tipping point in Micron's financials where added revenue and continued cost savings in technology nodes means the dollars can flow directly to the net income line. This quarter may be the quarter where we see this in effect - at least starting to.
Subscribers to Tech Cache received this first and with greater detail, including my estimates and strategy to position your holdings for earnings. You can sign up now and read the entire article with a risk-free 30 day money back guarantee on my yearly subscription. This subscription price will go up after the New Year but you can lock in the current rate for life if you sign up today.
My followers also received this blog post as a direct alert - don't miss out twice, sign up for Tech Cache and follow me to get my top ideas as soon as I publish them.
Here's what a current subscriber to Tech Cache has to say:
I joined Joe Albano's Tech Cache as he covers Micron and GPRO - the stocks in which i am heavily invested. I felt that his fees were reasoable...Since joining, I have found his services very helpful. He is available for a chat on a regular basis. I was able to learn multiple things such as details of technical analysis, how to trade options etc from him...Overall, Joe is trying to build a community, where everyone can share. He is willing to listen and he is willing to learn from you. I have enjoyed his service and would recommend to any one.

-ni_tempe
Disclosure: I am/we are long MU.