Micron Analyst Day 2018 Live Blog
Please Note: Blog posts are not selected, edited or screened by Seeking Alpha editors.
Growth, Tech, Software, Long Only
Seeking Alpha Analyst Since 2013
Joe Albano is a technology insider and combines his passion, education and career into his investing approach. Additionally, his young and in touch perspective allows him to understand the trends of the culture as well as how technology is working alongside it. Together, these invaluable insights have produced a strong investment track record for himself and his followers. You can join Joe and learn his insights and strategies by subscribing to his service
Tech Cache
.
Education and Investment Background
Joe has a Bachelors of Science in Computer and Electrical Engineering. He follows technology related companies as well as blue chip industrials and consumer products. Joe writes mainly about technology companies, especially ones that he uses and consumes. Knowing the technical side of the products helps him in his analysis of what the product impact is to consumers and the markets they reach. Joe's interests lie in tech and growth stocks.
Work Experience
Joe works for a technology contracting company as a Release Manager working with Dev/Ops tools and integrating CI/CD systems. This entails automating workflows and deploying compiled artifacts using change control/version control software and deployment automation tools. The sector of his work is governmental and deals with the department of health. He previously worked in the IT field of the healthcare industry for a major teaching hospital and practice group working mostly with integration engines for use with hundreds of systems as well as end user application access and security including single sign-on.
A Little About Joe...
Joe enjoys a variety of hobbies including playing drums and building racecars made for the ice and asphalt. He raced nationally in college for Baja SAE and continues to build racecars and race on a regional level both on road courses and frozen lakes.
Summary
Monday May 21st, from 1:30PM-5:00PM is Micron's Analyst Day.
Some important topics are likely to come up.
Follow here as I live blog the event.
Today is Micron's (MU) 2018 Analyst And Investor Day in New York City at the  Lotte New York Palace Hotel. I outlined what topics I expect to be discussed in my recent article here. Time is in EST ([NYC]).
10:29AM: The live blog is now hot and I'll be updating as management takes to the conference at 1:30PM.
10:30AM: I'll start by discussing the preannouncement which occurred this morning. You can read more about it from Micron's IR site here. I was not accurate in predicting there would be no preannouncement because it had happened last quarter but the numbers are enough to generate a pop in the share price, now up 4.5% to $55.80 on heavy volume (27M at this minute versus 10-day average of 39M).

10:32AM: This means the market didn't have expectations for it which is what I alluded to in my article. A surprise in the positive direction is nice and trade war fears cooling off are helping keep the stock elevated.
11:51AM: Micron has backed off its highs of the day, looking to close the gap it created with Friday's high. Volume is at 37.5M.
1:10PM: I'm settled in, have the conference stream open waiting for it to begin in 20 minutes. The music is rather relaxing and has a nice groove. Good for those nervous investors - keep that heart rate down.

1:15PM: Music has shifted, sounds eerily like a slower tempo version of Tom Petty's Free Falling. Hopefully not an omen of things to come! Stock update, MU is up a bit from earlier back to $55.60, up 4.12% on 44.82M shares. This should be an interesting afternoon with volume already beyond the average.

1:21PM: The lovely elevator music has stopped and we're now in the last minutes before the event, music has changed to more modern pop and the slides have become real-time:

1:26PM: Announcer preps the audience saying the meeting will start in 5 minutes. No video feed yet. Stock is at $55.67, 46M shares.
1:32PM: Fashionably late I always say...
1:33PM: And here's the safe harbor statement, let's get started!
1:34PM: Miss Hudson (IR Head) starts us off (I didn't know she was a she, what do I know?)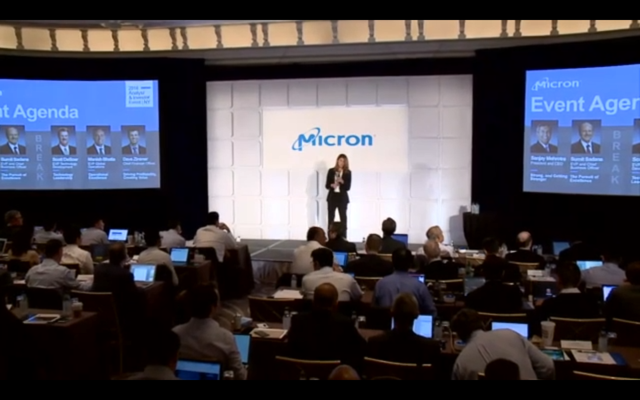 1:35PM: Little intro video talking about how Micron moves the technology world forward. PR video, folks.

Pretty strong first slide talking about "The New Micron"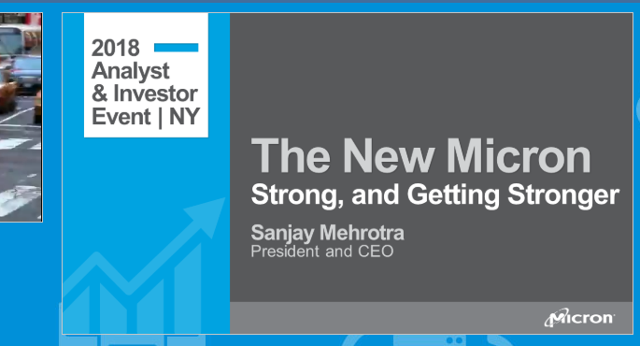 1:37PM: Sanjay takes the stage, first talks about the strong results and how this isn't the only part of the "new" Micron.
1:38PM: First this time it's different type of talk "How structural changes of the industry are changing the memory environment"

1:40PM: So far Sanjay has talked about how our present and future and how data "is fueling the economy today" which has "led to a massive growth in the industry today."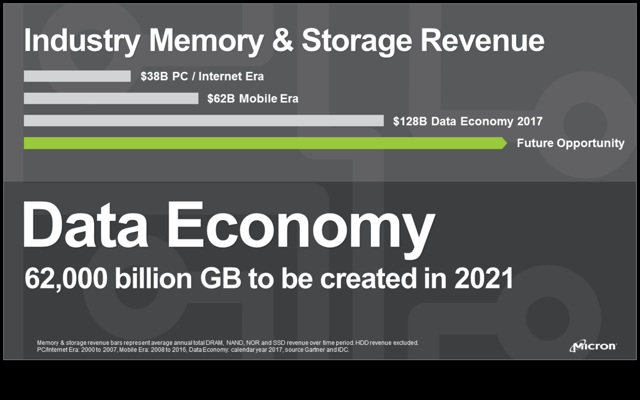 1:42PM: "Driving a secular trend." Another push toward TTID. "AI is a game changer." Natural language processing is one example.
1:44PM: Another example is Computer Vision to diagnose ailments like Pneumonia. This requires more video data value and more compute memory storage.
1:46PM: Shifting to Smartphones becoming intelligent. Key drivers: Multiple high-resolution cameras, 4K+ HDR video, AR/VR/3D gaming. "No longer about the amount of smartphones being sold but about the content growth."

1:48PM: Autonomous vehicles now the subject. "Full autonomy will require 40+ sensors in 2021." "By 2025 it is expected there will be 26M L3+ cars in the world." "Another example where our lives will totally change...how it will change our world by saving lives..."
1:49PM: "What does this mean for the cloud?" I give you his slide: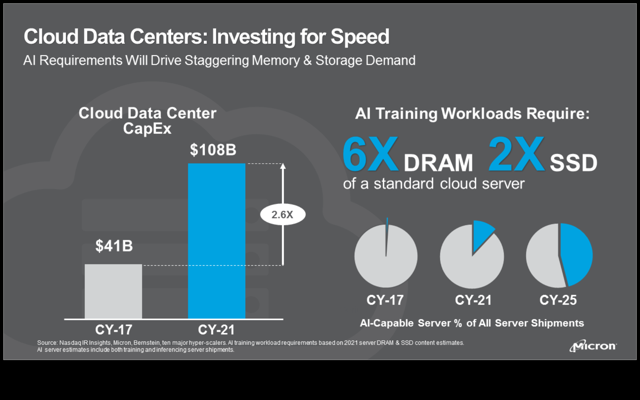 1:51PM: Sanjay: "Why is that exciting for us? Because AI servers require 6X DRAM and 2X the storage of a standard cloud server...this is just the early innings...memory and storage are bringing greater value and are truly enabling this growth..."
1:52PM: Sanjay:"One point I'd like to make and get across to you...data on the cloud is creating a virtuous cycle...more data stored and processed on the cloud, which makes the cloud even more important to the edge devices...which creates a bigger cloud...a virtuous cycle..."
"My message on markets today are more diverse, more distributed for DRAM and flash...and DRAM and flash today have higher value today than before...DRAM and flash are becoming a bigger allocation...because they enable bigger value for our customers"
1:55PM: This should be good, he's now onto industry specifically.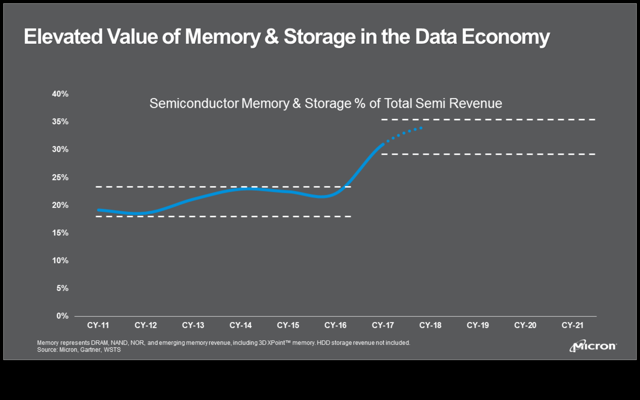 1:57PM: "Improving industry return on investments...3-year average industry ROI has approached 30%...and we believe this will be even higher in the next year"

DRAM and NAND bit growth expectations: 20% CAGR for DRAM, 40.45% CAGR for NAND: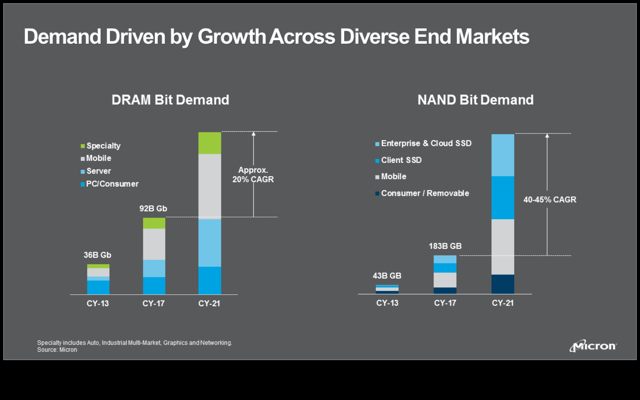 1:59PM: We're getting into the fun stuff now, guys. DRAM bit supply growth is moderating.
Sanjay: "This is the challenges of Moore's Law, and node transition...and increased capex intensity involved. Capex also includes the new cleanroom space needed to implement advanced technology bit growth..."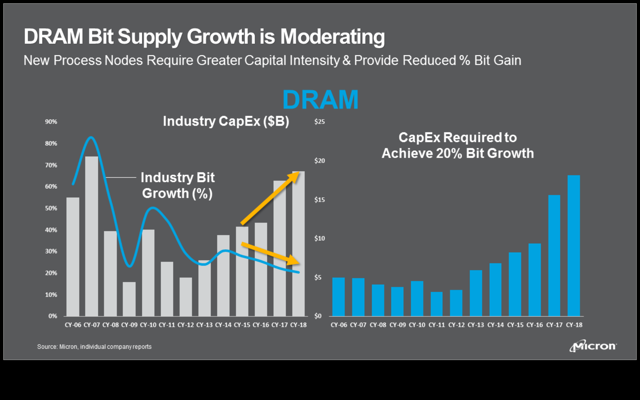 If China thought it could buy it's way in, the price of admission only gets significantly higher.
2:01PM: On the NAND side now...

Sanjay: "2D to 3D NAND transition gives more bits for the first generation of 3D compared to the last generation of 2D...but if we go to 96-layer and beyond, the bit gain in successive node, bit growth will be declining."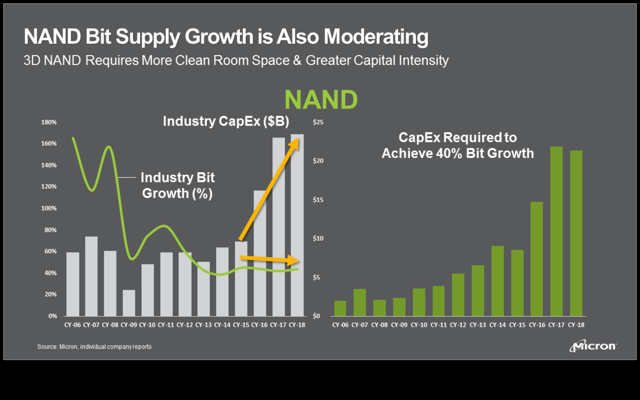 2:03PM: Sanjay: "20% bit growth for DRAM in 2019 and beyond and NAND 40% bit growth in 2019 and beyond..."
2:04PM: On to the transition at Micron, specifically. Sanjay says happy birthday to Micron as it is its 40th birthday this year.
Sanjay: "Not just about patents, but also about Micron's technology which have a rich legacy..."
That's a slap at the China bear thesis...
2:05PM: Sanjay: "Micron through the course of many acquisitions over the years has expanded is global footprint..."
2:06PM: On to some financials: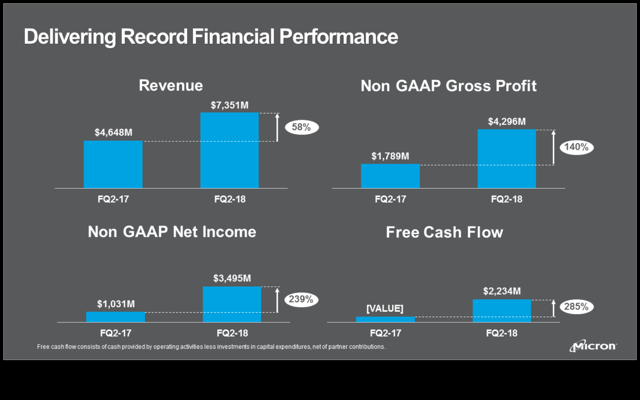 "Micron today, it's fundamentals are strong and are building ahead for a stronger Micron. Of course we remained focus on our investments on operating expenses and capital expenditures..."
"Opportunities to expand out our opportunities for high DRAM solutions..."
"We are focused in investing in these areas, to build the company of the future to build Micron's place as the leader in the industry..."
2:08PM: I see 3D XPoint!
Sanjay: "Industries most comprehensive technology portfolio...3D XPoint in early stages of...technology enablement."
3D XPoint: 10x denser than DRAM, 1000x better endurance of NAND, 1000x faster than NAND.
"These create significant value opportunities for between the DRAM and NAND areas..."
"Launching these products [in volume] in the later part of 2019...more to come from [other Micron execs]..."
2:10PM: DRAM costs reduced at 1.3X...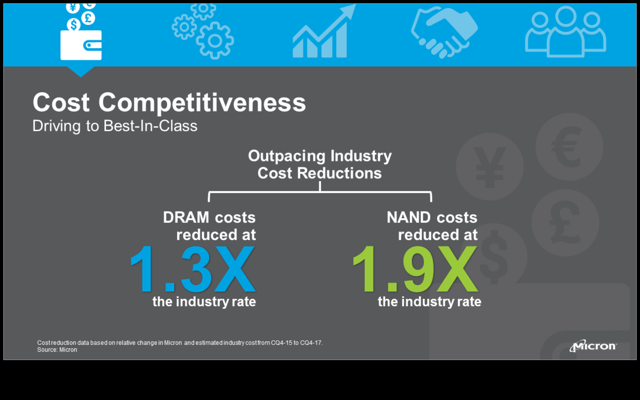 ...and he's talking over the industry rate in this slide!
2:12PM: Sanjay: "25% faster ramp up to mature yields compared to previous node transitions..."
>25% improvement 1Xnm DRAM
80% of TLC Mix in FQ2-18 increased from 55% in FQ2-17
2:13PM: High value solutions...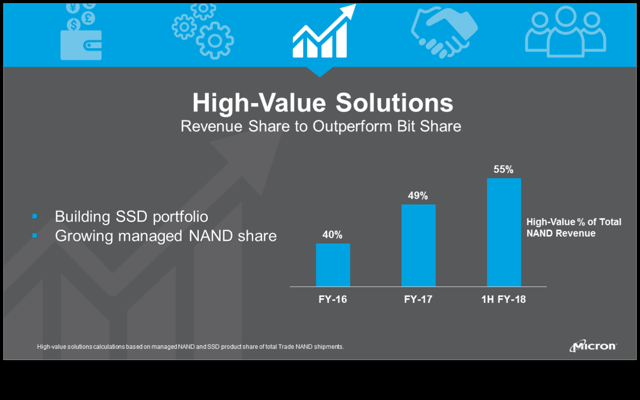 2:15PM: "#1 or #2 customer quality rankings at an all-time high." "Our customers are ranking us among the highest in DRAM quality..." "This is up from a 44% rating [ranking?]..."
2:16PM: Strong execution has been a constant theme so far...
"We are not done yet, we have significant opportunity ahead for Micron to increase our operations and profitability."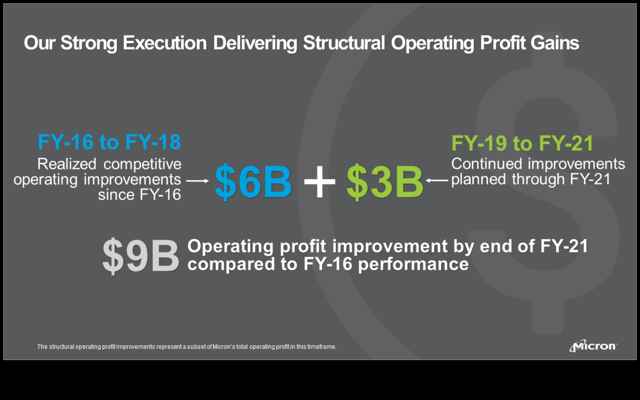 2:18PM: "We are very much focused on gaining the best talent, retaining the best talent..."
"30% of Micron's new highers over the last year have advanced degrees..."
"99% pay equity for female and males at Micron...we don't settle here...we strive for 100% in 2018 time frame..."
2:19PM: Sanjay is winding down... "Executing our strategy, accelerating our pace of innovation and translating that into profitable growth..."
"Stronger and getting stronger"
Another video as Sanjay steps off the stage" Sumit Sadana (sp?) will share what Micron is doing with addressing new solutions to their customers"
2:21PM: Stock update: $55.18 on 50.7M shares, down a bit from before.

2:22PM: Some interesting comments within the video, something along the lines of how we [customers] worked with Micron today is drastically different than before...specific memory, not just the standard of memory which doesn't suffice.
2:25PM: NVidia CEO finishes off the video...
2:26PM: (I nailed the spelling of Sumit's name by the way) He starts off with The Pursuit of Excellence...talking about an amazing chess game AI which beat all humans and beat the previous AI computer 28-0 in 100 rounds.
Sumit: "Micron is going from a component company to a product and solutions company..."
Another "new Micron" plug by him right after that statement...
2:28PM: He now goes into "Broad demand, secular, diversified growth drivers..."
2:30PM: Hourly prices of AI services is 50X more than standard computing. $0.22 compared to $11.20...
Sumit: "Significant increase in average capacity that all of these AI servers are going to drive..."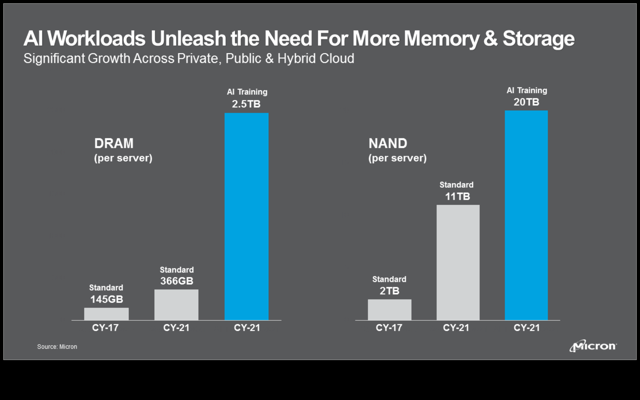 "The cloud is driving the growth of these servers, and these servers being shipped are much higher...but this pales in comparison to the AI server side..."
"Cloud companies really love to work with flash because of responsiveness, it's performance..."
"In case you find these numbers stunning, I want to point out an NVidia GDIX II (I get that right?), that machine already has 2TB of DRAM and 30TB of flash in it, and that is this year...these numbers I show you here are certainty well within reach..."
2:34PM: Here's an interesting thought: The only portfolio spanning the data center hierarchy..."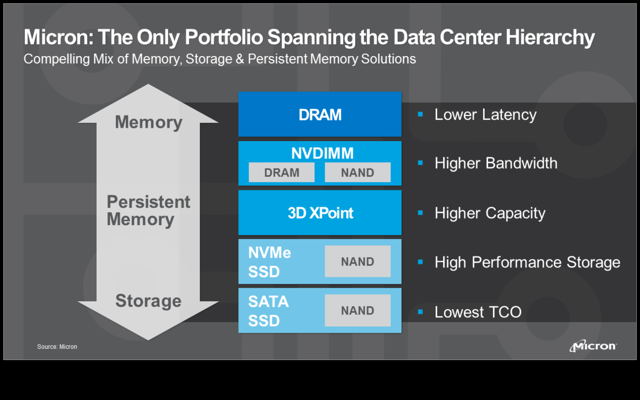 "This represents a new tier of memory and storage...for our customers to reimagine their storage stack...we will becoming out with these products next year and our customers are looking forward to using 3D XPoint to expand their memory in their servers..."
"Processors spend a lot of time waiting for data...the amount of memory you can attach to these processors hasn't gone up a lot...and that is the reason why the reason why having to use 3D XPoint...has a bigger payment in performance than just going to the next level of processor..."
2:36PM: "Our strategy is very much a cloud first strategy...we are focused on NVMe SSDs and SATA SDDs....the SATA for TCO (total cost of ownership)..."
"Micron is now shipping the very first industry QLC SSD"
"It is build on 1TB NAND die...industry's first 1TB NAND die, 33% more dense than our TLC die. This SSD is going to have a fantastic cost structure..."
2:39PM: On to autonomous driving..."not where it needs to be today but dramatic progress is being made." Nearly 4X in continuous miles driven from CY-15 to CY-17.

2:40PM: Alright you nerds...this is neat: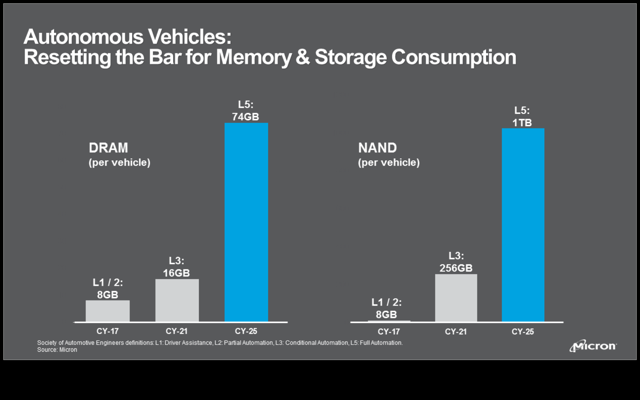 2:41PM: Micron is in the #1 share position "by far" in the automotive business...hey well that's something for us longs...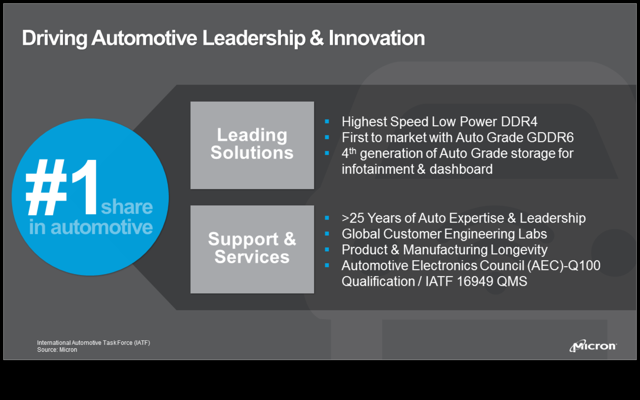 2:43PM: On to the mobile business.
"A Network Quantum Leap" Peak download speeds to jump 100X from 4G/LTE to 5G. That's quite a driver in mobile growth...
2:45PM: Next gen of UX require larger and faster memory subsystems...

"On-device AI engines and applications"
"Advanced user authentication"
Sunit: "DRAM capacities on average will go to about 5GB by 2021, much higher than that in flagship phones in that same year...One Chinese OEM is looking for a 10GB flagship phone in 2019...Chinese consumers are extremely spec sensitive..."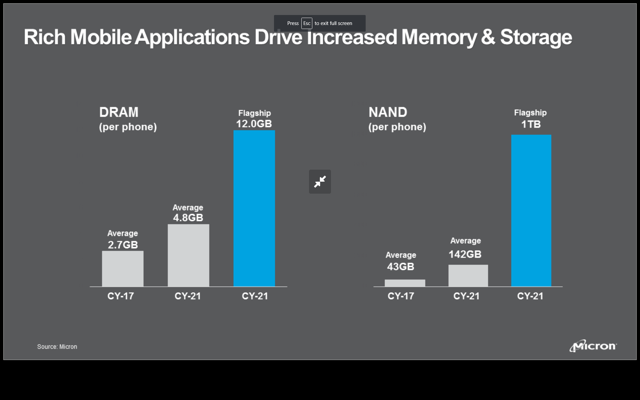 2:48PM: "We have the lowest power DRAM in mobile in the industry according to our customers..."
First to market with 12GB LP die...
2:49PM: Now onto IoT business...
"It is not practical to have all the data from these billions of devices to be uploaded to the cloud...so you're going to see more and more analytics done at the edge."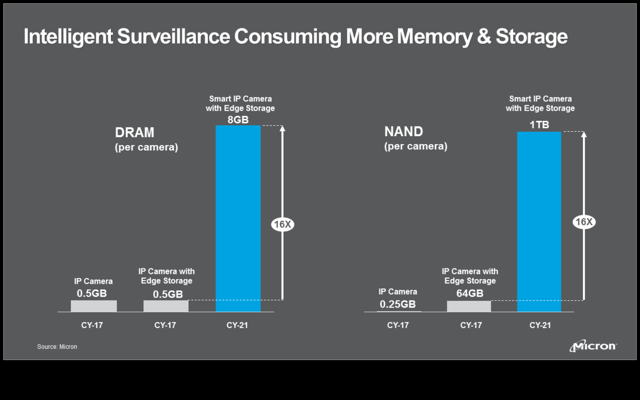 Some more self-explanatory slides: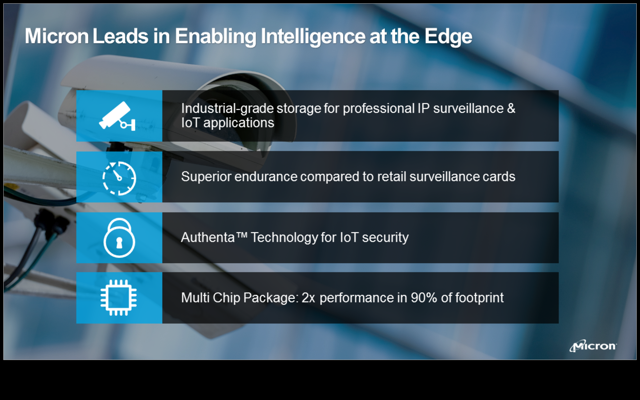 He's talking about how each of these edge devices use different processors but each one has memory and moving the authentication there is easier.
2:53PM: Ah, yes SSD adoption, finally...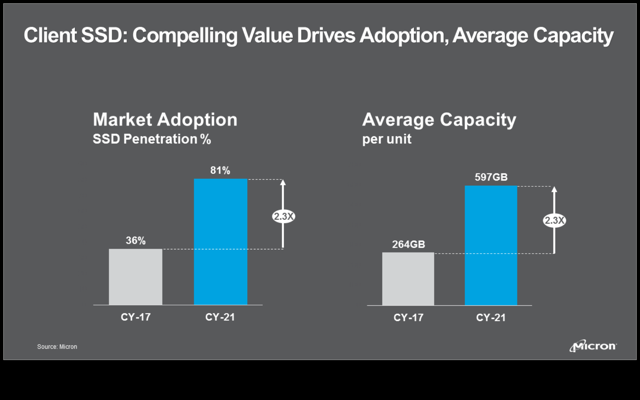 The lower the price the higher the adoption rate is the theme...
2:54PM: Back to financials: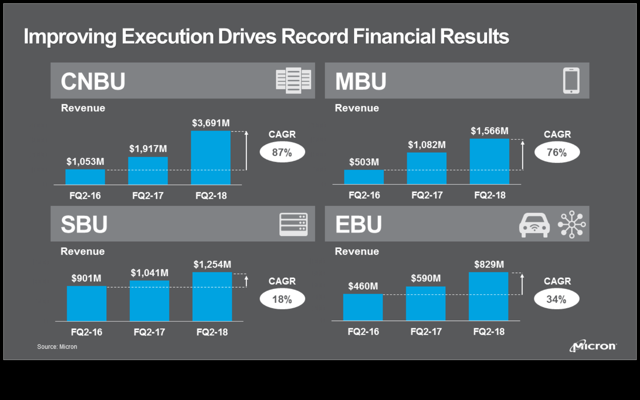 2:56PM: Stock update, $55.40 at 56.1M volume. Recovered a bit from a sub $55 price a bit ago...seems the market is dragging...
2:58PM: "When we talk about the new Micron, this is what it's all about:"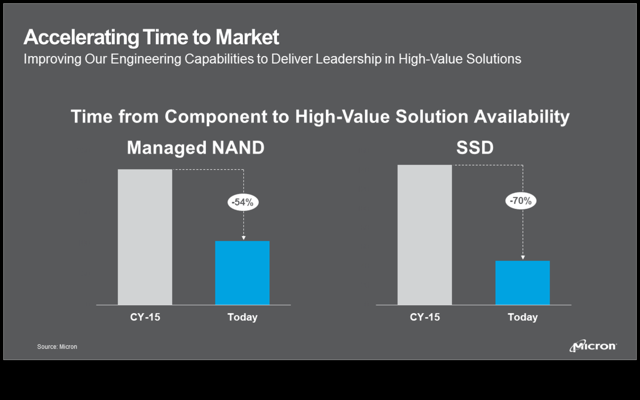 This is a huge statement now...."Less commodity driven sales, to value added products...helps improve revenue and margin and is inherently far more stable..." *This is big* Slide that accompanies: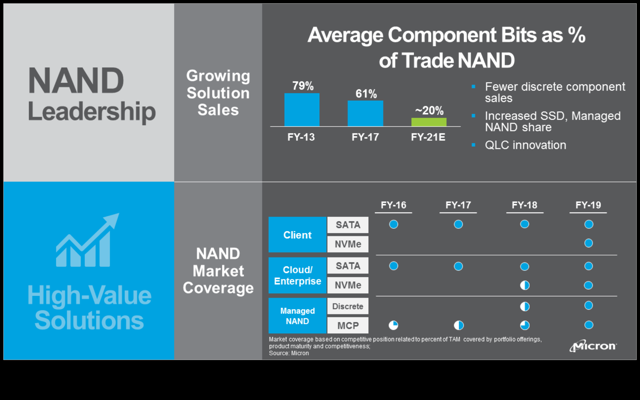 Sunit now talking about how they have #1 share in automotive and networking for DRAM as they have long life cycles, mobile they have the lowest power in industry, first to market with 12GB die (did I write 10GB before? who mispoke? Nevermind, I did write 12GB prior).
3D XPoint "I'm not going to provide more details on these and for competitive reasons I don't want to preempt some of the work that is going on. We are very excited by some of the capabilities and Scott will mention more about these emerging memory solutions."
3:05PM: NVidia CEO video now...how they work together, and go to market together...deep collaboration...
3:07PM: "Micron is the only company in the world with flash, DRAM, and 3D XPoint in it's portfolio..." Little bit of concluding remarks here from Sunit
This slide is good, still pushing "The New Micron"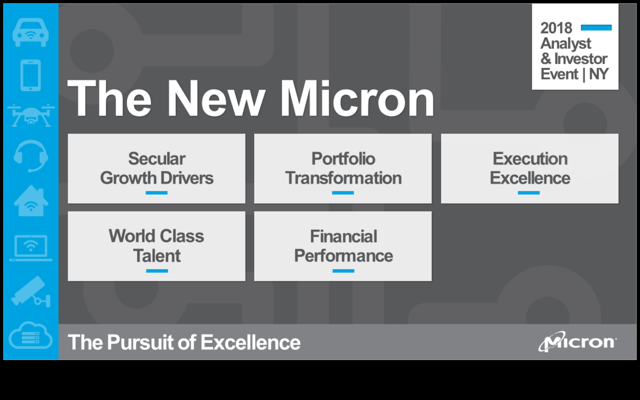 3:08PM: 15 minute break now, time for a beverage refill...

3:15PM: Some thoughts as I re-read some of my notes, I wonder why they emphasize 2021 so much, do they foresee a breather in this demand before it picks back up? Is it simple a long-term move to protect themselves from not seeing it sooner? Be interested to know your thoughts...
3:26PM: And we're back, with Steve DeBoer, EVP of Technology Development
And guess what? He's talking about the "new Micron also..."
He says Micron is the strongest it ever has been in its history...
3:27PM: 3D XPoint gets another point...why didn't I start a drinking game? Love me some iced tea...
3:31PM: Steve continues to talk about some technology advancements, currently back in 2007 with 'pattern multiplication.'
3:33PM: Now onto CMOS Under The Array in 2015...stuff we know about
3:35PM: Jumping to array stacking in 2017 with stacking two high yielding arrays which accelerated NAND technology roadmap...
3:36PM: Some advancement stuff...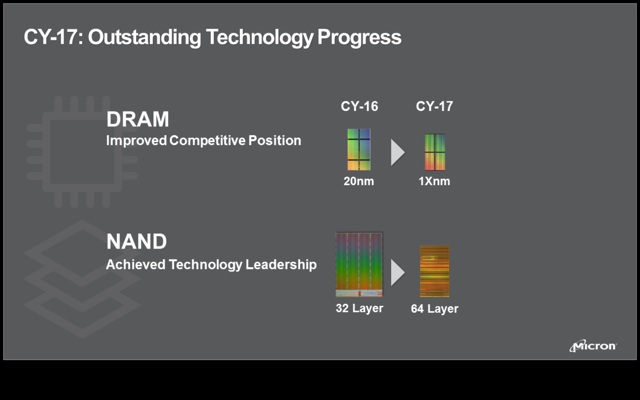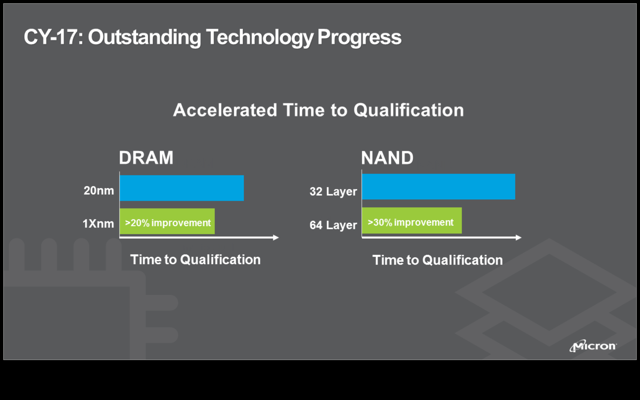 Steve: "[Decrease in time] absolutely a function of array stacking technology, we had the 32 tier built we just had to figure out how to stack it..."
3:37PM: Core R&D in Idaho...talent from across the world focused on delivery of technology
Disruptive technology....3D XPoint??
"Added significant talent to the disruptive side of the technology"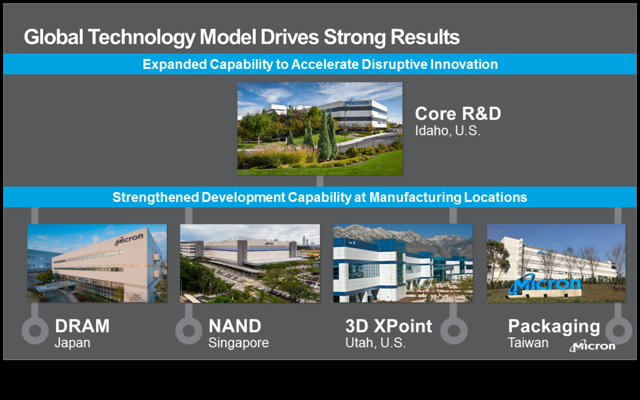 3:41PM: Stock update, pretty much unmoved by the event so far, now at $55.45 up $2.06, 3.88% on 59.75M shares.

3:42PM: Steve jumps to closing the competitive gap, something I've talked about in previous articles of mine: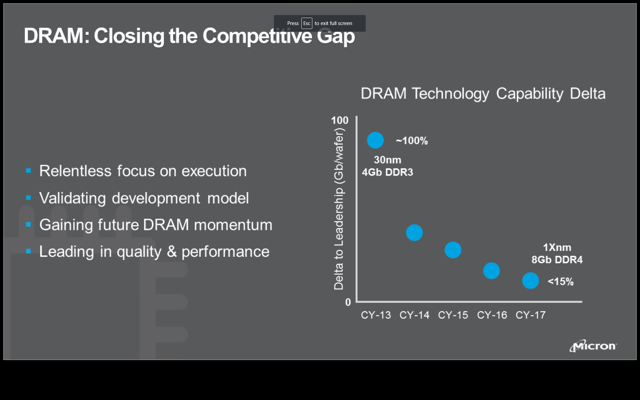 Strutting the Micron competitive position some more: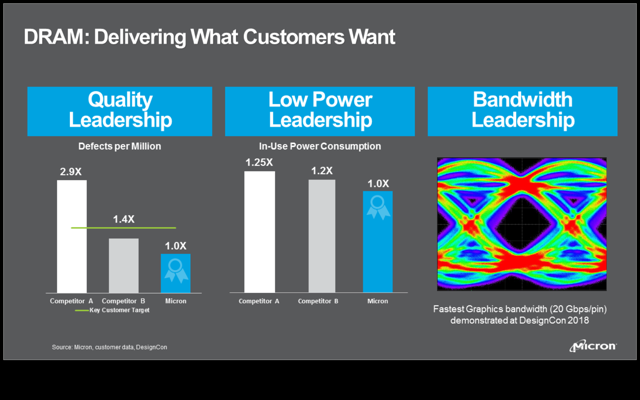 3:46PM: Delivering on 1Y technology: "We've been focused on this...since we finished 1X...this node will strengthen our competitive positions, next step in competitive improvement...focused on output on the 2H of this calendar year. If we look at 1Y to 1X, apples to apples at the same stage, the yield is doing better...happy with this, good progress..."
3:47PM: "The future beyond this, quite a bit further than we have in the past...disruptive technology further out..."
3D XPoint?? Kidding, it might be oh hey look at this slide!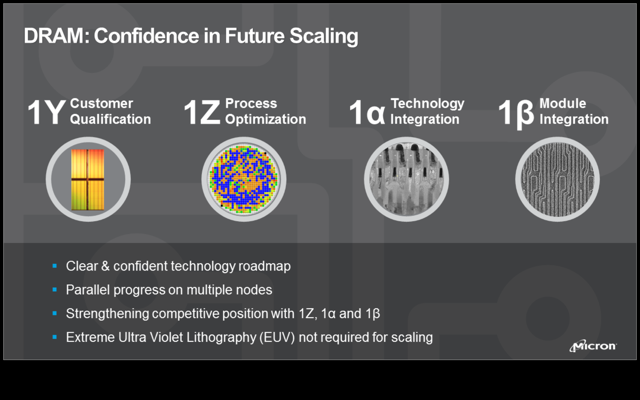 "Across this time period we believe the most efficient way to advance DRAM technology is without UV. At least for Micron, with the technology we have for patterning, UV is not one of the things which should happen...at least not through this part of the roadmap..."
3:49PM: I love this stuff, but I'll have to digest it after I'm not listening, typing, and getting the pertinent info to you...
3:52PM: NAND's turn on the leadership positioning: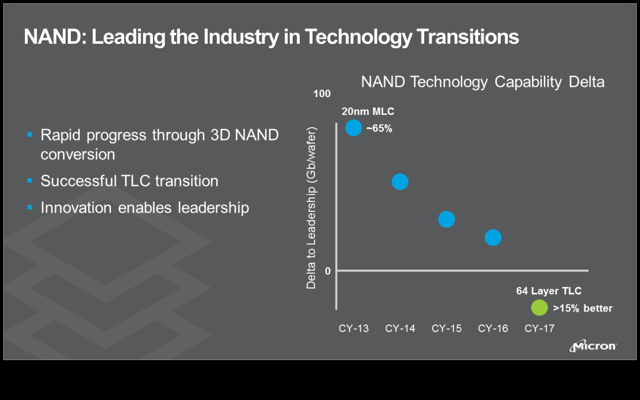 Micron is the leader (can hear soft chanting "New Micron"....not really)...
3:54PM: 96-Layer NAND: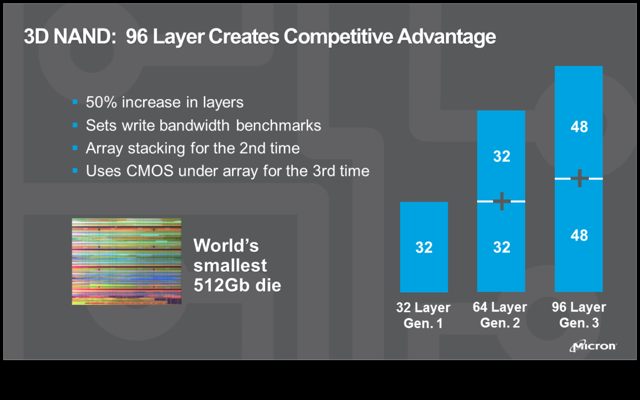 Fourth gen 3D NAND is optimized for performance and scaling: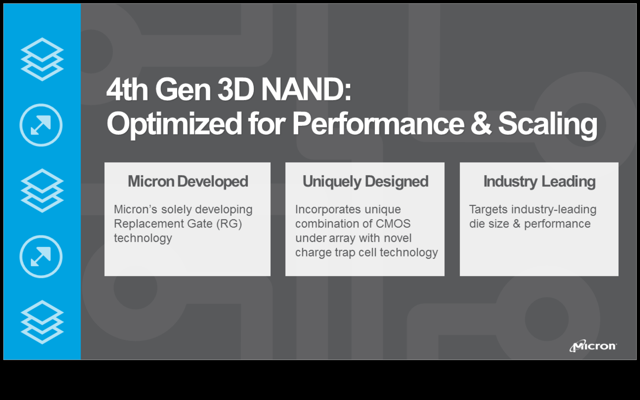 30% increase in write bandwidth and 40% decrease in energy/bit. Higher performance and lower power, from a position of leadership already.
Scaling to significantly above 200 layers? That's what Steve just said...
3:57PM: More nerdy stuff: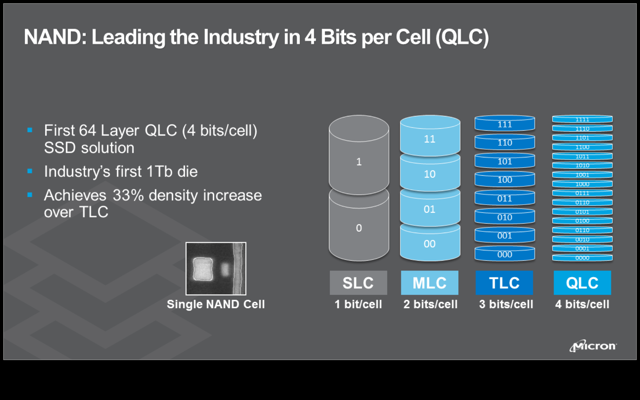 3:58PM: 3D XPoint! "This technology is hard, it's hard to bring a new technology to market..." But we're happy with where we are [paraphrased].
Second generation introduced to manufacturing, combines high performance, high density and non-volatility. CMOS under the Array technology, breakthroughs will continue to enable broader market segments.
Aww that's all....
Though here's a nice update to the chart some of us poured over previously: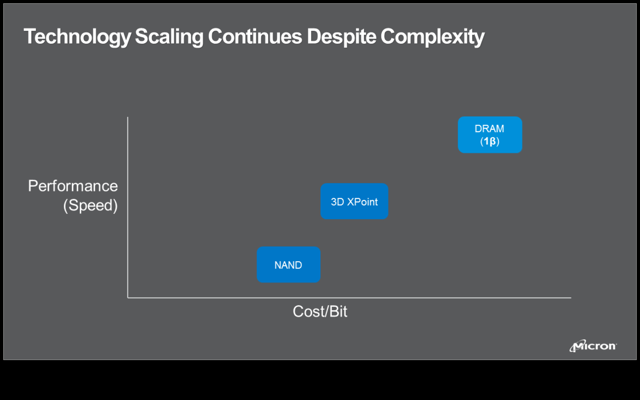 But here's what I wanted to see! Perfect: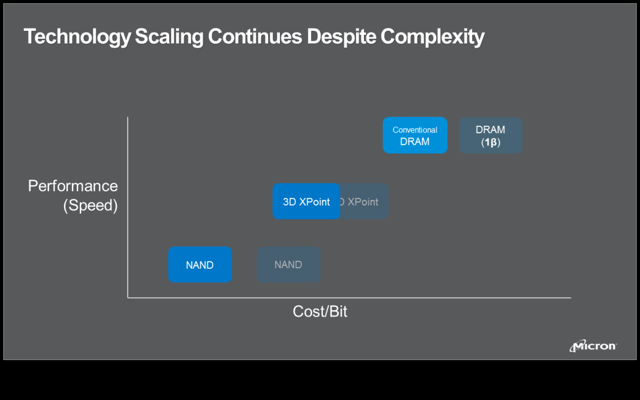 "Something in the near future, which we're not ready to talk about, yet" Hmmmm got my interest.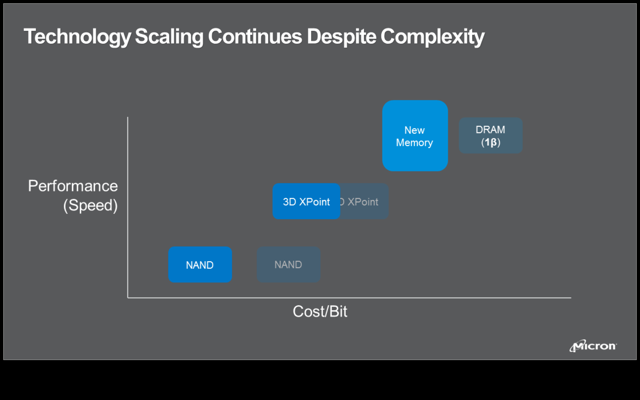 4:02PM: And Steve is done, close of market check, MU closes at $55.48 on 67.5M in volume.
4:03PM: Manish Bhatia, EVP of Global Operations now up.
I'm wondering if we won't get to hear an update on the core financials like cash neutral, maybe they wait till the earnings report...
4:08PM: Nothing breaking here, just talking about their DRAM facilities with him now going to NAND facilities. Good reference information for later...
4:12PM: Growing capex requirements beyond fab: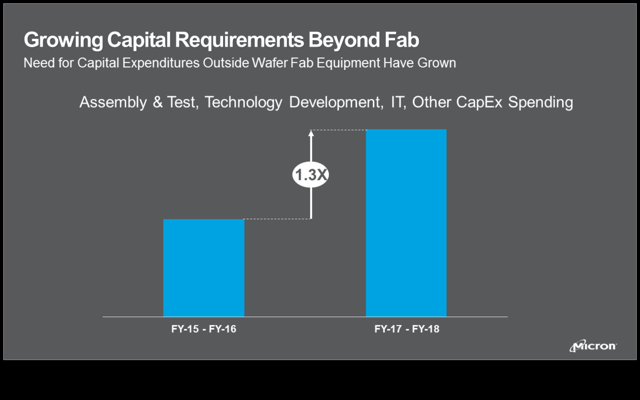 4:13PM: Also appreciate another look at supply growth projections: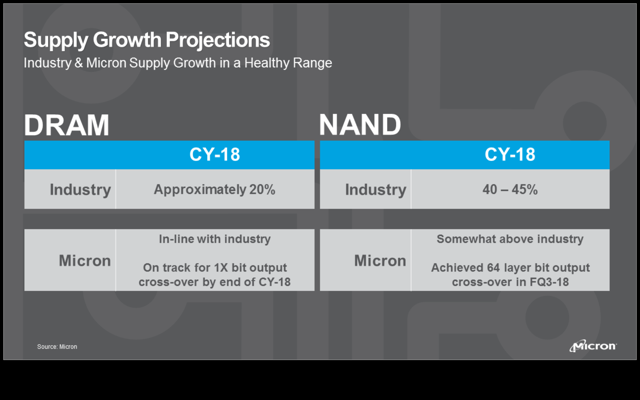 4:17PM: Still wondering about China?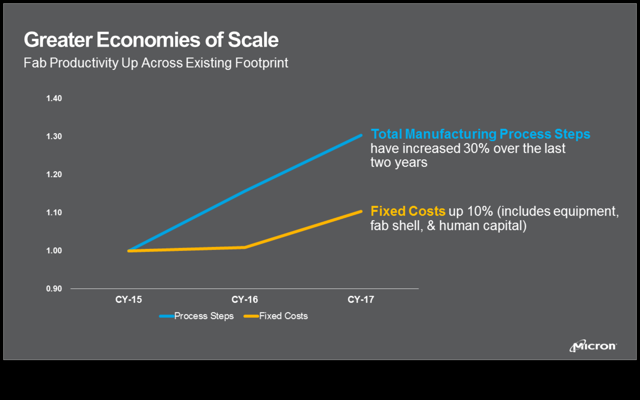 4:18PM: Management is definitely pushing the "we're better than the competition in reducing costs"
Hey another 3D XPoint point (I need more iced tea)..."first ramping of 3D XPoint and just introducing the 2nd generation of XPoint..."
4:21PM: "First memory supplier to earn International Automotive Task Force quality certification"
"86% of our strategic customers rank us #1 or #2 in quality...a fully two-thirds rank Micron #1..."
4:24PM: First I heard of inventory so far: Transforming their supply chain to reduce finished goods inventory and up customer delivery performance.
4:27PM: CFO Time!! David Zinsner is up to bat and then moving to Q&A.
4:30PM: Victory lap, according to David. Exceeded by FCF 10% with the first three quarters versus last year overall. EBITDA margin approaching the high 60s!
4:34PM: "We estimate there is another 3B in opportunity for us in the next few years...to structurally improve the business beyond the industry...well over $6 in earnings power we're looking at..."
Gonna need to hear that one again!
He hinted at share count also, coming up...
4:36PM: "Opex is now less than 10% of revenue"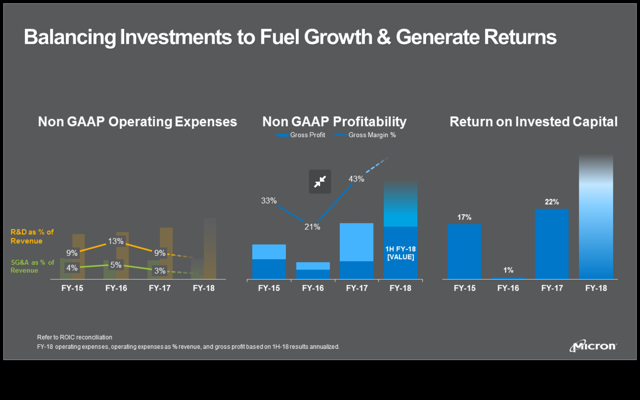 4:37PM: Talking about the updated guidance now...
4:38PM: "Obviously this is a pretty significant beat..."
"The nitrogen issue...we thought it would hit us to $100M but the operations team did very well for us..."
4:39PM: Balance sheet time! "Spent a lot of time to get ourselves to a better position"
"I suspect in the 3rd quarter we will be there...only thing that would inhibit us is the the cash settled converts...certainly will make it [cash neutral] by the end of the [fiscal] year."
"For the rest of this year it's about delevering..." No divvy, folks.
$6B debt reduction in 2H FY-18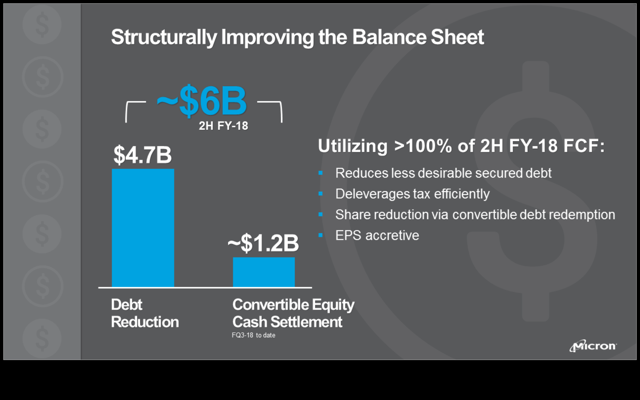 "Little less control on the converts...so far this quarter $1.2B redeemed...some unknown amount for next quarter...we are cash settling this, it is taking dilution away and creating a little bit of a tailwind on earnings per share..."
"So the next question is what we do about next year....$10B share buyback program! I was literally going to take my mic off after I said this and walk out the door."
"Target 50% of FCF toward this program...starting in FY 2019..."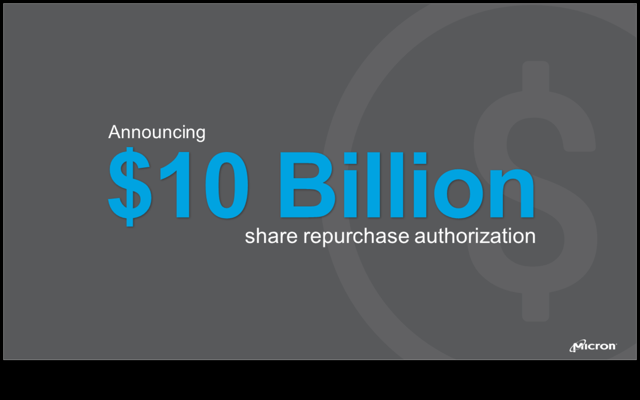 4:43PM: Stock update, Micron in after hours is up $0.98 (1.77%) just after this news...
4:45PM: "Do want to maintain good liquidity, no matter what situation we find ourselves in, we are always able to invest in the business in the manner we think it should....low 30% liquidity...makes sense.
"Going to maintain cash higher than debt..."
"On the liquidity front, I measure, or we, measure is that's a combination of cash on the balance sheet and unused line of credit, revolvers..."
4:46PM: Stock update, Micron now up $2.54 (4.58%) to $58.02 in after hours...looking good so far.

Q&A now comes up but I have to run and will pull together this information and the Q&A into an article this week. Additionally, I will be doing an interview with Brian Bain early this week on this subject and on my article last week.
Thanks for following everyone!
My Subscribers Get Info Like This Through Our Chat
My service on Seeking Alpha, Tech Cache, is where you find me discussing my best ideas in as close to real-time as possible. We've been discussing Micron extensively and I've given my subscribers the strategy to capitalize on this run-up several weeks ago. You can join risk-free with a 2-week free trial at a 10% intro discount right now and experience my service firsthand.
Analyst's Disclosure: I am/we are long MU.
Seeking Alpha's Disclosure: Past performance is no guarantee of future results. No recommendation or advice is being given as to whether any investment is suitable for a particular investor. Any views or opinions expressed above may not reflect those of Seeking Alpha as a whole. Seeking Alpha is not a licensed securities dealer, broker or US investment adviser or investment bank. Our analysts are third party authors that include both professional investors and individual investors who may not be licensed or certified by any institute or regulatory body.