Resilient Through the Ups and Downs
When EnergyPoint Research published its first-ever report in 2004, Halliburton (NYSE:HAL) was grappling with asbestos-related legal issues inherited as part of its ill-fated Dresser Industries acquisition. In addition, its now-jettisoned KBR subsidiary was taking flak in the media and in Washington D.C. over a series of inutile contracts with the U.S. military.
At the time, we weren't sure if these dual distractions were contributing to the company's then-lackluster oilfield customer satisfaction scores. In retrospect, it appears they were. Halliburton's ratings improved appreciably once the issues were resolved and management was able to more fully concentrate on its mainstay energy-services business.
And concentrate it did. The company smartly swore off major acquisitions, choosing to focus on organic growth opportunities within its existing portfolio. As shale development began to take off domestically, its hydraulic fracturing expertise became increasingly coveted by upstream clients.
By mid 2009, after managing through the prerupt decline in global rig count in late 2008 and early 2009, our surveys indicated Halliburton was effectively hitting on all cylinders. Unfortunately, nothing lasts forever. As both demand and expectations grew, customer satisfaction began to decline in 2010. Everything from equipment wear and tear, to soaring prices for guar gum, played a part.
A trend of more subdued ratings for Halliburton have since resulted, including for domestic hydraulic fracturing services and deepwater applications.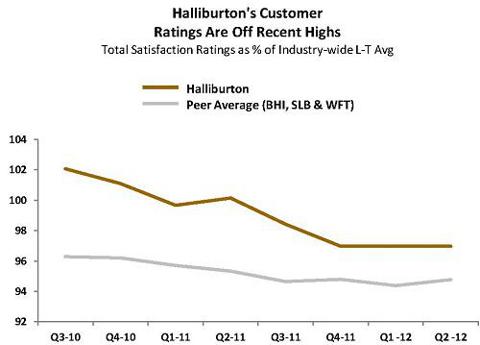 Betting on Innovation
While our data point to Halliburton having lost some of its ratings vigor over the last 18 months, the company might have an ace up its sleeve with its new Frac of the Future (NYSE:FOF) initiative.
FOF is an ambitious multi-faceted, multi-year effort to reduce the maintenance costs, downtime, horsepower, physical and environmental footprint, and onsite headcount required for frac jobs. Two of FOF's major components -- Sand Castle proppant storage units and Q10 pumps -- are in the early phases of implementation.
Our initial interviews with oilfield customers suggest high levels of interest and enthusiasm for the concept. While competitors have introduced new twists of their own in the space, none are as joined in their approach or design.
For example, while Schlumberger's (NYSE:SLB) HiWay offering has its devotees, many customers see it as limited in its application. FOF's appeal is its applicability across a larger swath of well types.
If successful, the FOF effort has the potential to bring about a paradigm shift in terms of what customers both expect and receive from their pressure pumping suppliers.
We're certain competitors will be watching closely. The bigger question is whether what they see compels them to emulate.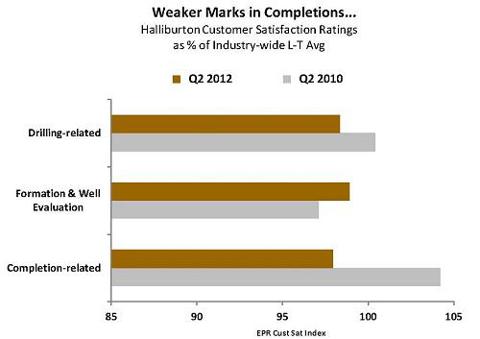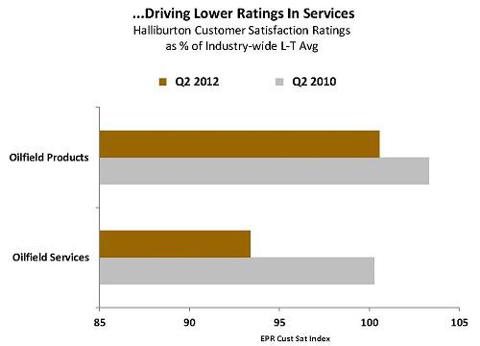 Disclosure: I have no positions in any stocks mentioned, and no plans to initiate any positions within the next 72 hours.
Business relationship disclosure: My firm, EnergyPoint Research, does and/or seeks to provide data subscriptions services to oil and gas industry participants and stakeholders, including companies covered in its posts, reports and articles.