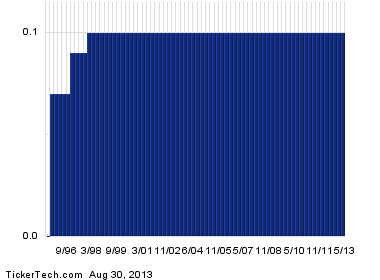 As the article at Forbes says, "In general, dividends are not always predictable; but looking at the history above can help in judging whether the most recent dividend from CTB is likely to continue, and whether the current estimated yield of 1.34% on annualized basis is a reasonable expectation of annual yield going forward"
On June 12, 2013, Apollo Tyres of India agreed to buy Cooper Tire & Rubber Company in a $2.5 Billion deal that would make Apollo Tyres the seventh largest tire company in the world. Coopers Tire stockholders will also vote on acquisition by Apollo tyres on 9/30/2013. Thus there are two plays in action for Cooper Tires stocks. Earnings call is behind this stock with its negative news.
The market has factored in the earnings call and a Long call on Cooper Tires makes sense.
Disclosure: I have no positions in any stocks mentioned, and no plans to initiate any positions within the next 72 hours.