Nigeria is a frontier market, but one where I feel safe holding a 5% portfolio position...one that I intend to hold forever.
How did I come to make this investment and why do I think you should consider doing the same?
Heavily constrained context
It is almost impossible for the average investor to get access to Nigerian equities. This limitation presents an opportunity for decision making - there is only exchange traded fund, NGE, so no matter what the investment case either this fund works for you or not.
(There are investment vehicles that do have material exposure to Nigeria, such as Allan Gray's ex-South Africa funds, but not through typical investment vehicles).
The case for value
NGE has slumped by 75% over the past 3-4 years as the oil price fell , the local currency was devalued (note the mid-2016 drop from $30 to $20) and Nigeria entered it's first recession in years. The slump has been so great that the ETF re-priced in early 2017 by x4 from around $4 to $16.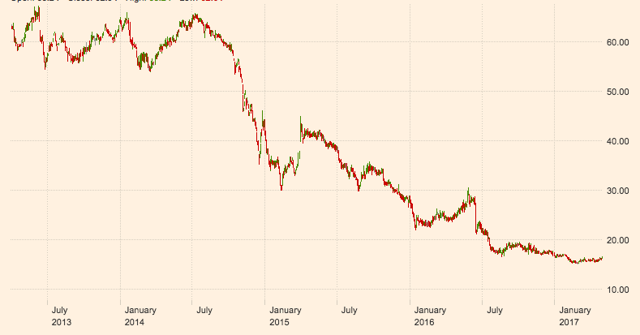 66% of NGE's assets are made up of 8 companies:
46% in local banks - these banks are priced for bankruptcy. For example:
- The biggest holding, Guaranty Trust Bank PLC, is trading 1/3 below Graham number at 6.5 x earnings
- The second bigget holding, Zenith Bank, is trading at just under 3x earnings and 1/3 of Graham number.
20% in Nigerian Breweries - which is growing at 5% a year and priced at enterprise value - not exciting, but safe
Two of my favourite value investors, Orbis and Fundsmith have taken overweight positions in, repectively, the banks and the Nigerian manufacuturing companies. Unless you think that Nigeria collapses into anarchy these valuations provide exactly the margin of error I am after.
The case for a strong technical position
Year to date NGE has produced a strong double bottom and the slow but steady recovery in price that signals that the worst is past. A breakout above $17 would confirm a change in trend.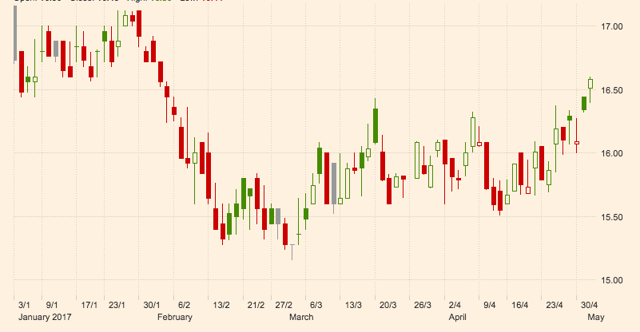 The case for growth
Nigeria is not well governed. It is not mature. But it has a young, entpreneurial population and economy that, without disastor, will grow many times bigger in the next 25 years. Nestle, just as one example, only supply a few of their 50,000 product lines - the growth potential is clear.
Great value, solid technicals, huge growth - I am looking forward to this position being a part of my portfolio for decades...
Disclosure: I am/we are long NGE.