Shares of Ziopharm have been quite the roller coaster of late, going as high as $14.27 on March 5th, and then topping $14 again and hitting an inter-day high of $14.40 on March 20th.
I've written about Ziopharm before of course. Back on March 6th I shared my opinion that ZIOP shares were representative of a speculative bubble, that the PPS was at or near unsustainable levels and that a sharp correction was in the cards. Here's a quote from that post:
What I am saying is that I believe the share price has been pushed to unsustainable levels and that a sharp correction is due, that is my opinion.
For devotees of TA the chart looks like a classic double top, with March 5th and 20th representing the two high points.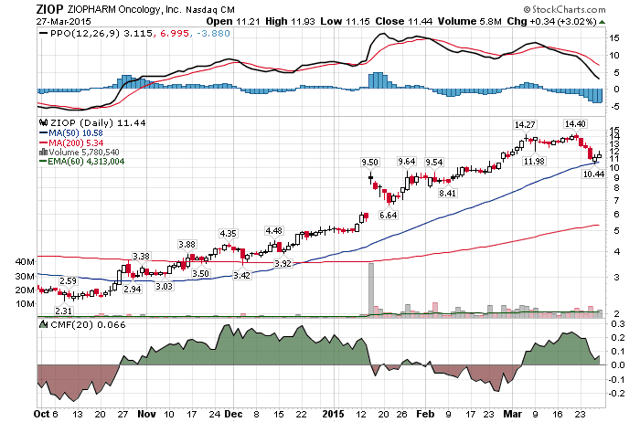 What caused this incredible surge in the PPS from under $3 to over $14 in less than 6 months. Primarily it was the signing of a licensing agreement with the University of Texas MD Anderson Cancer Center for $50 million in stock plus and additional $7.5 million in stock to speed up the deal so it could be announced in time for a JP Morgan investor conference. The same sums were paid by partner company Intrexon.
With that news the PPS was on its way, and those who bought in beforehand saw the potential for huge profits. The lucky ones getting in just prior to the announcement were paying around $5 per share or less.
Subsequent to that we've seen further dilution, with JP Morgan being the lead underwriter with other firms like BMO and Griffin Securities joining in. The PPS was bolstered by Griffin putting a $21 price target in place. Who's going to sell something for $14 when an industry "expert" is calling for it to reach $21? Well....obviously some did, because after twice going over $14 ZIOP is now trading under $12.
Today (Friday March 27, 2015) ZIOP got another boost with CNBC's Bill Miller apparently talking the stock up around the noon hour. As would be expected the plug brought the buyers in, pushing the PPS to $11.90...but it wasn't enough to challenge previous highs as those selling into Miller's commentary took over and sent the price dropping 45 cents below the inter-day high for a finish at just $11.45
So why do I think ZIOP is heading down to $6? Actually I think it could go lower, $6 or thereabouts is where I expect it to settle after the herd has moved on.
I reference the herd a lot with ZIOP because since the Anderson announcement I see this as being a retail investor's wet dream. I also ascribe to the time tested bromide that the herd is almost always wrong.
The Anderson news, CNBC mentions, chop shop email blasts, optionmonster.com etc etc. To say nothing of the pumping on bull board and stock market social media sites. Dare to post the opinion that ZIOP is overvalued (almost 400 million in accumulated losses, no prospects of meaningful revenue for 2 or more years) and you'll be attacked...even now after its fallen twice from $14 and is looking like a textbook example of a double top reversal. The only opinion allowed on ZIOP is that its a bargain at any price,$14, $13, $12 or the current $11 and change.
But draw out the chart to back over 5 years and you'll see that the shares traded for a long time around the $6 mark. What I'm referring to as "the mean". Of course that was before they crashed on news that their phase III trials on Palifosfamide did not meet the primary endpoint and that development was being terminated.
I know some will say that the Anderson deal changes the dynamics here. I disagree because of the cost and the dilution that is going on. The Anderson deal came with a significant price tag, beyond the $50 million (plus $7.5 million to speed up the announcement) up front there's another 15-20 million to be paid annually over the next three years.
Will they find a cure or a treatment for some form(s) of cancer? I hope they do, and I mean that sincerely. But science doesn't happen overnight and if they are successful it will be years from now.
I don't think investors have that kind of patience.....But then, this is strictly an opinion piece and I could be wrong. Just like those who said ZIOP was going from $14 straight to $20+.
Same disclosure as always boys and girls. I am not a licensed broker dealer this blog should only be used for entertainment purposes. While I have endeavored to ensure the accuracy of any data presented I do not warrant that accuracy and encourage readers to verify all information.
While I have no long or short position in shares of ZIOP I do own put options and the further ZIOP falls the greater I stand to profit.
Good luck.
Additional disclosure: I own ZIOP put options