Any student of the markets knows that sectors can become hot. It happened in the 1990s with tech stocks. Many companies with a dot com after their name, even if they never had a single penny of positive earnings, saw their market capitalizations go through the roof.
Some e-commerce companies of course were huge winners, Amazon springs immediately to mind. But for every Amazon that ended up a massive success there were many more that ended up fading to black and were eventually de-listed, taking investors down with them.
More recently we've seen the Medical Marijuana space go crazy, with OTC companies changing their names to cash in on the feeding frenzy. Biotech has been another bullish sector of late, especially among developmental stage companies promoting possible cures and improved treatments for diseases like cancer.
When a sector becomes hot, for some it becomes a "must have" in their portfolio.
Could the same thing happen with Lithium? To be totally candid, I do not know. My time machine broke down and I'm unable to travel into the future and find out. But I do see the required ingredients in place for it to happen at some point.
Smart phones, tablets, laptops, GPS..Chances are you own at least one, and likely several, devices that are powered by lithium batteries. And of course there is the elephant in the room, Tesla and their electric cars powered by lithium-ion batteries. And Elon Musk last year touted home battery storage units.
I realize this is far from an original idea...There are lots of stories about the growing demand for lithium out there. Here's a PBS story suggesting that Lithium could be on its way to becoming the new oil of the 21st century:
www.pbs.org/newshour/making-sense/lithiu.../
And here's a WSJ blog that says lithium: "will be a key enabler of the electric car revolution and replace gasoline as the primary source of transportation fuel".
blogs.wsj.com/moneybeat/2015/12/02/7-thi.../
Still reading? Okay..Then at this point I will assume that I am preaching to the choir, and that you're already sold on at least the potential for investments in lithium based stocks to offer big returns. Now the fun part....How to play it.
One avenue would be with a Lithium ETF...Symbol (NYSEARCA:LIT). When it comes to Lithium ETFs this is the only one I've been able to find
Looking at the 2 year chart though, it is hardly awe inspiring: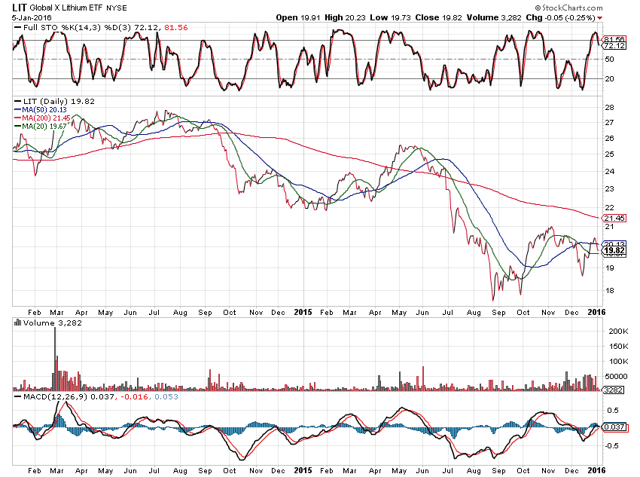 Why do we see this kind of performance when Lithium demand is on the rise? Part of the reason lies in looking at the companies that make up this fund. The biggest holding is FMC, a diversified chemical company with lithium being just one small component. Other companies in the fund include Panasonic, Johnson Controls, Samsung and Tesla.
Many companies that use lithium, but who are not engaged in the mining of the element. The fund does include SQM, a miner of Lithium, but that's just one component of its mining operations which include: Specialty Plant Nutrition, Iodine and derivatives, , Industrial Chemicals and Potassium as well as Lithium and derivatives.
Now I'm not going to suggest that this fund is not a suitable investment. In fact, looking at the chart, it seems to be it might provide some serious upside potential given how far its been knocked down. And with the holdings including financially stable large cap players, I see that as mitigating a lot of the risks. Any stock or ETF can go down, but an ETF like is not going to disappear the way a junior mining company can.
Which brings me to....Junior miners.
I already blogged on this back in April of 2015:
seekingalpha.com/instablog/15663412-joe_retail/3902216-lithium-americas-and-nemaska-charts-and-insider-buying-have-me-bullish
In that blog post I wrote about two Junior Lithium mining companies, Nemaska and Lithium Americas. When I wrote that post I thought Lithium Americas had the better potential, but after merging with Western Lithium (WLCDF) in an all stock transaction, their shares have dropped significantly.
Nemaska (OTCQX:NMKEF) on the other hand went on an incredible ride in 2015. From around 17 cents Canadian when I wrote about it in April, to trading over 40 cents currently.
Hindsight being 20/20 I think the reason Nemaska has performed so well is because of financial backing from Canada's federal government in the form of grant money, as well as strong support from the Quebec provincial government with its Plan Nord (Northern Plan) designed to exploit Quebec's northern natural resources.
Here's the two year chart for Nemaska: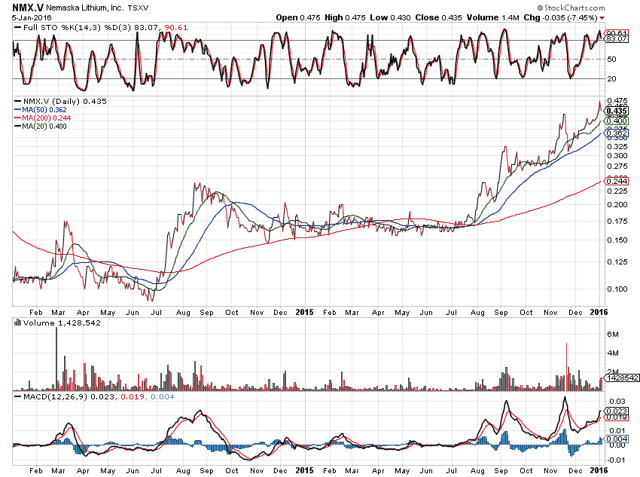 I am not suggesting an investment in either of course, merely sharing ideas. Western Lithium might yet rebound, I had thought that the agreement with POSCO would have provided them with a higher capitalization. But that's the market, and I'm glad I didn't have all my eggs in one basket in this Lithium space....Had I picked between NMX and LAC back in April I probably would have chosen LAC and thus been badly wrong.
DISCLAIMER
This is strictly an opinion piece, and my opinion could very well turn out to be wrong. This instablog post is intended strictly for informational and entertainment purposes and should not be used as a basis for any investment decisions. Investing in stocks or options involves significant risks. For investment advice you should seek the input of a professional investment advisor.
Disclosure: I am/we are long NMKEF, WLCDF.
Additional disclosure: You can find me in numerous forums where I use the names krill66 (yahoo) growacet (stocktwits) and ledrog (stockhouse).