Last year I wrote several blog posts about Ziopharm. With my first post I had the unbridled temerity to offer up the opinion that shares of ZIOP represented a speculative bubble. That was on March 6th 2015, a day when the PPS traded as high as $13.72.
seekingalpha.com/instablog/15663412-joe_retail/3802236-ziopharm-oncology-a-speculative-bubble-poised-to-collapse
That post generated over 50 comments, including my rebuttals. To sum up I was a complete and utter moron for not seeing $13 to $14 as an absolute bargain, anyone with a decent understanding of the science and the fundamentals would obviously see that ZIOP was destined to be worth at least $20 and quite probably much, much more...Maybe as much as $100.
Uh huh.
After that first post ZIOP went on a roller coaster ride. From that $13 to $14 area in March, down around the mark $9 in May. Then back up to $14 in early August, before falling back to $8 that same month. September saw the PPS climb back to $13 before again falling back to about $9.
And then of course came the last big spike to almost $15 in November before it all came undone and crashed hard, with it now trading around $5.50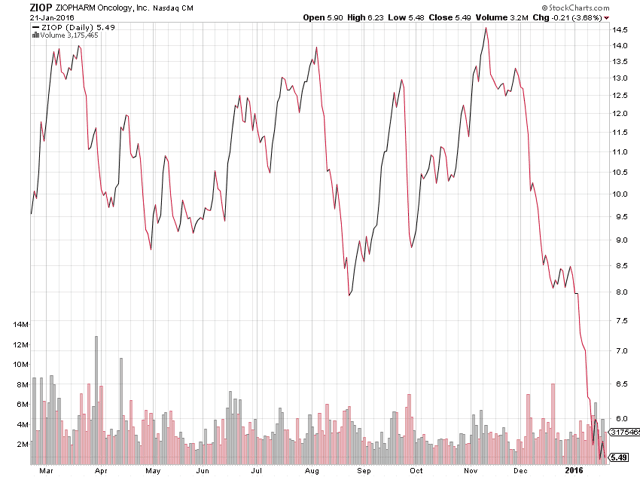 So, what happened? And more importantly, what can be learned from it? These are my opinions as to what happened, and about what to possibly look for going forward.
Supply and Demand
We all know the rules of supply and demand, and how prices are supposed to react. When demand is high and the available supply is tight, then prices should rise. And of course the opposite is supposed to happen when demand is low and there's an abundance of the commodity being sold available.
I'm going to throw a new dynamic into the equation and suggest that its not just supply and demand that affects price, but that with stocks, equally important is who has the supply.
If major brokerages are supplying the shares being sold, I will suggest that this is a key ingredient for a stock going on a run like ZIOP had, from about $2.50 in October of 2014 to over $14 just a few short months later.
A key ingredient, but not the only one.
Dilution is not always a bad thing my friends, sometimes it can be a blessing. In Ziopharm's case dilution was announced in February. In tandem with that dilution came buy recommendations and lofty price targets from analysts at BMO, Griffin and Mizuho. Interestingly enough all were named as part of the team of managers for the secondary share offering.
I would not be the first to suggest that underwriters having analysts tout a stock represents a conflict of interest.
And of course there's the $57.5 million paid to MD Anderson, all in stock, to partner with them. That helped whip the herd into an excited and prolonged buying frenzy. Just not enough of a frenzy to get the PPS up near those lofty price targets around $20 per share. Obviously even with all those buy recommendations and all the pumping on social media, there were just too many shares being sold to pump the share price up to that level.
So what is there to look forward to? Thanks in part to selling all those shares Ziopharm should have enough money to last through 2017, maybe enough to take them into early 2018. I don't see them getting anything to phase III in that short a period of time, so I think there's a strong chance for more dilution by mid to late 2017.
In the interim I see shares of ZIOP drifting. It has such a big following thanks to all the social media touts that I suspect the roller coaster ride will continue. But I expect the peaks and valleys will not be as pronounced.
I see the overall direction being to the downside however for the next year and half for the simple reason that many shareholders, those that truly believed ZIOP would make them rich quick, I expect those holders to bleed away.
Okay blog dogs your turn...Time to tell me I'm an idiot again. Take your best shot, I can take it. You provided me with some good laughs in March of last year with all your pie in the sky, to the moon prognostications.
DISCLAIMER
This is strictly an opinion piece, and my opinion(s) could very well turn out to be wrong. This instablog post is intended strictly for informational and entertainment purposes and should not be used as a basis for any investment decisions. Verify all information presented, while I have endeavored to ensure accuracy I do not warrant that any or all information presented is without error.
Investing in stocks or options involves significant risks. For investment advice you should seek the input of a professional.