If you think, based on the subject line, that this is going to be a bullish post touting Nemaska as a solid long term investment, you might be surprised so keep reading.
I have been long and bullish on Nemaska for about one full year now, as both of my regular readers know, having blogged on it since April of 2015 when it was trading in and around 15 cents $CDN.
I love metaphors, and the one I'm going to use now is gardening. Those seeds that went into the ground about a year ago, they have grown nicely, by more than 500% in fact. The ideal time to harvest is before the frost sets in and spoils the crop of course.
I divide the market into two basic groups, the smart money types who buy low and sell high....and then there is their counterpart, the dumb money (mostly retail) crowd who does the opposite, selling low and buying high.
That's what you need in a market of course, if nobody is selling when a stock is low then nobody can buy low. And if nobody is willing to buy when they're high, then nobody can sell high.
Another metaphor.
Picture a football game with both teams lined up on the same side of the ball. That's what the market would look like without dumb money retail types willing to sell low and buy high. The markets might as well shut down because everyone can't be buying and then selling at the same time.
I believe Nemaska has entered into what I will call, ''the selling window''. Does that mean I expect the PPS to drop? No, quite the opposite.
I believe that with so many options and warrants now in the money, that the ''smart money'' crowd is going to be looking to cash in. But if they want to sell, they're going to need others willing to pony up some Do Ré Mi and buy. And I view dumb money retail investors as being very price sensitive, if the PPS starts falling they're not going to be encouraged to buy. In fact if the PPS were to start falling they might start cashing in their own chips. NMX on the TSX Venture was at just 40 cents a little over a month ago, and at pretty much its all time high everyone is in the black.
All my long time readers (both of them) have seen me reference what I call the ''Holy Trinity'' of a stock that's successfully pumped up its PPS. I typically refer to it as: News, Hype and Promotion. I think it would be more correct however to put them in this order:
Promotion
News
Hype
Promotion is what a company needs to get investors and traders at least looking, to get them to put the ticker on a watch list. After that's happened, when news comes out, then there are at least people paying attention to it.
Promotion can come in many different shapes and forms. A company can get mentioned in mainstream media, or perhaps a news outlet will ask for an interview. That kind of promotion is great because I subscribe to that widely held belief that the sound of a tooting horn carries furthest when its someone else doing the blowing. I like it much less when its companies themselves paying promotional outfits for exposure and to be interviewed.
Back in November Nemaska was picked up by a brand new shop called Prosperity Stock Report. I wasn't happy about it, but I figured they didn't have much of an audience given that their website was brand new at that point.
They put out a buy recommendation on Nemaska at around 30 cents, with a target price of 50 cents. I speculated (and I think I was pretty bang on) that they chose Nemaska as their first profiled company in order to build a solid reputation, wanting to start with a big gainer that would attract subscribers to their email alerts and then perhaps companies would pay them for promotion.
That is in fact what happened, this shop has now taken payment to promote other stocks, but wasn't hired by Nemaska. Meanwhile their 50 cent price target was way off the mark.
But I missed something. Just recently, back in March of this year, Nemaska was being touted by another outfit, The Ellis Martin Report. Guy Bourassa was interviewed on this show and according to the disclaimer on their website:
''Some analyst segments are sponsored and all company interviews and written reports have been compensated by the client companies featured''.
So now it seems Nemaska has joined, what for me qualifies as, ''the dark side''.
I wasn't familiar with this Ellis Martin Group before, I should have been, and its one I will have on my radar from now on. They apparently are on the VoiceAmerica Radio Channel and also have a pod cast. If you go to their site you can see a very long list of the stations that broadcast their show, the potential audience is massive.
The interview with Nemaska's CEO took place sometime around March 4th, it was uploaded to youtube on that date:
And a look at the chart shows a big jump immediately after. Cause and effect? No way to know for sure, but I do think it was a big contributor. When Nemaska provided its updated Feasibility Study I am betting NMX.CA and (OTCQX:NMKEF) had been put on a lot of watch lists thanks to the exposure they paid this Ellis Martin Group for: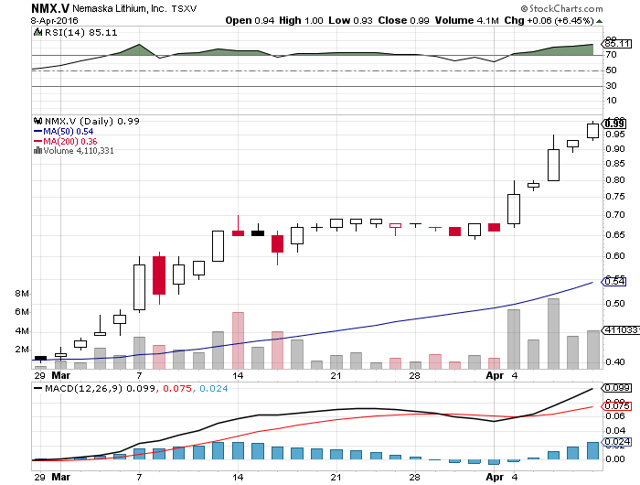 Not a bad climb. And now there is more news expected over the coming weeks. Assuming everything goes well with the Johnson Matthey deal, then as indicated by Nemaska's CEO we should be seeing the MOU with that firm being announced as a firm agreement. Then there's the official transfer of the former forestry plant in Shawinigan. And if more news were to come out it wouldn't surprise me.
So over the coming weeks I am expecting to see some fireworks, lots of news and excitement and a stock price that climbs as retail investors climb over each other, buying and holding tight. Of course if they're buying someone else will have to be selling and if things play out as I am expecting, I will be joining them.
DISCLAIMER
This is strictly an opinion piece, and my opinion could very well turn out to be wrong. This instablog post is intended strictly for informational and entertainment purposes and should not be used as a basis for any investment decisions. Investing in stocks or options involves significant risks. For investment advice you should seek the input of a professional investment advisor.
Disclosure: I am/we are long NMKEF.
Additional disclosure: You can find me in numerous forums where I use the names krill66 (yahoo) growacet (stocktwits) and ledrog (stockhouse).