A lot has happened since I last wrote about Resverlogix (OTCPK:RVXCF) here on Seeking Alpha back in November of last year:
BET Inhibitors - Biotech's Next Monster Sector
Back on November 22nd 2017 when I wrote that entry RVXCF had closed at $1.11 USD per share.  As of this writing the PPS sits at $2.30 for a gain of 107%, here's the chart covering this time frame.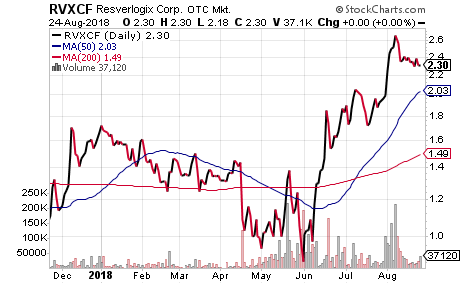 Not a straight line up obviously, but gains of over 100% in just 9 months don't come along that often and volatility is to be expected of course.
The question at this point becomes:  Is that it?  Current shareholders have to wrestle with the question of taking money off the table, and prospective investors have to wonder whether or not there is still further upside potential after watching the stock price more than double in less than a year.
NOBODY HAS EVER GONE BROKE TAKING PROFITS
You're not going to find me pounding the table exhorting shareholders to hold on tight and buy more, its not my style.  My late great Father who worked on both Wall and Bay Streets in the 1960s and 1970s drilled it into my head that I would never go broke by taking profits.  Often that has meant leaving money on the table, watching a stock I sold for big gains go up even more.  When that happens I just cry into the money I made.  
So if you're expecting me to pump RVXCF as a sure fire winner, then stop reading now and look elsewhere.  There's lots of that garbage already, you don't have to look too hard.  I am still incredibly bullish on Resverlogix in general and their lead drug candidate Apabetalone in particular, but I'm also not blind to the risks.  
WHAT CAUSED THE BIG JUMP?
In trying to determine where a stock is going, it helps to know where its been. 
Why has RVXCF gone from that $1.11 price back in November of last year to its current $2.30?  A lot has happened, and not all of it was positive.  A 'proposed' share offering announced on April 17th spurred a short attack that sent the PPS down below $1 as recently as May and June.   
Short interest has never been big in Resverlogix, not since I first bought in back in January of 2014.  Up to April 15th 2018 the number of shares that had been borrowed and dumped back into the market was only 176,205 according to the numbers I get from stockwatch.com.  That's one tenth of a single percent of the roughly 177 hundred million shares outstanding.  
But after the 'proposed' share offering short sales exploded higher, over 1 million up to April 30th 2018 and peaking at 1,655,332 up to May 31st just passed.  That's still an incredibly small % of the oustanding, less than a single percent.  But with Resverlogix being so thinly traded it had a big and negative impact on the PPS.  
CUE THE THEME FROM ROCKY - "GONNA FLY NOW"
Everything started turning around though on June 8th.  I bolded the word 'proposed' because that's exactly what the share offering was, a proposal and not a done deal.  On June 8th the company announced they were withdrawing the share offering and the impact was almost immediate.
RESVERLOGIX ANNOUNCES WITHDRAWAL OF PUBLIC OFFERING OF UNITS
Shorts started covering and with each update the number of shares borrowed has kept going down lower and lower.  As of the most recent update current up to August 15th 2018 the number was just 657,102.  So from May 31st to August 15th shorts have covered almost 1 million shares, but there is still work to do.
A week later on June 14th the company announced that the FDA had confirmed that Apabetalone has a pathway to approval if the Phase III BETonMACE trial is successful.  
FDA Confirmation Regarding Filing Pathway for Apabetalone
Then on July 31st the company announced its intention to secure a US listing.  Buried in that news was something I consider to be of major significance, the fact that Resverlogix had secured the services of Rothschild & Co as an advisor. 
This isn't Billy Bob Rothschild & Co of Upper Boot Lick Arkansas.  Rothschild & Co is a Paris headquartered advisory group headed up by one Alexandre de Rothschild, a member of the French branch of the famous (and for some infamous) banking family. 
The fact that a company of Rothschild & Co's stature would agree to take on a small Canadian development stage biotech as a client suggests to me that big things could be in the works, perhaps even bigger than listing on an American exchange like the Nasdaq.
Resverlogix Intends to Pursue U.S. Listing
Finally, and perhaps most significantly for those concerned with the ultimate success of Apabetalone as a treatment for Diabetic patients at high risk of Cardiovascular disease, the independent Data Safety Monitoring Board overseeing the BETonMACE trial gave its 7th positive recommendation for the Phase III trial to continue without modifications.
Seventh Positive Recommendation From The Data Safety Monitoring Board
WHAT ARE THE RISKS & POTENTIAL REWARDS 
Earlier I wrote that I'm not one of those typical pumpers you see all over social media who completely ignores any risks and only looks at the facts that support a bullish point of view.  I am bullish on Resverlogix despite the risks, but I will enumerate what I consider their two biggest challenges and the reasons why I am willing to look past them.
Financing risk 
Experienced biotech players know that drug development is not cheap.  Successful drug applications can take 10 years or more with lots of money needed for both pre-clinical and subsequent Phase I, II and III human trials. 
Resverlogix recently secured a $30 million USD loan facility (~$40 million CDN) in early May.  With a burn rate of between $3 and $4 million CDN per month that projects out to being enough capital to get them into early 2019 when the BETonMACE trial is projected to be complete.  
The loan is secured by basically all of the company's intellectual property
While this risk is very real and significant I consider it manageable given the fact that Chinese Pharmaceutical giant Shenzhen Hepalink has already heavily invested in Resverlogix with an ownership position around 43%.  In addition Eastern Capital owns about 20% and Eastern is the investment company of Billionaire Kenneth Dart of Dart Container Corp fame.
In the final analysis I expect Hepalink and Eastern to protect their investments in Resverlogix if the need arises.
Risk of scientific failure
There is always the possibility that the BETonMACE phase III trial could miss its primary end point.  While its true that with each step along the regulatory journey a drug's chances of approval improve, there are still drugs that make it to phase III and still fail.  
I am willing to accept this risk and am very encouraged that the independent Data Safety Monitoring Board for the Phase III BETonMACE trial has recommended seven times now that the trial continue with no modifications.  These recommendations have been coming about every 4 months during the trial and each time there have been no safety or efficacy concerns identified.  If Apabetalone had any serious safety issues I expect they would have been identified by now, the trial is now nearly 3 years long after all.  
NEAR TERM INFLECTION POINTS AND CATALYSTS
The BETonMACE trial is projected to be completed sometime around the end of the year, four or five months from now in other words.  That in of itself is pretty 'near term' in my books.  Regardless there are some events that could take place between now and then that have the potential to serve as bullish inflection points.
First and foremost in my opinion would be news regarding efforts to garner a U.S. listing.  Currently Resverlogix is listed on Canada's main TMX stock exchange, while in the U.S. it trades OTC (over the counter). 
Lots of investors will not touch OTC stocks, a listing on an exchange like the Nasdaq would go a long way to raising this company's profile in my view.
There may be an 8th recommendation yet to come from the DSMB.  If BETonMACE gets another thumbs up with no safety or efficacy concerns noted, I expect that would be the last before the trial achieved the 250 Major Adverse Cardiac Events required for completion.  When the 7th positive recommendation came out on August 7th RVXCF rose to an interday high of $2.63
There are also some scientific and investor conferences coming up, however I've never noticed them to have much tangible impact on the trading or share price. 
Ultimately the biggest potential catalyst would be successful completion of the BETonMACE trial with top-line results showing that Apabetalone has proven to significantly reduce the incidence of Major Adverse Cardiac Events in patients with Diabetes Mellitus, as in a 30% Relative Risk Reduction or more.  There are also subset groups of patients with Chronic Kidney Disease as well as reduced cognitive function that could demonstrate Apabetalone's potential to treat individuals on dialysis as well as Alzheimer's patients.  
TO SUM IT ALL UP
If this is your first introduction to Resverlogix and you want some more details I suggest reading my previous blog posting which explains more about the science and the potential.  
Obviously though a Seeking Alpha post should not be the end of anyone's research, it should just be the start.  Verify any and all information I have presented here, both in this write-up and the one I did in November.  While I believe that all the factual information I've provided is accurate, I do not warrant and guarantee that there are no errors. 
While I would not knowingly and willingly  post false information, mistakes can happen.  
And finally, this is strictly an opinion piece, and my opinion could very well turn out to be wrong. This instablog post is intended strictly for informational and entertainment purposes and should not be used as a basis for any investment decisions. Investing in stocks or options involves significant risks. For investment advice you should seek the input of a professional investment advisor.
Disclosure: I am/we are long RVXCF.
Additional disclosure: You can find me in numerous forums where I use the names krill66 and DrY (yahoo) growacet (stocktwits) and ledrog (stockhouse)