I've been writing a fair bit of late about my foray into the trading of Option Contracts, both long with Calls and short with Puts.  I've also extolled the benefits of trading Options instead of shares and have cited a couple expressions my late great father drilled into his eldest son's addled little brain. Here they are:
"You'll never go broke taking profits" 
"Don't fall in love with or marry a stock"
Before I go on though I thought all my loyal and faithful followers (both of them) might like to know a little about the guy sitting at the keyboard.  
I mention my father in my writing quite frequently, but I don't believe I've ever mentioned my equally great mother.  Like my father she too has gone to her greater reward, her passing preceded his by six years.  Two of the biggest influences on a person are his or her parents, and I am no exception. 
While my Dad was working on Bay and Wall Streets in the 1960s and 70s my mother was raising three kids and writing when she found the time.  I guess I'm the logical outcome of my parent's union, my writing comes from the maternal side, the subject matter is fraternal. 
While my father was taught me about how markets could be manipulated, my mother instilled equally important lessons.   
One that I'll share happened when I was 16 or 17 and going through a typical rebellious period for boys of that age.  I went  to a local flea market and bought a Confederate flag.  The Dukes of Hazard was a top ranked show at the time and the 'Stars and Bars'...for me it was a great symbol for my rebellious nature. I proudly displayed it over the bed in my room.
I wasn't prepared for my Mother's reaction, she was not happy.  It wasn't my rebellious nature that bothered her, she was used to that, first one earring then another when the shock of the first wore off.  No, she was not going to allow a racist emblem in her house.  We'd moved back permanently to Canada from the US when I was 12, so I hadn't gotten the Full Monty history lesson about the U.S. Civil War.  
Suffice to say the flag came down, replaced by Canada's red Maple Leaf.  My mother had never complained about my choice of room decoration before.  Having lost a brother in the Korean War she was something of a Peacenik, but she never said a word about the Army, Navy, Air Force and Marine posters that festooned my walls when we were living in the States.  She didn't like Militarism but she could tolerate it, racism she could not tolerate and I am the same.
We had moved to the U.S. before my first birthday.  My Dad's firm had transferred him down to their office in New York City's Wall Street district.  He always referred to it as "The Agency".  When I was older about once a month he'd take my sister and I down there on a Sunday and we'd play with the phones and raid the cafeteria.  When furnishings were being replaced my Dad would pick through and grab some old table lamps or end tables that were being replaced.  Good times.
We first lived on Staten Island, and we were there when Martin Luther King was assassinated.  My mother had huge respect for John Lindsay, the mayor of New York during this time.   On that night the Mayor walked the streets of Harlem, and while other cities saw race riots Harlem was calm, most of the credit going to Mr. Lindsay who later said it was his way of saying he was sorry for what had happened.  A NYC cop who was our next door neighbor told my mother, "That took guts". 
Mom was one of six kids, born in Manitoba and the daughter of a Church Minister, a PK before the term Pastor's Kid probably existed.  My father was from Northern Ontario, the product of a broken home.  Both would move to Ottawa and start dating in high school, the rest....is history.  They were together over 50 years and because of my faith, are still together.
What does any of this have to do with Resverlogix?  Maybe nothing, I'll let the one or two people still reading this be the judge.
I've owned Resverlogix for over four years now, since January of 2014.  Discounting real estate, mutual funds or savings bonds this is the longest I have held any investment, the longest I've ever held any stock period.
I could sell now and fall back on my Dad's favorite bromide about never going broke by taking profits, I'm currently up almost 100% on my holdings.  But I'm not selling, at least not yet.  
How did I hear about Resverlogix? 
I didn't, I found it, it didn't find me.  My father suffered from diabetes and I was researching biotech's doing research into that disease.  That's when I found out about RVX-208, a drug developed by Resverlogix which would later be given the name Apabetalone.
What struck me back at the end of 2013 when I first researched it was the chart.  Back in June the company reported the results of a Ph II trial where the primary end point had been missed, bad news in other words.  Here's the chart I would have been looking at: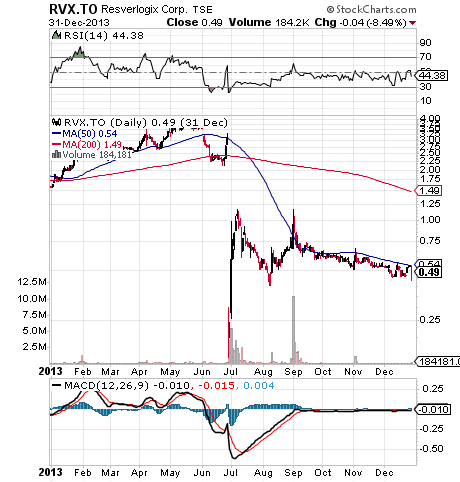 Look at what happened at the end of June.  The PPS was trading up in and around the $3 area, and then a big black swan landed. 
ASSURE Trial Misses Primary Endpoint
That Forbes article was written on Jun 28th 2013, and as you can see RVX.TO was crushed by it, from up around $3 to less than a Canadian quarter afterwards, if memory serves the low was 22 pennies.  Resverlogix did not, (and still does) not have a U.S. listing so it trades OTC stateside with the symbol (OTCPK:RVXCF)
More important to my eyes looking at that chart back in December of 2013 was what happened afterwards.  The PPS didn't keep falling, and it didn't find a base in and around that 25 cent area, no it shot back up.  A dead cat bounce perhaps?  Dead cats do bounce, but then they fall even more than the initial drop. 
RVX.TO shot all the way back above $1, that's not a dead cat to me...no, that's more like a superball.  And rather than falling back below that 25 cent area it found support around 50 cents with another big spike around the start of September back over $1 before finding support around $0.50 CDN again.
What caused that jump at the start of Sept 2013?  Post-Hoc analysis from that same Assure trial that failed to achieve its primary end point.  What they found was that in patients with Diabetes Mellitus (a fancy term for insulin dependent diabetes) RVX-208 was shown to deliver a 77% relative risk reduction (or RRR for short) of Major Adverse Cardiac Events, or MACE. 
RVX-208 LEADS TO A 77% RELATIVE RISK REDUCTION OF MAJOR ADVERSE CARDIOVASCULAR EVENTS (OTCQX:MACE) IN PATIENTS WITH DIABETES MELLITUS
It was because of this news that I had  discovered Resverlogix, otherwise I likely never would have come across it.  I've never seen the company pumped by the usual outfits that tout development stage companies. 
Now its back to the lessons of my late great Father.  
Buyers need sellers and sellers need buyers, we all know that.  So why is it that 'smart money types' are able to buy low?  What Dad taught me is that news is a great cover, bad news trumpeted by an article by a prestigious firm like Forbes I'm sure spurred some and perhaps many longs to sell.  But buyers came in and bought to such a degree that the PPS shot right back up,  and the PPS never got near those fear induced lows again.
And then when the Post-Hoc news came out, it wasn't put out by Forbes or any similar type news outfit that I can find, just a simple PR.  I'm no scientist, far from it. I haven't taken any science related courses since my University days and back then it was intro to Psych and Environmental Science where I learned about the ecology of  a sand dune.  Nothing in my background qualifies me to render judgement on the scientific merits of a compound called RVX-208 now named Apabetalone.
However I do have firm and fixed opinions on how stocks trade and about how the markets function. And when I saw how RVX.TO started trading early in 2014 I jumped in, and I've been a shareholder ever since.  Here's the 5 year chart which covers the period of when I first bought to now.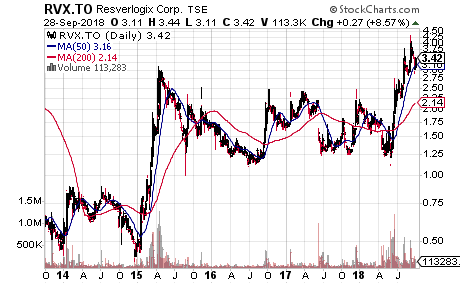 That's a lot of history, June of 2013 is now more than 5 years in the rear view mirror, and a PPS of $3.42 CDN is nowhere near that panic induced low of less than two bits.  Now Apapbetalone is in a FDA and EMA sanctioned Phase III trial called BETonMACE the primary goal of which is to prove that the drug provides significant benefit in reducing the rate of Major Adverse Cardiac Events in patients with Diabetes Mellitus at extremely high risk of a MACE.
The trial is actually getting very near its end, projected sometime around the end of this year or the start of 2019.   Its an event based trial requiring 250 Major Adverse Cardiac Events with approximately 2,400 patients, half on  Apabetalone and half on Placebo.
I don't wish to diminish the risks, I'm well aware of them.  As with the Assure trail BETonMACE could also fail, and I expect the impact on the PPS would be the same as it was back in 2013, and probably worse imo.
What I want to look at now is the recent trading, what's happened over the past 3 months.  I'm going to look strictly at the chart, aside from news about a scientific conference and results of voting from the Sept AGM there hasn't been any real news since August 30th when the company reported a $24 million private placement.  
Here's the 3 month chart: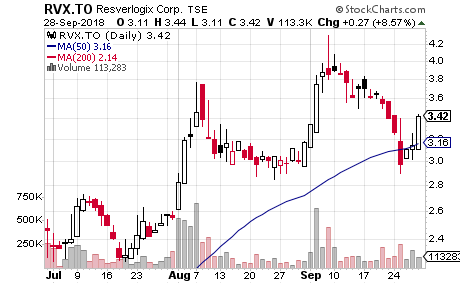 That's a lot of volatility, up near $3.80 in early August then down in and around $3 into the end of that month.  Another big jump to over $4.20 in early September followed by another drop back around that $3 area until the last 3 days of trading with another big jump to end the month up to $3.42
To use the title of a recent movie:  Whiskey Tango Foxtrot????
My take is that RVX is being accumulated, and not by dumb money retail players who've been alerted by some email blasting chop shop or other promotional type outfit.  But in order to buy shares there must be others willing to sell shares.  
That big drop and the corresponding rebound, in my (not always so) humble opinion, that is tree shaking at its best.  I would be adding to my position but I'm more than content with both the quantity of shares I own (I also own share purchase warrants) and my cost average, at $3+ I'd be upping that average substantially.
I'm actually quite happy that I've found an avenue to satisfy my hunger for a  bit of trading excitement.  Trading options has more than satisfied that itch and when the PPS for RVX dropped briefly below $3 I was able to stay detached and think to myself, "same old, same old".
Will the volatility continue?  I expect so, but time is running out....I thought by  now RVX would be over $5 and I still believe $10 by the end of this year is in the cards, especially if BETonMACE is going to succeed.  Hopefully the upward move from the end of September carries over into October and we do see at least $5 before another pull back.
Thanks for reading, if there's anyone left....this hasn't been one of my better efforts but I enjoyed it  regardless.  Comments are welcome as always of course. 
Disclosure
Finally, I wrote this blog posting myself and received no compensation for it whatsoever. These are my thoughts and opinions and as such they could very well turn out to be wrong. As mentioned I am long RVX.TO (OTCPK:RVXCF) so my opinions should be viewed as having bias.
Long or short, Put or Call Options...investing comports significant risk. Input from a registered investment advisor is strongly suggested for anyone considering an investment in any stock. Please view this blog post as being for entertainment purposes only.
Disclosure: I am/we are long RVXCF.
Additional disclosure: You can find me in numerous forums where I use the names DrY (yahoo) growacet (stocktwits) ledrog (stockhouse), and avoidthebag on twitter.