Two Fairly Similar Companies
I don't know that there are any investors holding both shares of Cemtrex (CETX) as well as Vuzix (VUZI).  If there are they could be forgiven for thinking they've been cast into Bill Murray's movie "Groundhog Day" where history repeats itself over and over, with Vuzix reliving the experience of Cemtrex in startling fashion.  
Cemtrex bills itself as a builder of the world's most advanced workstation.  A diversified technology company that's driving innovation in a number of areas, including (like Vuzix) artificial and augmented reality among other endeavors.  
Like Vuzix, Cemtrex has been around about 20 years, having incorporated in 1998.  Both trade on the Nasdaq Exchange, and both have undergone reverse split share consolidations, Vuzix at a ratio of 1 for 75 in February of 2013 and Cemtrex at a ratio of 1 for 6 in April of 2015.  And both have reported losses for the trailing 12 months, Cemtrex of ($0.18) cents per share and Vuzix of ($0.93) cents per share as per the summaries at Yahoo Finance.  
Vuzix has a much higher market capitalization however at around $150 million USD while Cemtrex comes in at less than $13 million.
Cemtrex's current share price is less than $1 after having traded over $7 as recently as December 2016 and January 2017, while Vuzix is trading around $5.60 after having soared over $11 back in January of 2018.  
And both have been the subject of damning reports by Richard Pearson via his Mox Reports website.  
A look back at Cemtrex - Legal Sabre Rattling
As noted CETX was trading over $7 per share back in December of 2016 and January of 2017.  Then on February 22nd 2017 Mr. Pearson put out a report on Cemtrex saying that: "All Signs Point to Fraud".  
$CETX Cemtrex: Documents and Photos, All Signs Point to Fraud
Cemtrex responded to the report by launching a $170 million lawsuit against Pearson alleging false and libelous statements having been made in an effort to manipulate the PPS of CETX in order to profit from a short position.  
Cemtrex Files $170 Million Lawsuit against Richard Pearson, Seeking Alpha author, and Others for Trade Libel
The Mox Report in turn led to the usual Press Releases exhorting shareholders to contact legal firms and to join a class action lawsuit against the company.  That in turn led to legal action:  
Robbins Arroyo LLP: Cemtrex, Inc. (NASDAQ:CETX) Misled Shareholders According to an Amended Class Action Complaint
Legal Swords Sheathed 
By June of 2017 the lawsuit against Pearson was dismissed, "without prejudice".  By my understanding, the term "without prejudice" means that Cemtrex is not saying the allegations they made against Pearson were false, but merely that they're no longer pursuing them at that stated time.  
https://www.pacermonitor.com/public/case/20790846/Cemtrex,_Inc_v_Pearson_et_al
Meanwhile the shareholder lawsuits were settled at a cost of $725,000 as reported this past October:  
Company settles shareholder lawsuits for $725G
The Bottom Line
Ultimately what likely matters most to investors is the effect on the value of their holdings.  In this respect CETX has yet to recover, here's the chart covering the relevant period.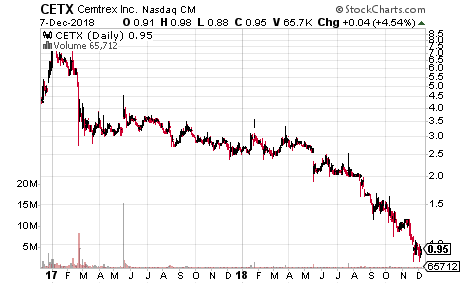 Will Vuzix Follow The Same Path?
So far the similarities are striking to me.  Peason's Report on Vuzix came out on March 16, 2018 so about 13 months after the Cemtrex report. 
https://moxreports.com/wp-content/uploads/2018/03/b324-Vuzix-Fraud-Short-version-toned-done-2.pdf
Like Cemtrex Vuzix announced taking action against Pearson by filing a defamation lawsuit that's seeking $80 million in damages, that was announced back on April 6th 2018.
https://www.prnewswire.com/news-releases/vuzix-files-defamation-lawsuit-against-short-seller-300625700.html
And as with Cemtrex, Vuzix is now the subject of investor action.  Here's the docket on one such suit, I don't know if this is the only one or if there are more:  
McDonel v. Vuzix Corporation et al (1:18-cv-06656), New York Southern District Court
We'll have to wait to see if the Groundhog Day script continues to be followed.  If Vuzix does follow in Cemtrex's footsteps that would mean dismissing the lawsuit against Pearson while settling the pending shareholder lawsuit(s?).  
Cemtrex's history with Pearson started almost 2 years ago, while Vuzix's is only coming up on 9 months.  After 9 months Cemtrex's PPS was still hovering around $3 by my read of the chart, we'll have to wait and see how Vuzix does in the coming months.  Here's the chart for this period so far.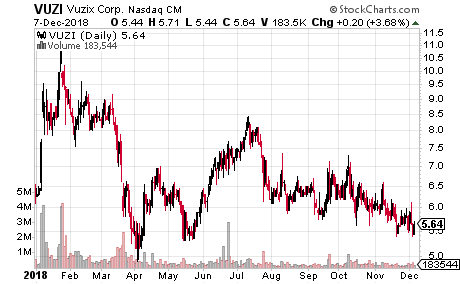 Disclosure
Firstly I have received zero compensation for the writing of this article.  I am not a registered investment advisor so this should be viewed as being for entertainment purposes only.  Please verify any and all information provided, while I would not knowingly put out false information I am not infallible.  
I have no position whatsoever in Cemtrex, and have never had any position long or short in that company's stock.  I do own 10 Vuzix Put Option Contracts so there is the possibility that I could profit if Vuzix's PPS were to decline.  
Comments are welcome.  
Disclosure: I am/we are short Vuzi via put options.
Additional disclosure: You can find me in numerous forums where I use the names DrY (yahoo) growacet (stocktwits) ledrog (stockhouse), and Joe_Retail (avoidthebag) on twitter