Disclosure Right Up Front
I closed out the Put Option Contracts I was holding on (VUZI) last week, and in a move that even surprised myself a bit, I took out a long position on Thursday December 27th.  I'll explain the reasons why of course.  I am not currently a financial advisor, so the facts and opinions shared on this blog posting should be viewed as being for entertainment only.  
While I strive to ensure the accuracy of any factual data presented I make no warranties as to that accuracy and will encourage anyone researching Vuzix to verify any and all information and sources provided.
Glass Half Emty or Half Full?
I take a beating on social media sites quite frequently, its the price of not running with the herd.  A number of posters on sites like StockTwits and Twitter have been doing their best of late to portray me as a liar and a fraud, or as someone who is in the employ of short sellers bent on destroying a wonderful and promising company.  
Meh, its happened to me before with Ziopharm when it was trading around $15 and I expressed the view that it was a speculative bubble poised to collapse, and Sky-Mobi, a Chinese game maker that was pumped sky high but isn't listed any more.  
I get it.  Heavily promoted stocks often have an army of social media user IDs trying to push a bullish narrative.  They don't need some retail mutt like me singing from a different song book.  Years ago heretics were burned, without that avenue available they simply exhort others to ignore me, like people can't make up their own minds.  
The Story Bulls Are Pushing
Okay, so what is the bullish narrative?  Its actually a really good story, powerful.  And I would submit that it is the power of this story that has allowed Vuzix to raise so much money from investors over the years.
Vuzix is a company on the cutting edge of the new and exciting technology that is Augmented Reality.  Leveraging their 20 years of experience the company is a leader in this growing space and is engaged with numerous companies both large and small in proof of concept trials, field testing, and partnerships.  
A recent corporate presentation lists some major league companies as customers, including:  Toshiba, SAP and Verizon.  Then there's been news with GoPro, Alexa, H-E-B, Intel and tons more.  I won't go into it all, I'm assuming that most reading already know a lot of the history.
Reality Meets the Story
The story hasn't changed much since Vuzix popped onto my radar back in Sept 2016 on a wave of social media pumping.  Next quarter, next year, the future is going to be paved with gold has been the narrative, just wait.  Reality has been much different however. 
In the most recent 3rd quarter of 2018 revenues were just $1.9 million, which was a 25% sequential drop over the previous quarter's $2.5 million revenue.  And the accumulated deficit is growing by leaps and bounds, now over $100 million.  
According to the December corporate presentation the company has over 16,000 smart glasses in the field.  I don't know if they've generated revenue from all those glasses or if some are being provided free of charge for proof of concept testing or pilot programs, and frankly I don't care.  its a pretty piddly number in my books.  Even if 16,000 were sold at $1,000 USD each that's only $16 million in revenue, and the company is on pace to lose more than $20 million this year alone.
Compare that with what Hololens just did in announcing a $480 million contract.  And Occulus Go reportedly made an estimated 289,000 shipments in just the 2nd quarter of this year.  16,000 looks like a pretty pathetic number by a company that claims to be a leader.  In fairness the company qualifies their leadership statement by saying its "...in terms of customer engagements, technology expertise, product breadth and market presence".  There's nothing there about being a sales leader.  
So Why Go Long? 
I'm not really "long", not in the usual "long and strong" sense anyway.  I bought some shares on Thursday after the PPS bounced off of the $4.50 area.  A look at the chart from Sept 2016 to present, the time I've been following Vuzix, is pretty telling as to the reason.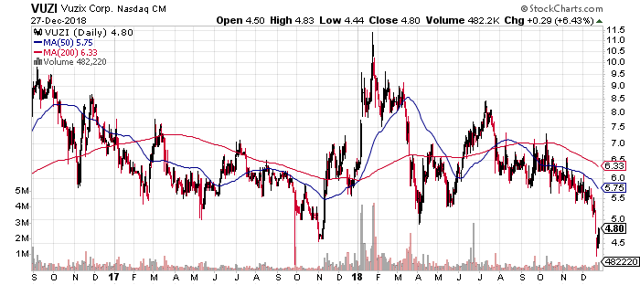 A wild roller coaster ride.  The broader trend was down from September 2016 forward until November of 2017 when the PPS reversed and went on a short and crazy ride all the way up over $11 in January of 2018.  The broader trend since then has been down, but there have been some decent surges on the way down.  
And follow the dilution and you'll see this company seems to be good at timing their offerings.  
By my reckoning Vuzix is down to less than $20 million now, and I expect that expenses are increasing, meaning I expect cash burn to be accelerating as well.  This December to March window strikes me as an optimum time to go to the trough again, given that the next filing should be out in March for 4th quarter and full year reporting.  Combine a rising share price with bullish sounding news and social media pumping, it can be the perfect storm for those hoping to sell high, but first you have to be long.  
Everyone talks about manipulation when a stock goes lower, but in my opinion it works both ways, stocks can be pumped up and worked down.  Pumping up a stock's PPS is a great way to get novice investors to jump in for fear of missing out, or FOMO for short.  
The third quarter's pathetic numbers are fading further into the rear view mirror with each passing week, and social media hypesters (of which there seems to be an endless supply) can start touting the future again.  
In Closing
I already gave my dislcosure statement right at the start, so I'll simply wish anyone reading good look and for peace and joy in 2019 and beyond.  And I'll end with my market mantra:  "Nobody has ever gone broke taking profits".  Good luck.  
Disclosure: I am/we are long VUZI.
Additional disclosure: You can find me in numerous forums where I use the names DrY (yahoo) growacet (stocktwits) ledrog (stockhouse), and Joe_Retail (avoidthebag) on twitter