I'll include my full disclaimer at the end, but please understand that I am long on Resverlogix, thus anything and everything I write should be considered as having bias.
Nobody ever goes broke taking profits
If you're a fan of this miserable and pathetic little blog then you know I've been writing about Resverlogix here since May of 2015, for four years in other words.  And with today's closing prices of $4.79 CND for (RVX.TO) and $3.55 USD for (OTCPK:RVXCF) share prices have never been higher.  I've actually been invested since January of 2014, for over 5 years.  Here's a 5 year chart that shows how RVX.TO has performed: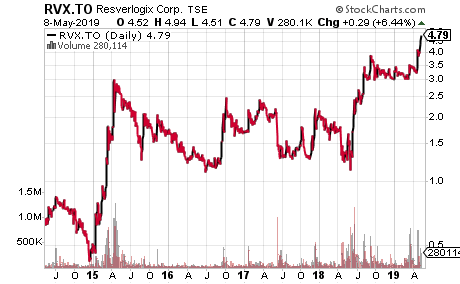 Shares in Canada hit a 52 week high of $4.94 with RVXCF trading fractions of a penny over $3.67 on Wednesday March 8th 2019.  Those aren't just 52 week highs, they're 5 year highs.  
If you're thinking I'm going to pound the table and urge readers who own shares to hold on tight, and for those who don't own shares to climb on board....uhm, think again.
Anyone selling and taking profits is a winner in my books.  The market is incredibly difficult at the best of times, and nigh on impossible at the worst.  Those who've taken profits and put cold hard cash into their pockets have my congratulations and respect.  
With that being said I do think there is potential for Resverlogix to trade even higher in the weeks and months ahead, even before Top-Line results come out on the company's Phase 3 trial BETonMACE.  But obviously it is far from a sure thing....there are always risks. 
Those who have sold, if shares do trade higher cry into the money that has been made.  Buying back in is an option as well of course, but then there's the risk of turning profits into losses.  
What could send Resverlogix even higher?
In trying to determine the prospect for further growth I think it is helpful to first understand how the company's market cap has reached the value its already achieved, over $700 million USD.
In real estate they say the market is about three things: Location, location and location.  With Resverlogix I also see three things:  Apabetalone, apabetalone and apabetalone.  
A drug nearing the release of data from a Phase 3 trial with patients suffering from Diabetes, as well as Kidney Disease and Alzheimers....obviously if they hit on all three, WoW!!! 
There is always the risk of failure of course, and I consider the primary endpoint of MACE reduction for patients with Diabetes Mellitus, low HDL as well as a recent adverse cardiac event, (to wit an EXTREMELY high risk population) to be the most critical.
News that the this events based trial has reached the pre-determined end point of 250 MACE helped in my opinion, as has news that the company's lender has extended their loan another three months.  And recent news of the publishing of a peer reviewed article in a scientific journal does lend credibility of course.  
But ultimately I think the market is slowly starting to wake up to the potential here, and by 'the market' I think its more specifically investors whose focus is on Life Science type companies, or Biotech if you prefer that term.
Companies like Amarin, Biogen and Reata, with drugs that are somewhat (or very) comparable to Apabetalone may be providing some useful benchmarks for determining what sort of pipeline value to assign to Resverlogix's Apabetalone.  I think that could be at least part of the reason Resverlogix's value has been climbing.  
Amarin Comparison
I already wrote a blog piece on Amarin (AMRN) and their lead compound Vascepa.  When Amarin announced that their Phase 3 trial Reduce-It had met its primary end point with 25% Relative Risk Reduction of 5 point MACE their share price exploded from less than $3 to over $20 with their Market Cap climbing north of $5 billion USD. 
I think its reasonable to assume that investors may be thinking that if Apabetalone can achieve similar, or perhaps even superior results in more narrowly defined 3 point MACE, that the market could assign Apabetalone a valuation of at least that same $5+ billion and perhaps even more.  
Biogen Comparison
I also wrote a piece on Biogen (BIIB) and their failed drug targetting Alzehimers's.  When Phase 3 candidate Aducanumab was halted Biogen's Market Cap took a hit of about $16 billion USD.  To me that suggests the value the market places on even a potential treatment for Alzheimers.  
As mentioned earlier, along with attempting to prove MACE reduction in Diabetic patients, BETonMACE is also testing cognitive function in a subset of patients to see if Apabetalone has the potential to improve cognitive function.  
There are 2,400 hundred patients in the BETonMACE trial and all of them have Diabetes, low HDL and a recent major adverse cardiac event.  Included in that 2,400 are about 450 patients over the age of 70 with about half of those having MOCA scores below 25 which indicates cognitive impairment.  
If Apabetalone shows promise in the area of improving cognition, I don't believe its unreasonable to think that its pipeline value could explode even higher.  $16 billion higher?  I think that might be overly optimistic at this early stage, but at this point the value isn't even $1 billion USD.  
Reata Comparison
Reata (RETA) is developing a drug designed to improve Kidney function called Bardoxolone.   Although its market cap doesn't show a valuation that compares with the valuations for Vascepa and Aducanumab, its still up over $2 billion USD for the company.  Their share price just got a boost from a reccomendation by Cormorant Asset Management's founder.  
Resverlogix will also be measuring for improvement in Kidney Function with patients in another subset population suffering from CKD in their Phase 3 trial. Specifically I will be looking for improvement in the measurement of eGFR.  The company has already conducted smaller trials on Kidney patients that have shown termendous promise and success in this patient group.  Here's a link to some data:
Benefit of Apabetalone on Plasma Proteins in Renal Disease
To Sum it all up
$700 million USD as a market cap for Resverlogix is nothing to sneeze at, and potentially it could end up being perceived by the market as overvalued until results come out on their BETonMACE trial.  I ultimately view those results as being make or break for the company.  If the trial fails on all fronts I see Resverlogix trading for pennies.  
At the same time if there are investors looking to buy in on the prospects of BETonMACE succeeding, then I do see justification for a significantly higher market cap ahead of the results coming out.  
There are no sure things though of course, so for anyone reading I will wish you luck and encourage you to post any questions or comments you may have. 
Obvioulsy if this is your first introduction to Apabetalone and Resverlogix, then further research is needed.  Seeking Alpha isn't the place to conduct due dilligence.  An article or blog post here might give you an idea, but lots more effort is required.  Please read my full disclaimer below.
Disclaimer
I am a shareholder in Resverlogix which trades in Canada with the symbol RVX.TO and hold what for me represents a very significant position, in fact its my single largest holding, I have no position in any of the other companies metnioned.  As such anything I write should be viewed as having bias and consequently this blog posting should be viewed as being for entertainment purposes only.
While I endeavor to ensure that any data and information posted is factual I make no guarantees to that effect and recommend that readers verify any and all information posted.  I am receiving nothing for writing this post, not from Seeking Alpha nor from any other source, it is simply a reflection of my honest views and opinions.  
I am not a registered investment advisor and stocks comport significant risk. Engagement of a professional is strongly advised before making any investment.
Disclosure: I am/we are long RVXCF.