I'll include my full disclaiming statement at the end, but please understand that I am long on Resverlogix (OTCPK:RVXCF) thus anything written here should be considered as having bias.
Lessons of History
They say history repeats, and that those who fail to learn its lessons are destined to repeat them.  I don't know if that is always true, I don't believe in absolutes except when it comes to God.  
The history that seems to be repeating here is with Resverlogix's "proposing" an offering of units.  I keep putting the word "proposed" and its derivative forms in brackets because a proposal is forward looking and may not in fact happen. 
I can "propose" that I will do any number of things, but then later change my mind.  When someone proposes a course of action in a meeting, that doesn't mean it will necessarily be adopted...it may be or it may not.  
Last year on April 17th 2018 Resverlogix put out news that is pretty much word for word the same as the news that just came out.  First here is a link to today's PR about the "proposed" share offering: 
RESVERLOGIX ANNOUNCES PROPOSED OFFERING OF UNITS - May 14, 2019
And here is the link to the news from April 17th last year:
RESVERLOGIX ANNOUNCES PROPOSED OFFERING OF UNITS - April 17, 2018
What happened in April 2018?
Last year in April when this happened the share price was absolutely hammered.  Shares on the TSX dropped from up around $1.80 CDN down to the $1.30 area immediately after the share offering was "proposed".  Here's the chart from April 2018, notice the massive volume increase, from less than 50K trading to over 500K immediately afterward.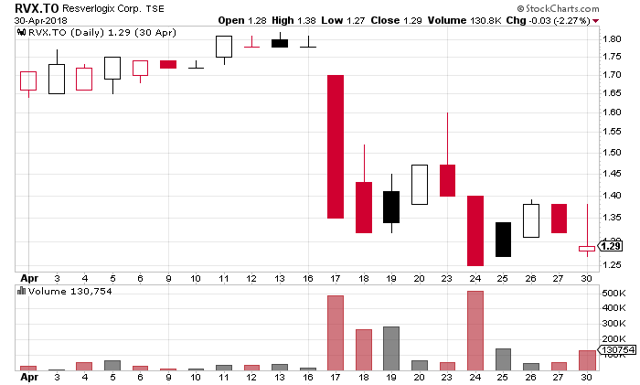 In hindsight it was obviously a huge buying opportunity, but who knew that back then.  It wasn't until a couple months later, on June 8th, that the company announced they were withdrawing the share offering:
RESVERLOGIX ANNOUNCES WITHDRAWAL OF PUBLIC OFFERING OF UNITS 
After withdrawing the offering Resverlogix's share price started its dramatic recovery.  Here's the chart, from down around that $1.30 area up to around $2.50 as June came to an end:
Why did shares plummet so far and recover so fast last year?
What happened last year might be instructive as to what could happen this time.  Last year short interest (shares borrowed and sold back into the market) shot up exponentially in the wake of the April 17th "proposed" offering.  Prior to that news short interest was just 175 thousand or so shares.  Afterward it shot up as high as 1.6 million in the weeks that followed.
Of note is that after short interest shot up shares of Resverlogix started showing up on the TSX Buy-In list due to delivery failures.  A 'fail to deliver' means that the shares borrowed and sold into the market were never located, short sellers were engaging in something called Naked Short selling.  They were taking money from buyers for shares, but failing to deliver what they sold. 
As a result shorts were subject 'Forced Buy-Ins' and had to pay above market prices in order to locate and deliver the shares they were naked on.  I wrote about it back on June 16th 2018 on my old blogging site Avoid The Bag, you can read that posting here:
Resverlogix - The naked story (Fully Annotated) RVX.TO / RVXCF
What about this time?  Lots of questions, no answers
That was 2018, this is 2019 and things are not exactly the same obviously.  Last year the company's pivotal Phase 3 trial BETonMACE was still about a year away from wrapping up.  Now that the 250 MACE threshold has been reached top-line results are expected sometime this summer.  The clock is ticking in other words and there's not much time left.
Will today's announcement lead to another bear attack?  I don't know, I have to assume its possible.  Then again perhaps bears learned their lesson after what happened last year, a case of 'once bitten twice shy'.  
And perhaps this "proposed" offering will actually be carried out unlike last year.  One of the biggest risk factors (along with trial failure) is Resverlogix's incredibly weak balance sheet.  If the trial succeeds there is no question in my mind that financing of some description is unavoidable, its a fundamental reality I have assumed is already priced into the stock.
Up to April 30th 2019 short interest was up to about 300K shares, higher than last April but still incredibly light for a company with ~200 million shares outstanding.  If bears do attack would they be able to locate shares to sell, or would they have to go naked again if they want to hammer the PPS by dumping shares?  
As the heading says, lots of questions and no answers...I long ago smashed my Magic 8 ball and my crystal ball is cracked.  If the PPS does take a hit tomorrow I'm glad that my posts of late have stressed that nobody goes broke taking profits, that there are no sure things in the market. 
But with that being said I am hopeful that this is not a situation of rinse and repeat.  Even if the share price drops and then recovers even more, I'd rather not ride the roller coaster.  Regardless I'll be sitting tight even if it does play out that way and looking to add if I perceive a bear raid.
Comments welcome, please read my full disclaimer below
Disclaimer
I am a shareholder in Resverlogix which trades in Canada with the symbol RVX.TO and hold what for me represents a very significant position, in fact its my single largest holding. As such anything I write should be viewed as having bias and consequently this blog posting should be viewed as being for entertainment purposes only.
While I endeavor to ensure that any data and information posted is factual I make no guarantees to that effect and recommend that readers verify any and all information posted. I am receiving nothing for writing this post, not from Seeking Alpha nor from any other source, it is simply a reflection of my honest views and opinions.
I am not a registered investment advisor and stocks comport significant risk. Engagement of a professional is strongly advised before making any investment.
Disclosure: I am/we are long RVXCF.