THE FIRST QUARTER OF THE YEAR DEFINITELY SURPRISED ON THE UPSIDE IN TERMS OF SEASONALLY HIGH EARNINGS AND RISING ASSET PRICES. THE LATTER IS NATURAL WHEN CONSIDERING THAT MOST LISTED PLAYERS HAVE A STRONG CURRENCY IN ITS SHARE PRICE AFTER THE RECENT SURGE, AND WE HAVE SEEN SEVERAL VERY ACCRETIVE SHARES-FOR-SHIPS TYPE DEALS. ALTHOUGH WE HAVE A POSITIVE VIEW ON THE DRY BULK SECTOR, WE ARE LUKEWARM TO THE SHARES AS TOO MUCH OF THE CYCLICAL UPTURN IS ALREADY PRICED IN. EARNINGS ARE LAGGING WITH A MEDIAN EV/EBITDA OF 28X IN 2017E AND 17X IN 2018E ON OUR ESTIMATES. THUS, WE FIND THE CURRENT VALUATION TOO STEEP, ALTHOUGH WITH A FEW COMPANY-SPECIFIC DEVIATIONS. ANY POTENTIAL FALL IN SHARE PRICES COULD REPRESENT AN EXCELLENT OPPORTUNITY TO BUY.
Implied demand in 1Q17 rose 1% q/q and 18% y/y, significantly overshooting what is seasonally the weakest dry bulk quarter of the year, and when comparing to what was undoubtable one of the weakest quarters on record in 1Q16. The quarter ahead is shrouded with uncertainty, but we expect FY 2017 to post the highest implied demand growth rates since 2010 at 9%. According to the the lagged relationship between Chinese housing prices and iron ore imports (see graph below), we forecast China to import a record breaking 1.17bn tonnes in 2017 (+14% y/y). However, there are signs that 1Q17 marks the peak of the current Chinese boom cycle and that the growth rate will diminish going forward. Add to this a record high ratio of iron ore inventories over steel production in China and falling iron ore prices, we see the risk skewed to the downside in 2Q17.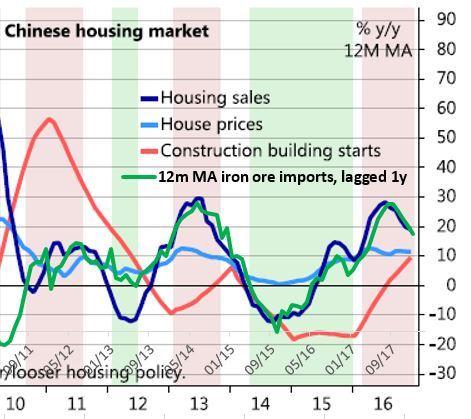 SOURCE: THE SHIPPING ANALYST, DANSKE BANK MARKETS & BLOOMBERG
In a response to the strong demand in Q1, the supply side has reacted with less scrapping and more deliveries than we had forecast. We thus raise our net supply growth forecast for FY'17 to 3.5% (from 2.5%). This effect is more than mitigated by the increased demand.
In sum, we expect utilization to rise by 4%p in 2017, equating to an average Baltic Dry Index of 936 (Capesize TCE of USD 11,065/day). Please see supporting slide deck for details.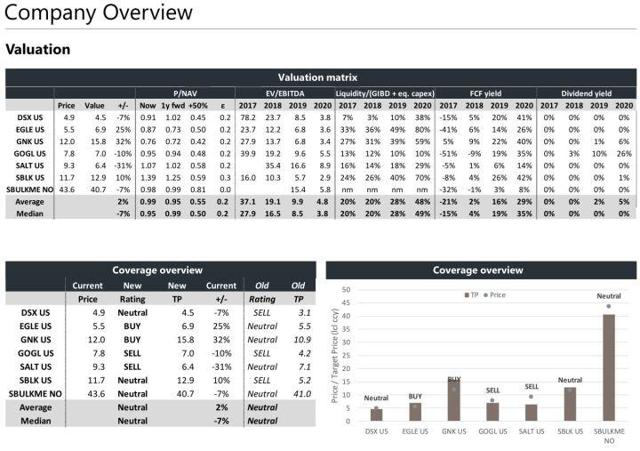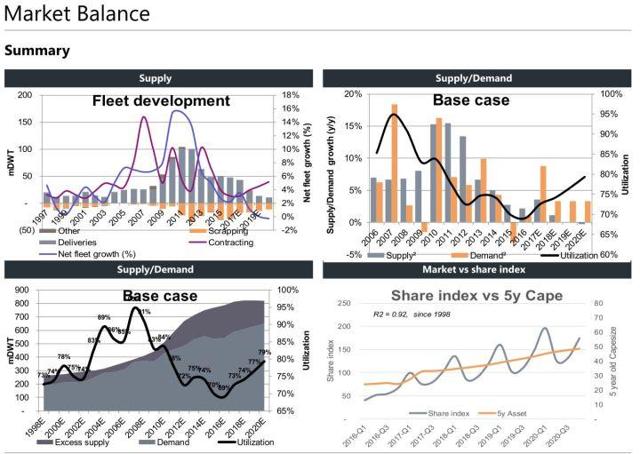 DISCLAIMER: THE PUBLISHER CURRENTLY HAS NO INVESTMENTS IN THE COMPANY
Supporting Documents
Disclosure: I/we have no positions in any stocks mentioned, but may initiate a long position in NONE OR ALL COMPANIES over the next 72 hours.