WE INITIATE COVERAGE OF GOODBULK WITH A BUY RECOMMENDATION AND TARGET PRICE OF NOK 141. SHARE PRICE DRIVERS INCLUDE CURRENT UNDERVALUATION, INCREASED ANALYST/INVESTOR FOCUS, FURTHER FLEET GROWTH AND IMPROVED LIQUIDITY/FULL STOCK LISTING.
GoodBulk was newly listed on OTC in Oslo after raising USD 100m in new equity at around USD 10.6/sh (NOK ~92) to expand its fleet. The company writes: "GoodBulk is a new company established by Brentwood Shipping and Trading in December 2016 in partnership with Lantern Capital Partners LP and other partners to create an attractive vehicle for investors to access the drybulk shipping market". Following the latest acquisition of a 2007-built Panamax announced on Thursday, "[…]the Company will control a fleet of ten vessels consisting of seven capesize, one panamax, one ultramax, and one supramax". To our knowledge, the newly acquired vessel is the 75k dwt Bariloche for a consideration of USD 13.8m, in-line with our generic valuation at USD 14.2m. GoodBulk's strategy is to acquire "5-15 year old dry bulk tonnage ranging from Supramax to Capesize vessels, currently believed to offer the best risk/reward profile".
Valuation: Our target price of NOK 141/sh is based on a weighted average of current (NOK 122/sh) and future NAV, in combination with a mid-cycle EV/EBITDA in 2018/19E. In addition to the attractiveness of current valuation metrics, we expect the share price to enjoy a positive momentum from increasing analyst/investor focus, further fleet growth and eventually improved liquidity and full stock exchange listing.
As a final note, the recent free-fall in Chinese iron ore prices indicates the short-term correction in dry bulk shares could continue (see chart below). Nevertheless, we believe 2q17 could be an opportune moment for the dry bulk light investor to increase exposure.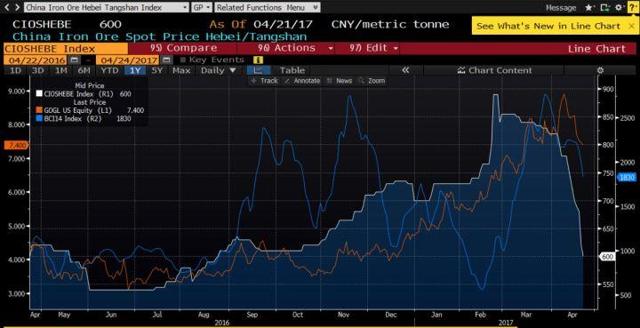 2017.03 - GoodBulk_Company_Presentation (pre-deal)
Company specifics:
Disclaimer: The publisher currently has no investments in the company