This report was first published on GersemiResearch.com 18/Feb 2018
The 4Q17 numbers were in-line with expectations, with few surprises emerging in the report or presentation. Avance (OTCPK:AVACF) rallied 7% in Oslo on the day amongst a general appreciation of the VLGC segment. As we enter the seasonally strong period from April to August, we simultaneously expect supply growth to turn negative. Add annualized demand growth of ~10% and we remain highly optimistic on the share price development over both the short- and long-term horizon. We reiterate our BUY recommendation and have a NOK 60 target price.
4Q17 review: The results were largely in-line with ours and consensus' forecast (see table below). The company achieved a timecharter equivalent (TCE) on its fleet of $12,262/day, below our forecast of $13,823. However, this was offset by a utilization of 97% in the quarter vs our 91% forecast. There is naturally a trade-off between utilization and spot rates achieved in the currently depressed market, and Avance struck a balance which was very close to our expectations.
The company reported a net cash flow for the quarter of +$4m vs our forecast of -$7m. This mainly relates to a $15m draw down under the revolving credit facility. That leaves $50m in undrawn credit + $62m in liquidity which should easily suffice against a low cash break even and improving spot rates ahead.
Management also discussed the collision incurred by Passat 31 January 2018. The company expects the vessels to be out of business until April, and we have adjusted our forecast down accordingly.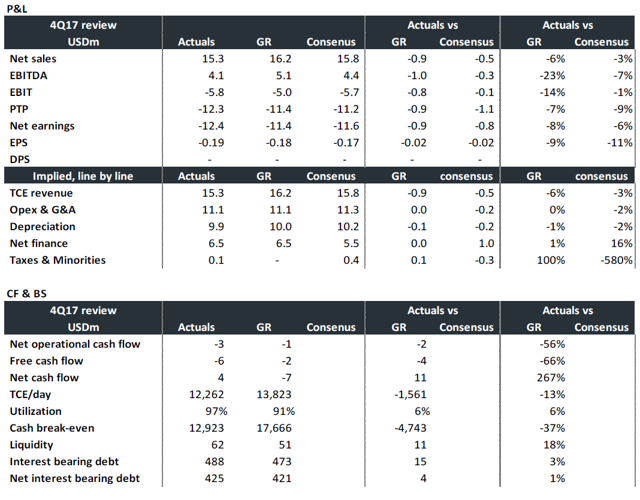 Source: Gersemi Research, Bloomberg, company data
Investment case: Avance is our #1 pick in the VLGC space, trading at a P/NAV of 0.54 (peers 0.60) and 1y fwd NAV of 0.34 (0.46) even after applying a China-discount to its applicable fleet. Add historically high operational leverage and we see EV/EBITDA in '19E of 4.0 (4.5) and potential dividend yield of 48% (29%). We have generated a 139% return on our recommendations since Mar/14 (vs consensus' -81%), and see 175% upside potential ahead as the VLGC segment is repriced in concert with the cyclical upturn.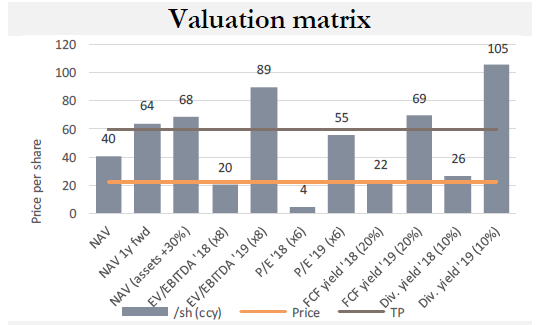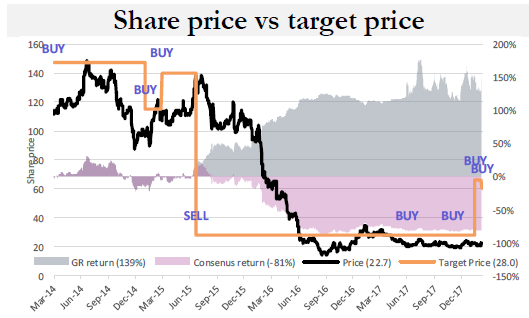 LPG Shipping Overview (from our 8-Feb/18 sector report)
Synopsis
LPG shipping has moved from a scarce resource in 2014/2015 where regional LPG price differentials dictated the marginal revenue, to an oversupplied commodity shipping segment where marginal cost is the name of the game. However, we believe this will change in 2018E as vessel supply growth grinds almost to a halt and demand continues its rapid growth. We reiterate our BUY recommendation and forecast shares to rise 98% on average over the next year.
Market fundamentals
We believe 1Q18 will mark the trough and share prices to rally from seasonal and fundamental improvements in 2Q18 and beyond. We forecast a net supply growth of 0.6% q/q in 1Q18E to be followed by two quarters of negative supply growth, and an annualized growth rate below 3% throughout 2019E. This unusually low supply growth will form the foundation for the next expansionary phase of the cycle against what we forecast to be 9-10% annualized demand growth in 2018E/19E.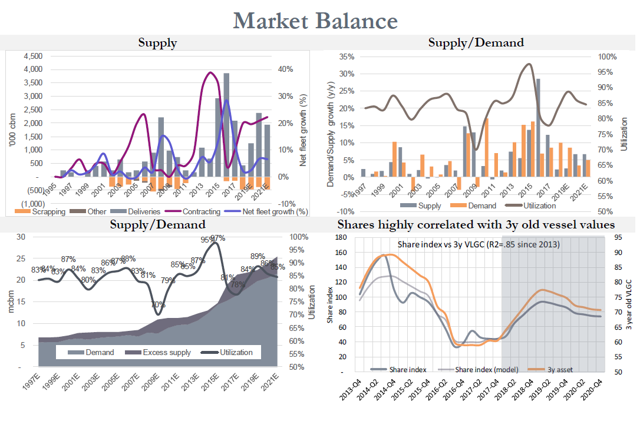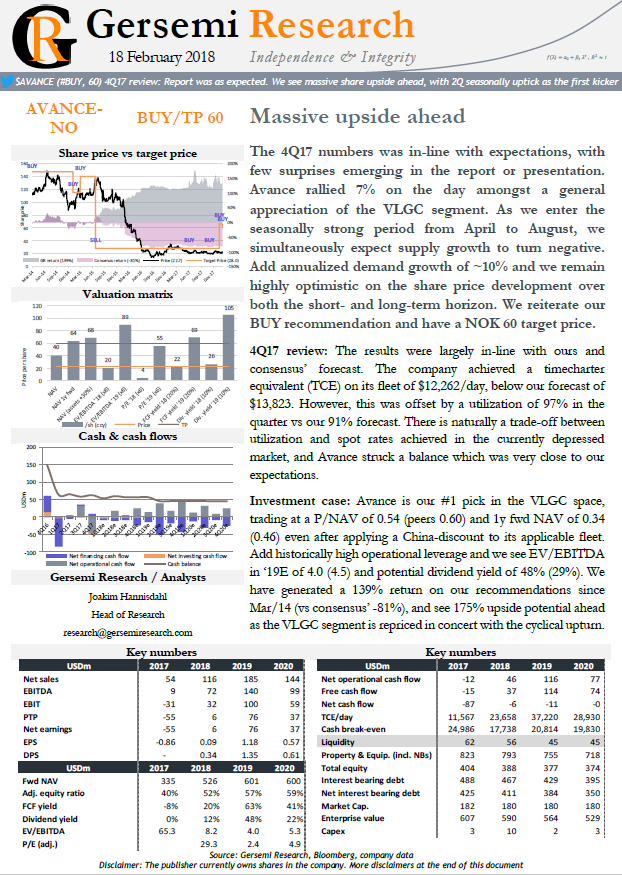 Source: Gersemi Research, Bloomberg, company data
Disclaimer: The publisher currently owns shares in the company. More disclaimers at the end of the attached PDF
Disclosure: I am/we are long AVACF, BWLLF, LPG.