This article was first published on June 18 to our Private Network and Gersemi Members
As we wrote in our initial IPO update in early June, we assumed 8m new shares at $15.8/sh, or a 5% discount to NAV. Today, GoodBulk launched the IPO for 8.5m shares at a range of $15.5-$17.5/sh, well in time to harvest the five attractively priced Capesize options lapsing 15 July. Given the generally strong sentiment in dry bulk and sizable ships in particular, we expect this Capesize pure-play behemoth to receive a warm reception amongst hungry investors. We reiterate our BUY rating and TP of NOK 212 ($26).
Investment case: As per earlier disclaimers, we bought GoodBulk at a NOK 90/sh average in 2017 and have advocated the NY listing as a major share price trigger. Assuming a 5% IPO discount to our current NAV estimate of $16.65/sh (NOK 135) & all five proposed Capesizes to be acquired, the NewCo will have a NAV of $16.3/sh (NOK 132) and a 1y forward NAV of $26.6/sh (NOK 216) based on our forecast of a 44% asset price appreciation by then. GoodBulk will only be surpassed by Star Bulk and Golden Ocean in terms of number of Capesizes in its fleet amongst listed companies, but unsurpassed in terms of the largest on-the-water Capesize exposure as part of the fleet. We prefer 2nd-hand Capesize vessels at the current expansionary phase of the cycle as they exhibit the highest volatility. The only negative for GoodBulk is the low financial leverage combined with a too prudent pay-out ratio of 25-50% as the cyclical expansion turns to peak. We reiterate our BUY recommendation and NOK 212 ($26) target price while we await the IPO outcome.
Download the full 6-page report here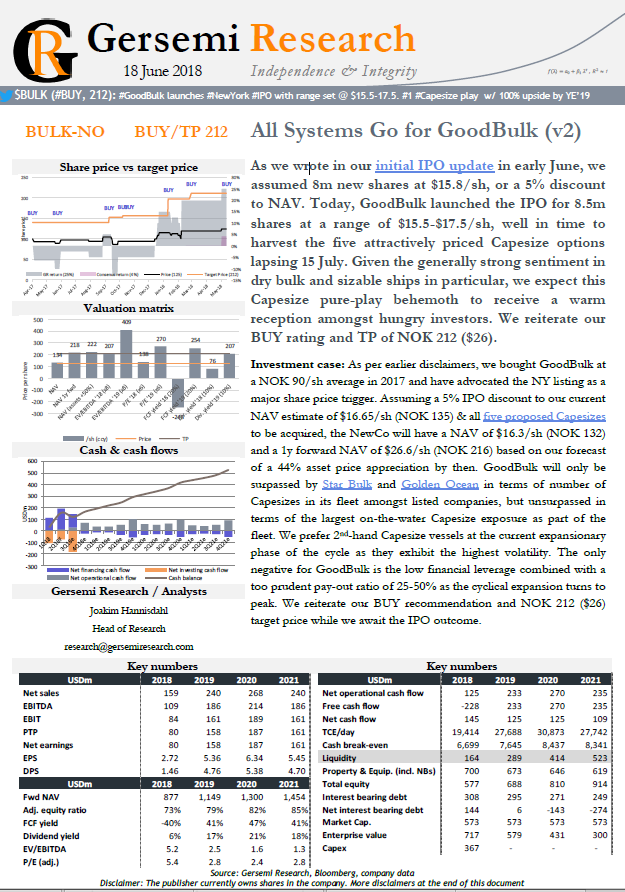 Disclosure: I am/we are long GBLK.
I wrote this article myself, and it expresses my own opinions. I am not receiving compensation for it. I have no business relationship with any company whose stock is mentioned in this article.