EUENF is another energy company that is getting some recognition!
EUENF closed up 42% but was as high as 257%!
We saw a dip here at the close as profits were taken but still closed strong.
About EUENF: Eurasia Energy Limited, an exploration stage company, engages in the exploration of oil and gas. It focuses on negotiating an exploration, rehabilitation, development, and production sharing agreement for a 600 square kilometer oil and gas block in the Republic of Azerbaijan. The company was formerly known as Pacific Alliance Ventures Ltd. and changed its name to Eurasia Energy Limited in November 2005. Eurasia Energy Limited was incorporated in 2003 and is based in Peterhead, the United Kingdom.
If you want to read more, check out their website: http://www.eurasiaenergy.com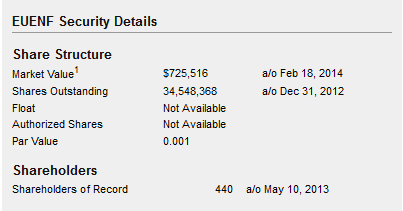 With just under 35 million shares outstanding we can see a major move to the upside with the right push!
As you saw today EUENF only traded a little over 200k and we still saw a big jump!
In the past several months we have seen spike in volume followed by spike in PPS. In the past two months we saw it on a bigger scale. Is EUENF going to continue this pattern? Sign up to our FREE newsletter to receive the FULL report to start your due diligence!
You might want to read our full report before going further by simply signing up to our free newsletter.