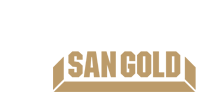 SGRCF could close out the week big with big announcement of increase in mineral reserves!
SGRCF closed in the green and started to gain momentum after HUGE announcement!
We can see gold stocks make a huge comeback in the near future!
Check out the news:
WINNIPEG, MANITOBA--(Marketwired - Feb 20, 2014) - San Gold Corporation (SGR.TO)(SGRCF) today announced an updated mineral reserve and resource estimate for its Rice Lake Mining Complex.
During 2013, extensive definition drilling and detailed mine planning to integrate the Hinge, 007 and Rice Lakes mines resulted in an increase in proven and probable mineral reserves to 2.7 million tons grading 5.24 grams per tonne containing 405,400 ounces of gold as of December 31, 2013. This is a 60% increase from the proven and probable mineral reserves as of December 31, 2012.
"I am very pleased with the progress made by our technical team over the past year. The increase in reserves has allowed us to complete five years of detailed mine planning, thereby providing improved operational flexibility. Our drilling in 2014 will be primarily from underground locations in closer proximity to known ore bodies. We expect to achieve a further increase in the mineral reserve as the year progresses through the conversion of our large inferred mineral resource," said Ian Berzins, San Gold's President, CEO and Chief Operating Officer.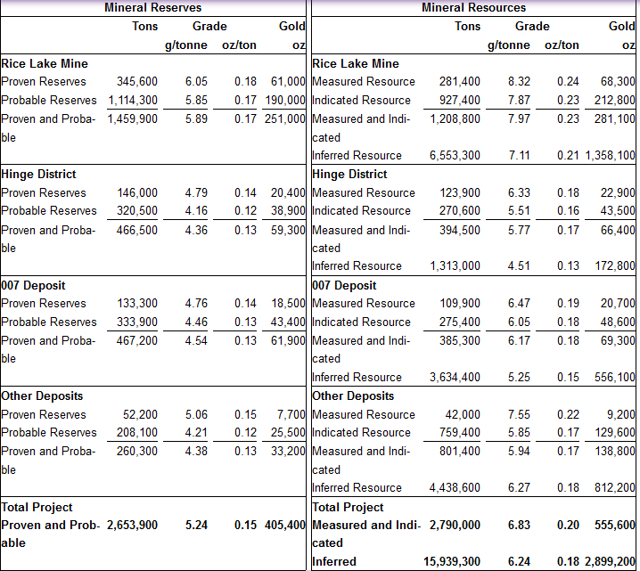 Notes to Mineral Reserve and Resource Estimate Table
Mineral reserve and resource estimates are calculated in accordance with the CIM Definition Standards on Mineral Resources and Mineral Reserves adopted by CIM Council, 2010.
Tonnage and ounce estimates have been rounded to the nearest hundred.
Proven and probable mineral reserves are included in the measured and indicated mineral resources.
The mineral reserve estimate is based on a gold price of US$1,250 per ounce.
A cut-off grade of 3.65 g/tonne gold was used for estimating mineral reserves. A cut-off grade of between 2.74 and 3.43 g/tonne gold was used for estimating mineral resources.
Inferred mineral resources are not in the current mine plan and therefore do not have demonstrated economic viability.
The estimate of mineral resources was carried out under the supervision of Michael Michaud, Vice-President of Exploration. The estimate of mineral reserves was carried out under the supervision of Rolando Jeria, Chief Engineer. Mr. Michaud and Mr. Jeria are Qualified Persons as defined by NI 43-101, and have reviewed and approved this news release.
About SGRCF: San Gold Corporation engages in the exploration, development, and production of gold properties in Canada. It owns and operates the Rice Lake Mining Complex located northeast of Winnipeg, Manitoba, which include the Rice Lake, Hinge, and 007 mines. The company's Rice Lake Mining Complex includes 342 Mineral claims covering 41,973 hectares. It also has joint venture interests with other companies for the exploration of minerals in the provinces of Manitoba and Ontario. The company was formerly known as San Gold Resources Corporation and changed its name to San Gold Corporation in July 2005. San Gold Corporation was founded in 1997 and is headquartered in Winnipeg, Canada.
2 million ounces produced historically.
2.5 million ounces discovered since 2006.
Structural analysis revealing multiple new horizons within Company mining lease.
400 sq km land package with multiple high-grade (10-26 gpt) past producers.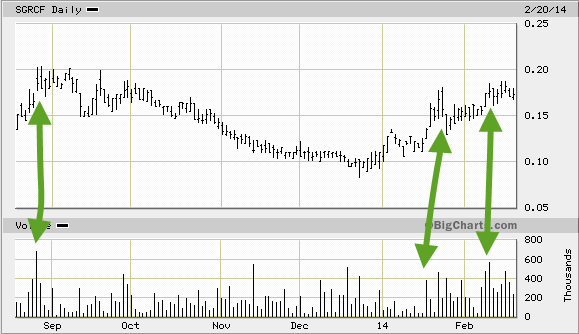 As you can see in the 6 month chart we pointed out where the stock spiked with big volume.
We believe this can happen again with the big news released and with SGRCF being talked about a lot!
Make sure you sign up to our FREE newsletter to receive the FULL report!