For some useful background on Solar, see this from DuPont's PV business director.
http://www.youtube.com/watch?v=sZ1DsrS2Juc&feature=c4-overview&list=UUS8A0H0xlnzUmnIC1LX82AA
What stands out is that Solar is 0.4% of the world's energy usage, but growing at 20% per year and there is clearly a focus on Quality modules especially in key markets such as Japan (which will install more capacity by value than even China or Germany this year). This latter point confirms our own understanding, where channel checks suggest the quality producers like Trina and Yingli are running at or near 100% capacity, something the stock market is rewarding it seems:
See charts of TSL US and YGE US below.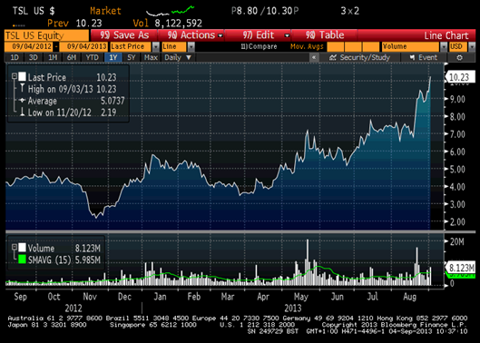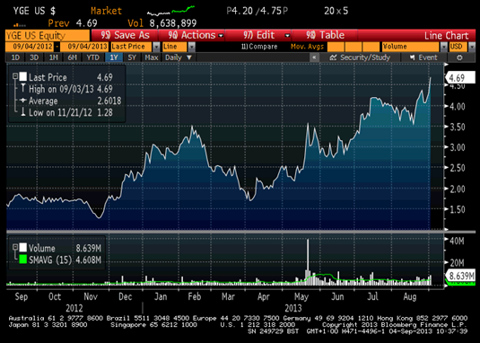 In Europe, we remain trading buyers of Wacker Chemie.
This will also benefit Renewable Energy Corp, and though perhaps less intuitive this could be very big news for China, see below.
"You fix Solar, you might fix China (least its Banks)"
Integral to our contrarian work on Chinese NPLs is our view on Solar.
The solar industry is by far the riskiest segment of current bank lending having been the poster child of the Chinese expansion and having had by far the greatest overcapacity issue. They had total Debt of around 110bn RMB and the BoC stated in March that Solar NPLs had hit 21.3%. Effectively this would mean that the Solar industry would account for 22% of the "Manufacturing" NPL balance of the banking industry.
Recent Chinese policy announcements on the domestic build out of the Solar industry coupled with a doubling of tariff and subsidy while not entirely fixing the overcapacity issue certainly goes a long way to underwriting some of these bad loans. Add continued solar growth in Japan (see above) and the growing rhetoric of the green-lobby, and we may be at the turning point for demand in this space. As we have mentioned in the past, this is an effective write off by the Chinese government of one of the worst performing NPL sectors in the country. Solar company margins have subsequently doubled and if momentum here continues, as we suspect, this has significant implications for the Solar supply chain, but also China herself.
Disclosure: I have no positions in any stocks mentioned, and no plans to initiate any positions within the next 72 hours.