Weight Watchers International Inc. (WTW) is a New York based company providing weight management services. It is best known for its Weight Watchers branded point system that is supposed to help people lose weight. It also tries to support people losing weight through group meetings by offering food plans, instructions for exercising and healthy behavior. Instructors having lost weight themselves by attending Weight Watcher meetings run these meetings. Every week about 40.000 people are attending 10.000 Weight Watchers meetings.2
In 1999 H.J. Heinz (HNZ) sold Weight Watchers to Artal Group for USD 735 million in a leveraged buyout transaction (LBO).3 LBO´s are company deals financed by high amounts of debt, which are then paid down by the acquired company´s earnings. To reap a significant profit the company is then sold out to other investors.4 After its acquisition Artal Group brought Weight Watchers public in a 2001 initial public offering (IPO). It then has sold almost half of its Weight Watcher stake for a large profit and is as of today holding approximately 52% ownership in the company.5
In 2012 Weight Watchers conducted a share buyback that will be examined in this case study. Particular interest will be paid to the agency cost related to a non-independent board of directors and to a majority shareholder such as Artal in that case.
Prior to the share buyback of 2012 Artal held a control stake in Weight Watchers of approximately 52%.6 According to Weight Watchers corporate governance statues and its ownership stake Artal controls the board of directors since Artal is able to nominate a number of directors equal to their percentage of ownership, giving them the ability to compose the board in their favor (see below figure).7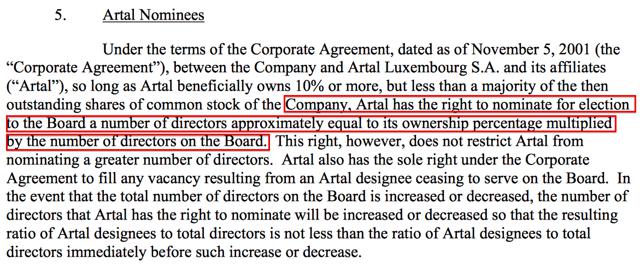 Figure 1: Weight Watchers Board of Directors Artal Nominees
Since Artal holds the majority of voting shares they are able to approve the nominated directors in a vote, which gives Artal full control over manager compensation and incentives. The below excerpt of the corporate governance guidelines that lines out the functions of the board of Weight Watchers proves that.

Figure 2: Weight Watchers Board of Directors and CEO Compensation
The Weight Watchers board constituent of the Artal nominees has granted stock options to its CEO David Kirchhoff in the years of 2005 and 2006 as an incentive. The total amount of options granted during those years accounted for 187.500 Weight Watchers shares.8 Artal hereby aligned its own and the CEO´s interests. In the following both parties would profit from a rising share price.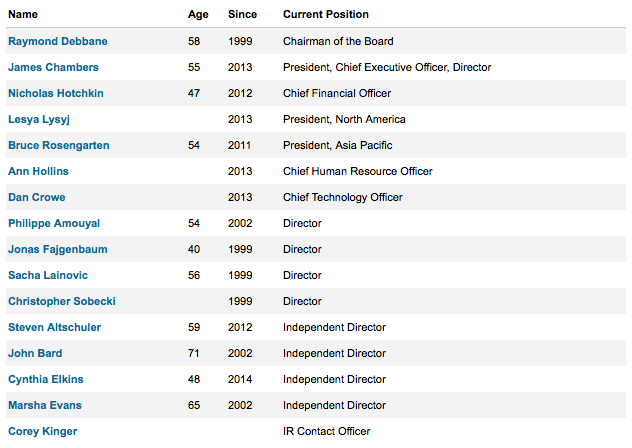 Figure 3: Weight Watchers Board of Directors Composition
Weight Watchers steadily increased its revenues from USD 1.412 billion in fiscal year (FY) 2009 to USD 1.839 billion in FY 2012. Net income however peaked at the end of FY 2011 with Weight Watchers earning USD 304,9 million and significantly decreased in the following years. Revenues also followed the decline in FY 2013, as seen in the excerpt below.

Figure 4: Weight Watchers Key Numbers 2009-2013
The growth in revenues and net income was accompanied by a large increase in share price, which rose from below USD 20 in 2009 to above USD 80 in 2011. In 2012 after it became obvious for investors that net income and revenues would decrease in the following years the share price steadily declined marking a low of USD 19.50 at the beginning of this year.

Figure 5: Weight Watchers Share Price 5 Year
As common in LBO transactions the investor (Artal) wants to cash out at the highest price possible. The management equipped with stock options also profits from high share prices. This is why in 2012 the board, controlled by Artal directors, approved a Dutch auction tender offer to repurchase shares near its all time highs; even shares were significantly overvalued as the current share price (approx. USD 20) indicates.


Figure 6: Weight Watchers Share Repurchase Conditions
In 2012 on February 23rd Weight Watchers initiated what they called a "modified Dutch auction" and asked shareholders to determine a share price upon which they would agree to sell shares worth USD 720 million to the company. A very high range was set up by the board, to Artal´s benefit, of USD 72 per share up to USD 83 per share. The auction resulted in an USD 82 price for each share tendered to Weight Watchers. Prior to the announcement of the buyback Artal as a majority shareholder agreed not to participate in the auction and the tender offer because they did not want to influence the purchase price. Simultaneously however, the Weight Watchers board agreed to acquire for the same price determined in the tender offer (USD 82 per share) as much shares from Artal that they would hold an equal ownership stake in Weight Watchers as prior to the tender offer, as figure 18 indicates.
Consequently Weight Watchers had to buy back 8.8 million shares for USD 82 each from shareholders other than Artal for a total of about USD 720 Mio.
And since they agreed on purchasing as much Artal shares as needed to keep Artal´s stake in the company at 52%, Weight Watchers had to acquire another 9.5 million shares for USD 82 each costing the company USD 779 million.
The total cost for the repurchase therefore is USD 1.500,6 million. Cash and equivalents on the balance sheet that could be used to fund the buyback accounted for USD 47,47 million and 2011 free-cash-flow (FCF) was at USD 356,68 million. Together they equaled only USD 404,15 million, by far not sufficient to cover the total repurchase cost of USD 1,5 billion. Hence Weight Watchers had to take on debt to be able to finance the buyback, which the Artal controlled board also acknowledged (figures 19,20).

Figure 7: Weight Watchers Cash and Equivalents


Figure 8: Weight Watchers Cash Flow Statement
At the beginning of 2012, approved by the board of directors, Weight Watchers therefore took on USD 1.449 million of debt to acquire stock form Artal and other Shareholders that participated in the tender offer for a total of USD 1.504 million (figure 21).


Figure 9: Weight Watchers Debt Issuance and Share Repurchase
According to the SEC 10k filing of 2012 the two buybacks were conducted March 28th and April 29th of 20129. By that time Weight Watchers revenue growth has already stalled and net income decreased 25% from 1st quarter 2011 on higher marketing and SG&A (Sales, general and administrative) expenses according to the SEC 10q filing of the 1st quarter of 2012. By that time a board that is not controlled by a majority shareholder could have questioned this debt funded buyback at that elevated price of USD 82 per share. To justify a share price of USD 82 growth was necessary. The share price chart showed earlier above provides a very good picture of the overvaluation. With the release of the 1st quarter results of 2012 on 10th of May 2012 the share price started its downward movement and in the following went down to USD 20 a share.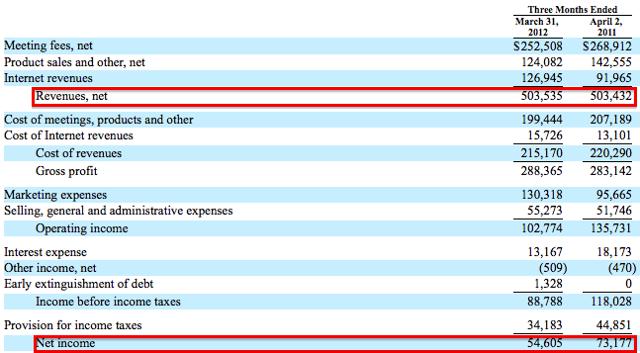 Figure 10: Weight Watchers Income Statement Q1 2012
But not only Artal and other share holders that sold their shares to the repurchase program profited. Also Weight Watchers CEO David Kirchhoff used the self-created opportunity to exercise a part of his stock options that were granted to him as part of an incentive contract and sold the acquired shares on March 16th 2012. The form below filed with SEC shows the CEO´s trades. Stock options to acquire a total of 80.275 shares were exercised, and disposed for USD 80,68 and respectively USD 81,28 a share. With the cost to acquire those shares of USD 42,08 to USD 53,03 the CEO made a large profit from those transactions (figure 23).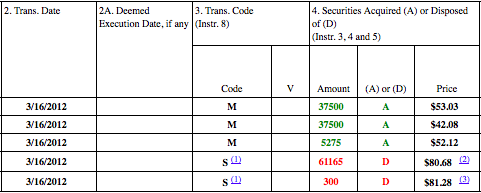 Figure 11: Weight Watchers CEO-dealings
The previous findings clearly show that Artal and its executives profited largely from the share buyback at overvalued prices by selling equity holdings. The equity compensation granted to the CEO by the Artal controlled board of directors incentivized to drive up the share price by buying back, overvalued stock.
However there are shareholders other than Artal that continued to hold on to their shares in Weight Watchers. Those shareholders, until the beginning of April 2014, lost about 80% on their stock if they had bought into the company when the repurchase was conducted. Instead of a positive return due to the repurchase that usually signals an undervaluation they would have lost almost their entire investment and now hold shares of a highly levered company with negative equity. Earnings and revenues further decreased in 2013 and showed no sign of returning to growth so far. Reaching share prices north of USD 82 in the future seems very unlikely.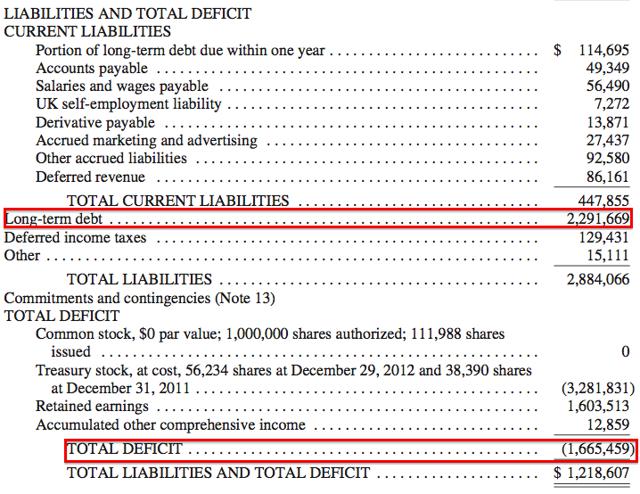 Figure 12: Weight Watchers Balance Sheet After the Buyback
Summarized continuing shareholders that did not participate in the repurchase had to pay for Artal´s and the executives´ profit. The share repurchase destroyed a lot of value as each Weight Watchers share is now worth significantly less than prior to the buyback.
Major shareholders at first glance seem like a good thing as they can strongly represent shareholder´s interest in the board of the company. But if there is a majority shareholder that fully controls the board, which is in significant conflict of interests with the other shareholders, such as Artal, can bear large agency costs for the minority shareholders. The conflict of interests at Weight Watchers was based and still bases on the fact that Artal has short term profit interest in Weight Watchers. They want to cash out as quickly and at a high as possible share price, whereas other shareholders are likely to have long-term interest in the company.
But not only a majority shareholder that is in control of the board poses a threat of large agency cost in association with share repurchases, also a board with a majority of non-independent directors nominated contains that risk. If that is the case and the board is controlled by a high number of executive directors, that are both manager and director, the company is very likely to pursue interests of the executives. For the buyback decision that implies buybacks wouldn´t be used as an instrument to increase long-term value for the continuing shareholder but to raise compensation of executives.
Hence for successful buybacks an independent board that has committed itself to the goal of increasing long-term shareholder value is essential.
Sources:
2 Weight Watchers Inc. Investor Relations: Company Overview (2013).
3 Vardi, N., The Mystery Man Behind the Weight Watchers Deal(2012).
4 Investopedia, Leveraged Buyout - LBO (not specified).
5 Vardi, N., The Mystery Man Behind the Weight Watchers Deal (2012).
6 Weight Watchers Inc. 10-K Annual Report 2012 (2013).
7 Weight Watchers Inc. Corporate Governance Guidelines (2014).
8 Weight Watchers Inc. Statement of Changes in Beneficial Ownership of Securities (2012).
9 Weight Watchers Inc., 10-K Annual Report 2011 (2012).