There has been a great debate going on recently about what will happen with natural gas in storage way above historical averages. Well i think contributors like Mark Anthony (seekingalpha.com/article/496181-the-reba...) hit the nail on the head when he stated that this natural gas "glut" we currently have is the direct product of the 4th warmest winter for the U.S.A in the last 100 years. So of coarse less gas was burned along with coal. These two fuels make up 75% of the U.S power generation. This glut was not brought on by the "Fracking revolution" , this process has been around and in use for a long time. What we are seeing now is a rebalancing of natural gas production along with coal. One only needs to look back at the historical charts and wonder , ok when was the last abnormally warm winter? And what was the impact to natural gas to try to figure out the correlation between prices and rig count. This should be our guide to what is to come in the next 18 months.
Winter 2002 (January-March) - this was a very warm winter and it came late: anyone can pull the data from NOAA to confirm this. As shown in the figure below gas in storage at the end of this winter (beginning of the injection season) was some 50% above historical normal levels. Seems very much like the same situation we are in today. What makes it a even better reference scenario is that the prior winter was brutally cold, gas in storage plummeted the year prior and prices went to $10/MMBtu. Gas rig count early 2001 was very high at ~1100 it plummeted to ~600 in early 2002 because the price of gas had imploded below the threshold of profitable extraction. Thus setting the stage for the exact same scenario we are in today.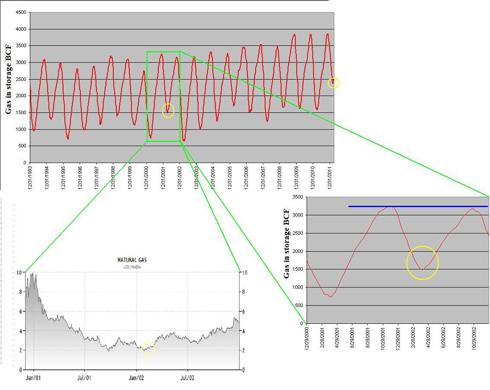 By reviewing what happened in 2001-2002 for natural gas rig count, price and volume in storage it does not take much to see we are in the same situation today. Some SA contributors like Paulo Santos think gas prices will go much lower and stay low..I say look at the past to see the future.
March 2002 was the bottom for natural gas prices and I'm sure everyone was worrying at that time what if natural gas storage capacity runs out before November......it never happened, in fact it was lower than the prior year. Natural gas prices rose for the remainder of that year.
So i leave you with this : sometimes to see where we are going you need to review where we have been.