For months now many people have been running around screaming that coal is dead and natural gas has permanently taken a large chunk of its electricity market share. I will admit these claims are true that coal and gas generation were roughly equal for the early spring months of 2012. This was largely due to an extraordinarily warm winter that sent natural gas prices plunging to record lows and left coal utilities with record coal inventories.
Now we are entering a new stage where natural gas surplus is rapidly being eroded away by record low weekly gas injections into storage and we have started the summer off with a record setting heat wave and plenty of more heat on tap for the coming weeks ahead. Most have been focusing their time studying the supply and demand metrics of the natural gas market. This is incredibly hard to do, due to a large amount of industry variables. One can draw a much clearer conclusion as far as what is going on with coal to gas switching by looking at the weekly coal rail car loadings.
Below I have graphed the week/week year prior change in rail car coal loadings for all major U.S rail lines going back to december 2011. This information is available on the Association of American Railroads website (www.aar.org/AAR/NewsAndEvents/Freight-Ra...)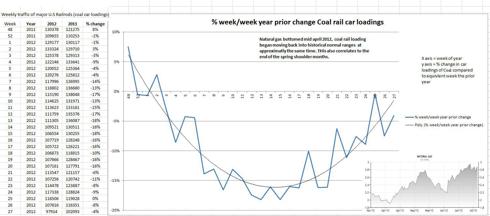 Some quick and clear conclusions can be made from this data.
Coal to gas switching was temporary and opportunistic.
Coal demand has rapidly increased since April. With rail car loadings now approaching historically normal levels.
This has major implications for stocks such as (NYSE:CLD), (NYSE:WLT), (ANR), (NYSE:BTU) and other coal producers and also rail lines such as (NYSE:CSX).
These companies will be reporting Q2 results this month and early next month. Expect to hear good news as far as coal demand returning to normal levels.
One side note: Coal exports have rapidly increased this year as well. This may be playing into the upward slope of the graph shown above. Overall however, the above chart is extremely bullish for coal producers and rail lines....
Disclosure: I am long ANR, BTU.