Recent hurdles in Xerox's rebound story
Xerox Corp. (NYSE:XRX), which is largely known for its copier services but is gradually diversifying into IT related services, has seen its stocks fall by a small margin in the past few days. Indeed, on 27th September, its stocks fell below the last reported book value of $9.80, to trade at $9.76. The next day stock prices fell by 3.33%, and have been unsteady since.
However, it should be noted that the company has been growing steadily so far in 2013, and has almost managed to erase the fall it suffered through the past two years.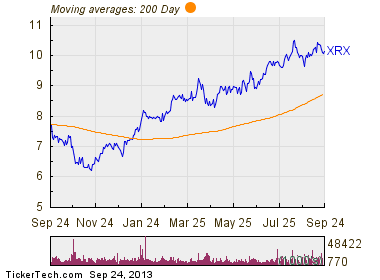 Xerox's efforts at reinventing itself
The steady growth has largely been the result of Xerox's shift from copier machines to more diverse services. Having lent its name to a verb referring to photocopying, the gradual shift to the "paperless office" led to its copier solutions becoming increasingly obsolete. Although demand for the company's high end products is still robust, its core portfolios took a hit, leading to the two year decline in share prices. Xerox has of late tried to diversify into services like employee management benefits, customer care services, reading of license plate photos for tollbooths, etc. It has also begun setting up Health Insurance Exchanges under the Affordable Care Act. All these works are done for huge entities, which tend to renew their contracts with Xerox time and again.
In fact, Xerox's choice of services has been wise, when we compare the company to other hardware manufacturers like Dell Inc. (NYSE:DELL) and Nokia (NYSE:NOK) which sought to move into other services. They invariably entered highly competitive fields like Cloud computing, and investor confidence in their ability to successfully complete the transition ebbed eventually. For Xerox however, its loyal customer base on one hand, and the fact that it has chosen less competitive services in which to specialize, are helping it make the much needed rebound.
Xerox's history of dividends
While the above data makes it logical to harbor doubt about Xerox's ability to find a long-term solution which will ensure steady shareholder returns, its dividend paying history offers some comfort. The company has maintained a steady dividend yield of $0.0425 per share since the last quarter of 2007, and raised it to $0.0575 per share in Q1 of 2013, thereby raising it to 2.3% of current stock price.
| | |
| --- | --- |
| Dividend Yield | 2.3% |
| One-year DGR | 35.29% |
| Five-Year Dividend Growth Rate | 6.23% |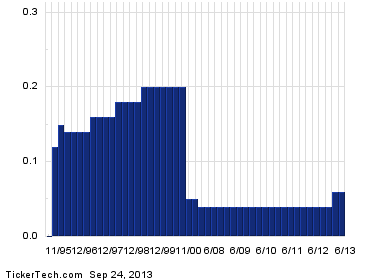 The company's favorite method of returning value to shareholders, however, is to buyback shares, and it has reduced the number of shares by 10.8% since 2011.
Earnings per share has also been solid, beating consensus estimates for the past three quarters by margins as high as 12.5%. Its share yield is 9.2% as compared to 5.7% for the S&P 500.
Recent acquisitions
Providing further indications of its attempts to move into new segments, the company acquired the privately held Canadian firm CPAS Systems , which specializes in pension administration software. In its press note, it added, "CPAS has a robust, highly flexible solution that strengthens Xerox's suite of offerings for modernizing government." The firm and its employees will remain stationed in CPAS's offices in Toronto.
What can the investor do ?
Xerox's recent history sends out rather contradicting signals. Its rebound story has recently hit a hurdle, and the company is not expected to increase revenue by more than 1% in 2014. Since it prefers buybacks to increases in dividends, the chances of another rise in 2014 are reduced. However, it should be noted that the company has a solid dividend payment history. Further, it has good free cash flow, which can persuade the company to raise the dividends after all. Finally, Xerox's stocks are relatively cheap, providing a decent safety margin to the investor. Keeping all these in mind, it would be advisable for those seeking long term returns to invest in the highly stable Xerox stock, which has a possibility of rising further in the future. For those already having Xerox stock, it is best to hold onto the stock for now.

Disclosure: I am long XRX.
Additional disclosure: GuruVIX.com